About health insurance
Health insurance for tax purposes
Cost of health insurance
Other health insurance information
What our customers are saying: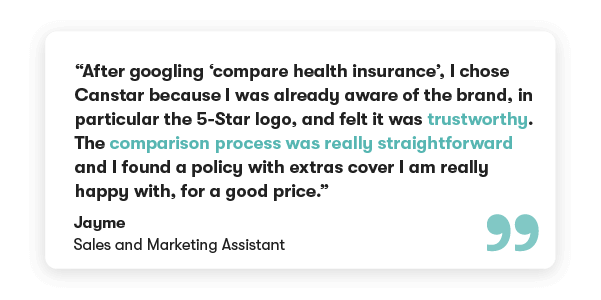 About Private Health Insurance
What is Private Health Insurance?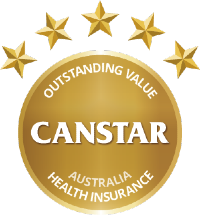 Private health insurance is a type of insurance policy that provides cover for a variety of healthcare options and medical expenses, including costs that Medicare does not cover.
Australians wanting to buy private health insurance can choose hospital and/or extras cover:
Hospital cover allows a patient to be treated in a private hospital, or to be treated as a private patient in a public hospital, with their choice of doctor. It also covers a portion of the medical expenses involved when being admitted to hospital.
Extras cover helps with expenses of other health services that Medicare does not cover. This could include allied healthcare, such as physiotherapy, chiropractic treatment, dentistry and orthodontics, glasses and contact lenses. Some policies also cover lifestyle benefits, such as gym memberships.
Private hospital policies are typically offered in standard category "tiers" – Gold, Silver, Bronze or Basic. These tiers must cover the minimum standard of treatments as determined by the Australian Government. Each tier could also include a "Plus" option, with additional coverage, depending on the insurer.
Extras policies are not required to meet any tier requirements, and are typically offered with a specific group of people in mind, such as cover for single people, young families or older Australians.
Many insurers also offer the ability to pay an excess (an up-front fee) if anyone covered by the policy is admitted to hospital, which could lower the premium (the fortnightly, monthly or annual cost) of the policy.
Compare Health Insurance
A good place to start comparing private health insurance could be to work out what policy factors are important to you.
Health insurance has different levels of cover suited to different life stages and needs. For example, you may need a hospital policy that covers a particular medical condition, or you may want to ensure you have help paying for your children's dental work. When considering your health insurance needs, questions you may like to consider could include:
What health insurance life stage are you? (e.g. single, couples, families)

Do you want extras cover? If so, what services do you spend money on now? What might you need in the future?

Do you or your family have any pre-existing conditions that need cover?

What is your budget for premiums and excess?
Once you know what policy inclusions are important to you, the excess you are comfortable with and the premium price you can afford, it's time to compare your options. Canstar can help you compare health insurance providers and make a shortlist of policies that could suit your needs, based on features and price.
How does Canstar compare health insurance?
Canstar compares tens of thousands of quotes from thousands of eligible health insurance products. Every year, we perform a detailed analysis to help you to choose a health insurance policy that includes hospital cover, extras cover, or both hospital and extras cover, to suit your household needs and budget.
Whether you're looking for singles health insurance, couples health insurance, student health insurance, family cover or overseas visitors health insurance, Canstar can help.
Looking for cheap health insurance?
If you want a cheap health insurance policy, a good first step may be to compare premium quotes from a range of providers based on the level of cover you need. It's important to also factor in the policy inclusions and exclusions when shopping around. A cheap health insurance policy might save you money each month, but it's important to make sure you have the hospital or extras cover you might need to avoid any surprises in the future. Is there a trade off when it comes to the number of conditions and treatments you're covered for compared to a more extensive policy that may cost more? For example, for a cheap health insurance option you might decide on a 'basic' level hospital policy, but this would likely offer less cover than a bronze, silver or gold policy would. It's important to check your policy's cover limits and excess too, so you're aware of what you might need to pay out-of-pocket if you need to make a claim.
---

As Canstar's Editor-in-Chief, Nina heads up a team of talented SEO experts and journalists committed to helping empower consumers to take greater control of their finances. Previously Nina founded her own agency where she provided content and communications support to clients around Australia for eight years. She also spent four years as the PR Manager for American Express Australia, and has worked at a Brisbane communications agency where she supported dozens of clients, including Sunsuper and Suncorp.
Nina has ghostwritten dozens of opinion pieces for publications including The Australian and has been interviewed on finance topics by the Herald Sun and the Sydney Morning Herald. When she's not dreaming up ways to put a fresh spin on finance, she's taking her own advice by trying to pay her house off as quickly as possible and raising two money-savvy kids.
Nina has a Bachelor of Journalism and a Bachelor of Arts with a double major in English Literature from the University of Queensland. She's also an experienced presenter, and has hosted numerous events and YouTube series.
You can follow her on Instagram or Twitter, or Canstar on Facebook.
You can also read more about Canstar's editorial team and our robust fact-checking process.
---
1. What is private health insurance?
In Australia, Medicare covers most residents for health care. However, Medicare does not cover everything. You may consider a private health insurance policy to give yourself a wider range of health care options and more comprehensive cover. Private health insurance allows the policy owner to be treated in the private hospital system and covers a variety of healthcare options and medical expenses. Australians can choose between hospital and/or extras cover, with some hospital expenses covered such as medical treatments, hospital bills and ambulance costs (depending on the state). Extras can include a benefit for services such as dental, optical, physiotherapy, chiropractic and a range of wider general treatments, such as natural therapies, performed outside a hospital.
2. How can I save money on my health insurance?
You can compare health insurance providers with Canstar to see if you can get yourself a better deal for your unique needs and requirements. General tips to save money on your health insurance premiums include mixing and matching your hospital and extras policies, 'consciously uncoupling' a couples policy if it leads to better value, 'turning off' items in your policy if they aren't needed in the immediate future, paying upfront before 1 April to 'lock in' a lower premium, evaluating the merits of choosing a higher excess, and taking out insurance by 1 July following your 31st birthday to avoid Lifetime Health Cover loading. You might even try negotiating a better deal with your provider directly.
3. How can I choose health insurance?
After deciding whether to go public or private, you can identify policies that may suit you personally by comparing private health insurance. When choosing, questions to ask include:
What health insurance life stage (e.g. young person, senior, single, couples, families) are you in?
Do you want extras cover?
Do you or your family have any pre-existing conditions that need cover?
What is your budget for premiums and excess? Understanding the Medicare Levy Surcharge and Lifetime Health Cover benefits and loading, and finding out if you are eligible for any health insurance rebates may be helpful. You may like to find out which fund is keeping its customers the happiest, and see Canstar's Private Health Insurance Star Ratings and Awards winners.
4. What do I need to know about health insurance in Australia in 2020?
If you have health insurance in Australia, you may be eligible for financial relief, such as a premium waiver or membership suspension, due to the global coronavirus pandemic. If you have private health insurance with hospital cover, many insurers are now offering full hospital coverage. Most health insurers have also delayed their annual premium increases, normally scheduled for 1 April, for at least six months. Many health insurers are allowing customers who are facing financial hardship to suspend their health cover temporarily. If you do this, you'll generally not receive any cover for expenses incurred during your policy suspension, unless otherwise stated. Canstar has revealed which health insurer has the most satisfied customers in Australia in 2020. Canstar's Health Insurance Star Ratings and Awards consider three separate types of health insurance – hospital cover, extras cover and packaged hospital and extras cover – with a methodology that considers needs based on different consumers' life stage, family structure, gender and the level of coverage they are looking for.
5. Can I cancel my health insurance due to COVID-19?
If you are reviewing your health insurance policy due to COVID-19, you can ask yourself these questions:
What benefits of my private health cover can I access right now?
What financial assistance is available from my health fund if I've been financially impacted?
Can I reduce or pause my health insurance policy and what will this mean for my cover?
What are the implications if I cancel my health insurance policy?
What other deals or discounts can I ask from my provider and should I consider switching? Many health insurers are offering financial relief to eligible members during COVID-19, so you may like to see what offers are available. If you are experiencing financial hardship, you can contact your insurer to discuss your options.
6. Should I buy private health insurance for pregnancy?
If you are considering private health insurance for pregnancy, and looking to have your baby in a private hospital or as a private patient in a public hospital, it is a good idea to plan ahead and be aware of waiting periods. Most health funds have a 12-month waiting period for pregnancy-related expenses, so you'll most likely be unable to claim for a year after purchasing a policy. It's important to ensure the health cover you choose suits your needs and your budget during pregnancy, the delivery and post-delivery. You can compare family or single health insurance policies that include pregnancy services and look for a policy that best suits your needs. You may consider keeping your partner's insurance separate until after the delivery to avoid an unnecessary higher level of obstetrics cover for them, as well as for you.
7. How can I avoid health insurance waiting periods?
You may not need to re-serve waiting periods if you switch from one health insurer to another, unless you add or upgrade your hospital cover, according to the Private Health Insurance Ombudsman. While providers sometimes waive two- to six-month periods on extras, it's generally less common for longer waiting periods to be waived on pre-existing conditions, obstetrics or major dental. Insurers often advertise special offers for waived waiting periods in March and April as premiums typically increase on 1 April and customers are more likely to be shopping around for better value around that time.
8. What is the private health insurance rebate?
The private health insurance rebate is money the government may contribute towards the cost of your private health insurance premiums if you earn below the maximum threshold. As the rebate is income-tested, your entitlement will reduce as your income increases. According to the Australian Taxation Office (ATO), you will be eligible if you (1) hold a Medicare card; (2) have a complying private health insurance policy – you can compare health insurance policies with Canstar – and (3) have an annual income that's less than $140,000 as a single, or $280,000 as a family, and meet related specific requirements. According to the ATO, the proportion of rebate you'll receive depends on your income, age and whether you are single or have a family. Generally, the older you are and the less you earn, the higher your rebate will be.
Who offers Health Insurance in Australia?
Below are some Australian private health insurance providers or view more here:
Brand Comparisons
Below are some of our popular health insurance providers compared.