For the second year in a row, ANZ has won Canstar's award for Bank of the Year – Agribusiness. Canstar caught up with a representative from ANZ to gain some insights into their agribusiness offerings.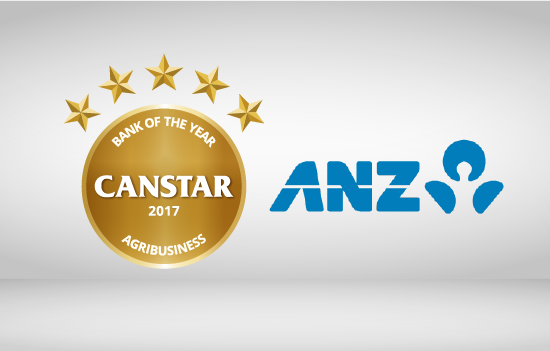 Q&A with ANZ agribusiness
In the wake of winning the 2017 Canstar award for Bank of the Year – Agribusiness, ANZ spoke with Canstar about their insights into agribusiness and what makes the ANZ product suite so successful for Australian farmers.
Q: Congratulations on winning! What do you think sets ANZ apart from other agribusiness providers?
ANZ is uniquely positioned as a leading agri bank in Australia and NZ, and has the largest footprint of any Australian bank in Asia, the world's largest and fastest growing food and beverage market, including a presence in 15 countries.
Our approach is to focus on what is important to our customers and regional Australian communities. We seek to help customers navigate their industry and challenges by sharing our insights and connecting them with local and international opportunities.
At ANZ, we cater to the complete financial needs of farming families. Our team also seeks to understand regional social and economic challenges and genuinely engage with stakeholders on issues that matter to local communities.
Q: How do ANZ personal relationship managers ensure that they have a good understanding of their client's business?
ANZ relationship managers are positioned to have the time and expertise required to understand and solve the financial needs of our customers.
Living in the communities of our customers and with an affinity for the land and farming industry, we understand the challenges and importantly the opportunities that lie ahead for farmers, regardless of their size or complexity.
ANZ is well resourced with specialists that support our relationship managers and customers when dealing with payments and cash management, financial markets, asset finance, and trade finance to name a few.
Looking for ANZ agribusiness products? We have provided a snapshot of their current product offering in the comparison table below, featuring agribusiness loans for $250,000, in NSW, that are secured by commercial property and farm. You can use this comparison tool for yourself here.
Canstar's database lists only one product from this provider. Canstar is not recommending this product nor providing you with financial advice by displaying it to you.
Q: What challenges do you predict that the agribusiness industry will face in the near future? Alternatively, are there any opportunities?
The agribusiness industry is faced with many challenges and opportunities alike. But the net outlook is very positive. The demand side for our key commodities is strong, and the rising population and spending capacity of nearby Asia is a critical factor.
Our challenge is not to supply this market with commodities. We must transition from being a low-cost producer of commodities, to an attribute-based supplier of higher value products, which is an exciting challenge for our industry.
At a farm level, the hard work and focus on cost of production remains critical. But areas that need close attention and in many cases a new range of skills, include:
Managing relationships in the supply chain
Marketing, harnessing, and applying data and technology
Executing on strategic business strategy
All of this could be the catalyst for retention of youth in farming and to attract new, smart, and diverse talent into Australian agriculture.
Q: What can you tell us about your Seeds of Renewal program?
Seeds of Renewal is a grant program supported by ANZ that has been running since 2003. Since the program's inception, ANZ has provided $4.3 million in grants to support 779 community projects.
The Seeds of Renewal program provides funding grants of up to $15,000 to community organisations for projects focused on creating education and employment opportunities. The purpose of the Seeds of Renewal program is to help build vibrant, sustainable rural communities, and to ensure the ongoing prosperity of regional Australia.
Now in its 15th year, this demonstrates ANZ's ongoing commitment to shape a world where people and communities thrive.
Compare ANZ agribusiness products and other providers' offerings using the Canstar website:
For more information about the state of agribusiness in 2017, read the latest Agribusiness Award report: