Canstar has revealed the 2019 Bank of the Year – Agribusiness Award after evaluating 11 providers from across Australia.
This Award recognises institutions that provide a strong combination of products across Canstar's Business Banking Star Ratings, as well as excelling in a range of institutional factors outlined below.
The Award aims to provide recognition to the institution that backs up quality products with great service to agribusiness customers.
In deciding the winner, the Research team considered the following factors:
Business finance products:

Term loans (which can be used to purchase farm equipment)

Overdrafts

Credit cards

Deposit products:

Term deposits

Farm management deposit (FMD) accounts

Savings accounts

Transaction accounts

Additional products, like seasonal finance, environmental loans and equipment finance
The research also looked at how each institution's agribusiness customer support and service offerings stacked up, with some key considerations including:
Number of relationship managers

Physical presence of branches in regional and city areas

Payroll functionality in online banking services

Disaster relief or assistance
The Bank of the Year – Agribusiness Award is awarded to the institution that receives the highest score across the board.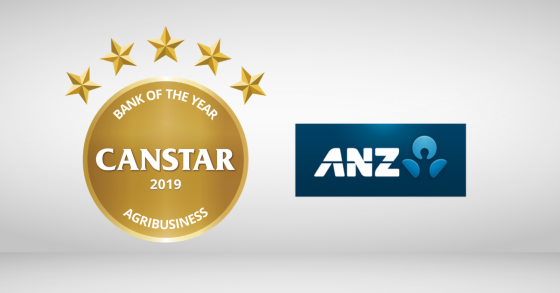 ANZ has been named Bank of the Year – Agribusiness in 2019, making this the fourth year in a row that it's received this award.
The Agribusiness Award research took into consideration ANZ's strong representation, in terms of the number of relationship managers and services it made available to customers. It continued to lead the market for offering unique products in addition to regular business finance and deposits, such as seasonal finance, equipment finance and environment loan offerings. For instance, ANZ currently has an environment loan available to farmers who want to invest not only in energy and water conservation, but also in renewable energy technology.
The Canstar Research team was impressed by ANZ's community support, particularly the Seeds of Renewal grant program, which provides funds to support the sustainability of rural communities.
Overall, ANZ's broad range of lending products and outstanding variety of services were found to offer the best value for agribusiness customers.
ANZ first started out in London and Sydney as the Bank of Australasia. It is now one of the four major banks in Australia, describing itself as the largest banking group in the Pacific and New Zealand region and as one of the top 50 banks in the world.
As well as agribusiness, ANZ offers a whole host of products and services to customers, including credit cards, home loans, insurance, car loans and more. ANZ has won a number of Canstar Awards over the years, including the 2018, 2017, 2016, 2013, 2011 and 2010 Awards for Bank of the Year – Agribusiness.
ANZ also funds several causes to benefit the regional Australian community through community grants. It announced a drought relief package for farmers in 2018, whereby it provides discounted lending for farmers in drought-declared areas.
One of ANZ's key business strategies is a focus on agribusiness.