ANZ has seen off competition from a field of seven other agribusiness providers on Canstar's database to win the annual Bank of the Year – Agribusiness Award for the fifth year in a row. Read on to find out how the major bank did it.
The ability to easily manage cash flow, as well as potentially access additional funding if required, can be crucial to keeping an agricultural business running smoothly. Coronavirus has had a significant impact on the agricultural sector – it's expected to affect around 28% of all Australian agricultural exports and reduce overall exports in 2020 by roughly 3%, according to recent research. This means that, for agribusinesses, having the support of your bank may be more important than ever.
To help agricultural businesses figure out which bank may be best for them, Canstar Research assessed the relevant products and services on offer from eight providers on our database, before naming a single award winner.
ANZ wins Bank of the Year – Agribusiness for a fifth consecutive year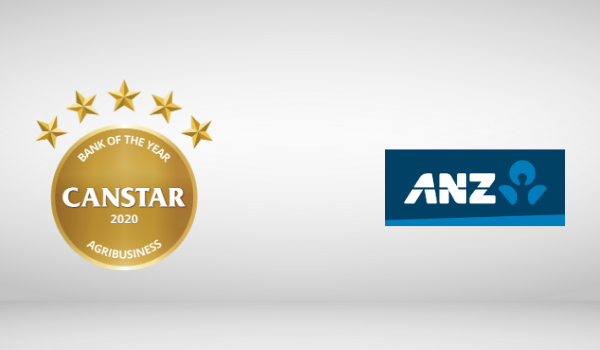 ANZ has won our Bank of the Year – Agribusiness Award for 2020, reaping the rewards of a strong product offering and an even stronger range of institutional support features.
ANZ performed strongly for product offerings, especially when it came to its credit and loan facilities. The bank offers a number of finance options, including:
ANZ Agri Finance, a product designed for "farm expansion, development, and debt consolidation"
ANZ Revolving Agri Line, a flexible line of credit designed for agricultural businesses
ANZ Asset Finance, to assist with the purchase of vehicles or farm equipment
It also did especially well when it came to its service and support options, and its information and education services. According to ANZ, it has over 200 dedicated agribusiness managers who can help businesses manage their finances, and develop risk management strategies among other things.
How were the contenders assessed?
To arrive at an overall score out of 100, Canstar Research assessed and scored each provider's products and institutional offerings. Providers' products accounted for 60% of their score and the other factors made up the remaining 40%.
Eligible agribusiness providers were rated based on a combination of:
Their business finance offerings (e.g. loans and other credit products)
Their business deposit product offerings (term deposits, as well as savings and transaction accounts)
Additional products they may offer businesses, including investment options, insurance solutions, and international banking
The accessibility and comprehensiveness of their customer service and support facilities, including the disaster relief packages available to agribusiness clients
Their range of informational and educational resources
Their online banking services
As the provider with the highest total score, ANZ was awarded the Bank of the Year – Agribusiness Award for the fifth consecutive year.