Many businesses, big and small, may be looking into additional finance options in response to the current economic conditions caused by COVID-19. Read on to find out which business loans and overdrafts on Canstar's database picked up 5-Star Ratings this year.
Figures from the Australian Bureau of Statistics (ABS) suggest nearly three quarters (72%) of all Australian businesses are expecting an adverse impact caused by reduced cashflow in light of the coronavirus pandemic, while two in five (41%) businesses anticipate a reduced ability to pay operating expenses.
In this environment, having access to additional funding can be crucial to a business's short and long-term operating plan, and in response to the crisis the Federal Government has set up the Coronavirus SME Guarantee Scheme, which is designed to make it easier for eligible small to medium-sized businesses to be approved for "new unsecured loans to be used for working capital".
While some businesses may need an injection of cash to help them weather the impact of the pandemic, others may look to their bank for funding to help capitalise on increased demand. A loan may also be useful for those businesses gearing up for a strong bounce back once they're able to return to business as usual.
To help businesses find a product appropriate for their circumstances, Canstar has rated 81 business loans and business overdrafts from 16 providers on our database and determined which ones offer Outstanding Value to businesses.
What made for a 5-Star Rated business loan this year?
Eligible business loans were assessed based on both their comparative pricing and feature offerings. Pricing was determined based on interest rates as well as any upfront or ongoing fees charged. The features include more than 100 distinct product factors for each business loan assessed. Features were scored, categorised and weighted according to a customer's journey with the product being assessed.
Some of the features considered include the availability of the loan for a range of purposes, approval requirements, guarantee and security options and the flexibility offered to customers in managing the business loan. Customers' ability to vary the loan if required and the support channels offered by the provider were also considered.
Products were rated against at least one of the six borrower profiles below:
Overdraft – Commercially Secured
Overdraft – Residentially Secured
Overdraft – Unsecured
Term Loan – Commercially Secured
Term Loan – Residentially Secured
Term Loan – Unsecured
This year's 5-Star Rated business loans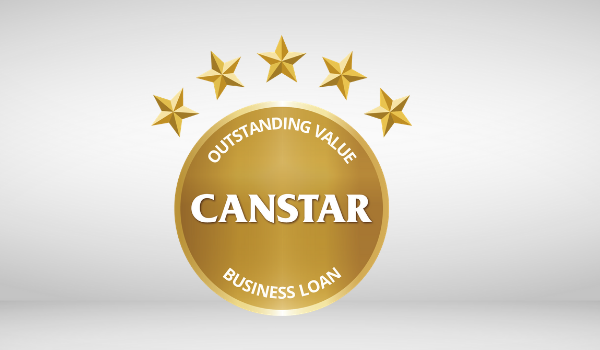 Below are the business loan products that won a 5-Star Rating in each profile, sorted by provider name (alphabetical order).
Overdraft – Commercially Secured
| | |
| --- | --- |
| ANZ | Business Overdraft – Commercially Secured |
| Heritage Bank | Bus Line Of Credit – Non-Residentially Secured |
| Westpac | Business Equity Access |
Overdraft – Residentially Secured
| | |
| --- | --- |
| BankSA | Business Maximiser |
| Bank of Melbourne | Business Maximiser |
| Heritage Bank | Business Line of Credit – Residentially Secured |
| St.George Bank | Business Maximiser |
| Westpac | Business Equity Access |
Overdraft – Unsecured
| | |
| --- | --- |
| ANZ | Business Overdraft – Unsecured |
| NAB | Business OD Prime |
Term Loan – Commercially Secured
| | |
| --- | --- |
| ANZ | Business Loan Variable – Commercially Secured |
| Bankwest | Business Low Rate Loan- All Securities |
| Suncorp Bank | Business Essentials – Commercial |
Term Loan – Residentially Secured
| | |
| --- | --- |
| ANZ | Business Loan Variable – Residentially Secured |
| ANZ | Business Mortgage Loan Variable |
| Bankwest | Business Low Rate Loan- Resientially Secured |
| Suncorp Bank | Business Essentials – Residential |
Term Loan – Unsecured
| | |
| --- | --- |
| ANZ | Business Loan Variable – Unsecured |
| NAB | Business Options Interest-Only Standard |