ANZ Agribusiness
Canstar is delighted to announce that ANZ has won Canstar's 2017 Award for Bank of the Year – Agribusiness.
What is this award
, and what does ANZ offer agribusiness customers?
Canstar has just released our latest research about products on offer for agribusiness in Australia, to help Aussie farmers compare providers on price, features, and services: the Bank of the Year – Agribusiness Award.
While we can't say for sure what the future of the farming industry might hold, we can tell you which institutions and lenders can provide you with outstanding value in the current market.
This year, Canstar congratulates ANZ on winning the Canstar Bank of the Year – Agribusiness Award for 2017. Keep reading to learn why ANZ won, and what it can offer you.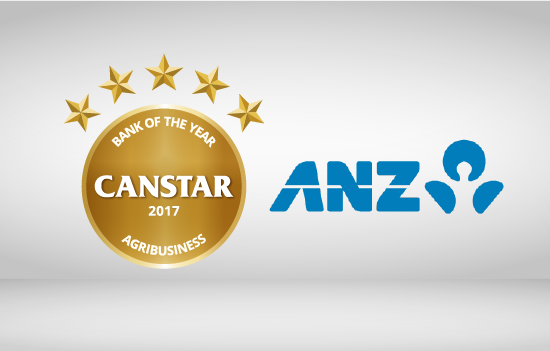 Compare Agribusiness Solutions with Canstar
What is the Canstar Agribusiness Award?
Canstar's Agribusiness Award is given to the financial institution that provides the best combination of products across a range of business profiles, as well as excelling in a range of institutional factors.
The award aims to give recognition to the institution that backs up quality products with great service to agribusiness customers.
In deciding the winner, the following factors were considered:
Business finance products:

Terms loans
Overdrafts
Credit cards

Deposit products:

Term deposits
Farm management deposit (FMD) accounts
Savings accounts
Transaction accounts

Additional products, like seasonal finance, environmental loans, and equipment finance
As well as these products, a significant factor in deciding the winning brand is institutional factors. Due to the specialist nature of the various types of agribusinesses, it is important that an institution is able to provide the necessary support and services.
Some of the key institutional factors Canstar rated for agribusiness providers include:
Personal relationship managers
The number of branches (regional and metropolitan)
Online banking functionality
Educational resources
For more information on how we rate agribusiness providers, check out our ratings methodology below.
Canstar 2017 Agribusiness Award Ratings Methodology
Who is ANZ?
ANZ's history dates back about 180 years to 1835, first starting out in London and Sydney as the Bank of Australasia. Now one of the Big Four banks in Australia, ANZ is the largest banking group in the Pacific and New Zealand region.
ANZ is ranked among the top 50 banks in the world and provides banking and financial products to over 9 million customers in 30 countries.
As well as agribusiness, ANZ offers a whole host of products and services to customers, including credit cards, home loans, insurance, superannuation and much more. ANZ has won many awards with Canstar, including the 2017 and 2016 awards for Bank of the Year – Agribusiness.
ANZ also funds many worthy causes to benefit the regional Australian community through three types of community grants.
ANZ aims to become a super-regional bank, and one of its key business strategies is a focus on agribusiness. So what exactly does ANZ offer agribusiness customers?
Compare Agribusiness Providers
What does ANZ offer agribusiness customers?
Canstar's Agribusiness Award recognises the institution that is leading the pack when it comes to product and services for that industry. After winning in 2016, ANZ has once again proven to be offering a strong agribusiness solution for Aussie farmers.
ANZ has retained the award for agribusiness based on the strength of their product offering and institutional services, with benefits including:
Their support for the industry through various community initiatives, such as its Seeds of Renewal grants program and the Cotton Grower of the Year Award
The strength of their FMD (farm management deposit) offering, compared to the rest of the market
A large number of regional branch numbers across the country
Strong relationship managers in terms of numbers and services offered
We have provided a snapshot of ANZ's agribusiness loans which accommodate for $250,000 loans, in NSW, that are secured by commercial property and farm. You can use this comparison tool for yourself to compare all providers on our database, here.
Canstar's database lists only one product from this provider. Canstar is not recommending this product nor providing you with financial advice by displaying it to you.
Seeds of Renewal is a grants program that has been supported by ANZ since 2003. It provides technology and funding to help build thriving regional communities and create education and employment opportunities. Since 2003, ANZ has provided more than $4 million to regional communities, and $275,000 since this time last year.
ANZ's FMD at call product is one of the strongest of the providers we rated, offering an at-call rate of 1%, well ahead of many of its competitors in the market. The ANZ Farm Management Deposit offers unlimited free deposits and withdrawals as well as a healthy interest rate, whereas other institutions may charge fees for these transactions. To learn more about FMDs, read this article.
Another category that ANZ performed strongly in is that of personal relationship managers. ANZ's relationship managers are specialists who can provide assistance in the areas of seasonal finance, insurance, wealth management and more. ANZ has over 200 agribusiness relationship managers across Australia, with many of these located in remote and mobile branches.
Finally, ANZ offers strength and quality across all areas of its product suite. For example, ANZ has 166 specialised agribusiness centres across the country – almost 60 more than its nearest competitor. There is also a 12-hour per day business call centre specific to ANZ.
For farmers who want to manage their budget online, ANZ's online banking system offers automatic cash flow graphing and transaction graphing, to make agribusiness management easier.
You can find out more about ANZ's agribusiness offering here. Use the Canstar website to compare ANZ's offering against the rest of the market for agribusiness in 2017:
For an explanation of how Canstar judges our awards, as well as information on the latest trends in the agriculture industry, read the rest of our 2017 agribusiness report:
2017 Bank of the Year - Agribusiness Award - Canstar
Other products on offer for businesses
Agribusiness isn't the only business product provided by ANZ – you can also check out ANZ business credit cards and ANZ business loans on the Canstar website.
Canstar also researches and rates other products available for Australians farmers. If you need a new business credit card, business savings account, or business loan, visit the Canstar website to find outstanding value business products to suit your farm's needs:
Co-author: William Jolly