Here's what Australia's farmers need to know about agribusiness product trends in 2017, based on Canstar's expert ratings and research analysis.
Farming is the backbone of the Australian economy, contributing to a significant percentage of our GDP. Every family needs a farmer, and every farmer needs financial support, which is where agribusiness solutions come in. Agribusiness products can help give farmers financial backing to operate their farms.
This report analyses the key changes for agribusiness products to be aware of in 2017, such as FMD interest rates, personal relationship managers, and the latest business loan fees. We also examine any external factors that affect the agribusiness industry, as well as any announcements from the 2017 Federal Budget for farmers and primary industries producers.
Farm Management Deposit (FMD) Rates
One of the most important agribusiness solutions is the FMD, or Farm Management Deposit. If you're not already familiar, an FMD is a tax effective investment that lets farmers and producers set aside some of their pre-tax income during productive periods, to be used in less fruitful periods.
Much like a term deposit, an FMD gives you a return in interest on your initial deposit, and there are two types of FMDs to choose from:
At-call FMDs: Interest is calculated daily and paid into a nominated bank account quarterly and again if the account is closed. The main advantage of an at-call FMD is that you can withdraw some of the money if your farm runs into cash-flow troubles.
Fixed term FMDs: Interest is calculated daily in the bank account at a fixed interest rate for a certain term. Withdrawals before maturity may disqualify you from certain tax benefits.
As of July 2016, the most that you can out into an FMD account – at-call or fixed – is $800,000. Any amount over $100,000 in an FMD will mean you need to negotiate interest rates directly with the bank, so the table below summarises rates on our database for FMD balances of less than $100,000.
1-year at-call FMD interest rates for up to $99,999
Date
Min
Average
Max
May 2015
2.60% p.a.
2.89% p.a.
3.05% p.a.
May 2016
2.45% p.a.
2.87% p.a.
3.05% p.a.
May 2017
2.35% p.a.
2.59% p.a.
2.75% p.a.
Source: www.canstar.com.au

Based on interest rates for FMD balance of up to $99,999.
As you can see from the table above, the interest rates on at-call FMDs have been slowly decreasing over the past couple of years, mirroring the record low RBA cash rate, which has been maintained at 1.50% since August 2016.
This year, Canstar rated 9 agribusiness institutions in our research for the Bank of the Year – Agribusiness Award, and 8 of them offer at least 1 at-call or fixed FMD. We've compiled some of their FMD products in the table below.
FMD interest rates by agribusiness provider on a balance of $99,999
Provider
At-call FMD
Fixed FMD
ANZ
1.00%
2.60%
Bankwest
0.80%
2.75%
BankSA
1.00%
2.65%
Commonwealth Bank
0.80%
2.50%
NAB
0.10%
2.65%
Rabobank Australia
0.10%
2.50%
Suncorp Bank
1.25%
2.70%
Westpac
–
2.35%
Source: www.canstar.com.au

The farm management deposit interest rates (as of 25 May 2017) are based on a balance of $99,999, and may not include all features relevant to you.
Agribusiness personal relationship managers
A personal relationship manager can make a big difference to an agriculture business. Personal relationship managers (PRMs) have taken on increased importance in the agriculture industry over the years, and Canstar considers them in our ratings methodology as a result.
A good agribusiness institution should supply an adequate number of personal relationship managers across regional areas. In turn, a good personal relationship manager should be able to give specialised and accurate advice in the areas of seasonal finance, wealth management, succession planning, insurance, and much more.
Our winning provider for 2017, ANZ, is a strong example of what an agribusiness institution should offer farmers in terms of personal relationship managers. ANZ has a huge number of relationship managers spread out across populated and rural areas, and you can find a PRM near you by visiting ANZ's website.
As an agribusiness provider, ANZ understands the importance of a relationship manager. Relationship managers from ANZ are qualified to give expert market and industry knowledge to farmers, helping you to maintain your competitive advantage.
If you're looking for a personal relationship manager to help manage your farm's financial product suite, then most providers make them easy to find. Of the 9 institutions we researched and rated, 5 of them – ANZ, Bankwest, NAB, Suncorp, and Westpac – have comprehensive lists of the personal relationship managers they employ by area. You can get contact details, postcodes, and in ANZ's case bios for each manager, to help you find a personal relationship manager close to you.
Farm business loans
An agribusiness loan is essentially the same as a standard business loan, except they are used to finance agricultural business needs and investments. Agribusiness loans can help you make property purchases, capital improvements, and investments in future produce.
If you are in the market for a loan, check out our comparison table below which features a snapshot of the current providers offering $250,000 loans in NSW, secured by commercial property or farm. Please note that this table has been sorted by Advised Interest Rate (lowest to highest).
Agribusiness loans come with certain fees. The tables below show the average fees you can expect to pay on business loan fees of $50,000, $125,000, and $250,000, based on the data Canstar collected from each of the 9 agribusiness providers we rated in 2017.
Table 1: Average Upfront and Ongoing Fees based on a $50,000 business loan
Loan Type
Amount
Average Upfront Fee
Average Ongoing Fee
Commercially Secured – Overdraft
$50,000
$555.39
$601.62
Residentially Secured – Overdraft
$50,000
$583.75
$500.74
Unsecured – Overdraft
$50,000
$577.27
$432.11
Table 2: Average Upfront and Ongoing Fees based on a $125,000 business loan
Loan Type
Amount
Average Upfront Fee
Average Ongoing Fee
Commercially Secured – Overdraft
$125,000
$674.52
$1,286.08
Residentially Secured – Overdraft
$125,000
$689.72
$1,056.78
Table 3: Average Upfront and Ongoing Fees based on a $250,000 business loan
Loan Type
Amount
Average Upfront Fee
Average Ongoing Fee
Commercially Secured – Term Loan
$250,000
$852.53
$360.89
Residentially Secured – Term Loan
$250,000
$793.31
$291.11
Source: www.canstar.com.au

Calculations are based on average fees for business loans of $50,000, $125,000 and $250,000, and may not include all product types relevant to you.
As well as the standard loans on the market, a specialised type of loan for agribusiness is seasonal finance, which is a loan that you only need to repay during productive months when your farm is actually earning a return on your harvest. This gives farmers the convenience of deferring input costs to a different time that suits them, as well keeping the farm's finances in sync with cash-flow patterns.
This year's winning agribusiness provider – ANZ – certainly has much to offer in the way of seasonal finance. The products on offer from ANZ's all seasons credit facility include:
Agri Finance option: A 3-year to 30-year business loan with flexible repayment options on capital finance.
Revolving Agri Line: A line of credit with no minimum repayments and a minimum loan amount of $250,000 (suitable for larger investments).
Compare Agribusiness Loan Providers
Other agribusiness innovations in 2017
Since July 2016, legislative amendments have removed the laws that previously prevented FMDs from being used as an offset account against a primary business debt such as an agribusiness loan. This serves to reduce the interest you'll have to pay on primary business loans, while still retaining the benefits of an FMD.
This is an innovative way for farmers to manage their loans, but so far none of the providers Canstar rates offer this product. The only provider on the market to do so is Rural Bank, through its FMD Offset Account, which won a Canstar Innovation Excellence Award in 2017.
Another useful agribusiness product on the market is Rabobank's All in One account. This account is a unique proposition in that it functions as a business overdraft account, but it offers the ability to charge different portions of your loan at different interest rates for different fixed rate terms. You can get a fixed interest rate for up to 5 years online, without the need for a further application form. This enables you to time your loan repayments to suit seasonal and financial requirements, giving you significantly greater flexibility and convenience, as well as the ability to access your capital quickly.
The All in One account also has interest only payments available for up to 15 years. There are multiple All in One accounts available from Rabobank, and you can talk to a local rural manager from Rabobank in order to find out if an All in One account could help your farm or agribusiness.
Compare Agribusiness Products with Canstar
Industry predictions: what will affect agribusiness in 2017-18?
Find out what factors are likely to affect the agriculture industry in our 2017-18 Agriculture Outlook report.
How will the 2017 Federal Budget affect agribusiness?
Investment in regional infrastructure was a key focus of the 2017 Federal Budget, as Treasurer Scott Morrison announced a commitment to almost $9 billion in funding for community projects in regional Australia.
Arguably the most notable inclusion in the budget was the $8.4 billion Inland Rail project, which will massively improve transport access for farmers across Eastern Australia. This railway will be 1,700 kilometres in length, stretching from Melbourne to Brisbane.
This train, dubbed the 'steel Mississippi', will power through the countryside at 115km/hr, and can carry the equivalent of 110 double truckloads of freight.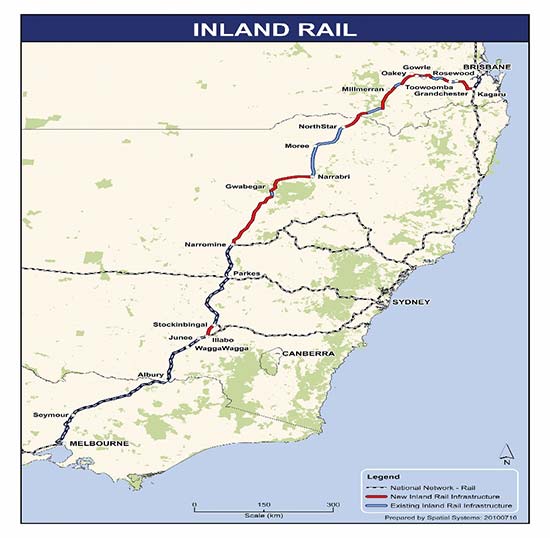 The proposed Inland Rail project
Source: budget.gov.au
Treasurer Morrison said the Inland Rail project will "provide improved access to markets and greater export opportunities for manufactured products, agricultural commodities and mineral resources".
Other notable proposals related to agribusiness in the Federal Budget include:
$28.5 million investment in the Regional Investment Corporation, which would streamline the delivery of $4 billion in concessional loans
$472 million Regional Growth Fund to improve project growth and employment in regional areas undergoing structural adjustment
$200m in additional funding for the Building Better Regions Fund to support the construction of community infrastructure
$1 billion in Landcare funding, locked in for 5 years
$8.3 million for the live export industry to develop a new Welfare Assurance Program
$28 million allocated to small capital projects under the Stronger Communities' Program
Agribusiness industry reactions to the 2017 Budget have been mostly positive.
The National Farmers' Federation (NFF) gave the Federal Budget an overall grade of B+, with President Fiona Simson praising the commitment to the Inlaid Rail project, calling it "the real crown jewel of tonight's Budget for the farm sector".