How has the agriculture industry faring so far in 2017, and what are experts predicting for agribusiness in the year to come? Canstar surveys the industry predictions to see what's in store for agribusiness in 2017-18.
You've heard the saying a million times: every family needs a farmer. Agriculture is well and truly one of the key pillars of the Australian economy, and according to the latest ABS data from 2015, Australia has almost 385,000 hectares of dedicated farming land, with a further 26,000 hectares used for crops.
While official figures on many of the key industries have yet to be released for 2017, all the signs point towards a strong performance by the farming industry over the past 12 months. And the forecast remains strong for 2018, with the Australian Department of Agriculture and Water Resources (ABARES) predicting a rise in the gross value of farm production by an impressive 17.3%.
This means the agricultural sector in Australia is predicted to peak at a record high of $63.8 billion in value by this time next year, coming off the back of 3 years of solid growth, record wheat and barley harvests, and a recovering dairy market. The value of the industry should then ease down to around $59-60 billion by 2020-21 (ABARES).
How exactly will the Australian agriculture industry achieve this? We hunted out the latest expert opinions (examined below) to find out.
What's in store for the different agriculture sectors?
Canstar's 2017 report for our Bank of the Year – Agribusiness Award covers each of the many different farming sectors, analysing how they have performed and how they are expected to perform in the next 12 months. We also examine the changing climate to see how that will affect our nation's farmers.
The predictions for what will happen to the agriculture industry for the next 12 months come from a variety of key sources, mainly:
Dairy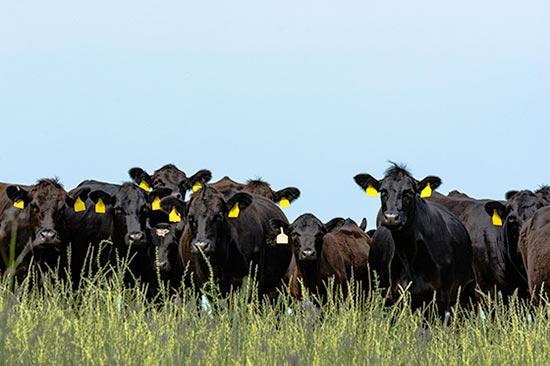 2016-17 was an extremely tough year for dairy farmers in Australia. According to Dairy Australia's Situation and Outlook report, Aussie dairy farmers are currently stuck in a rut, and have produced 700 million fewer litres of milk in the past year than in previous years. This is the lowest production point in 21 years, as dairy farmers only produced 8.8 billion litres of milk.
Low world markets, an unexpected price drop by major processors Fonterra and Murray Goulburn, and tougher, wetter weather conditions during the winter months, all combined to create a less-than-stellar year for dairy.
However, ABARES predicts dairy production to recover by 2% in 2017-18 to reach 9.0 billion litres produced, thanks to a forecasted 1% increase in herd numbers.
According to NAB's Rural Commodities Report for March 2017, however, Australia's dairy producers can expect to see some steady improvements in the next 12 months. This is likely to be thanks to some better global prices and more suitable seasonal conditions in dairy-heavy areas.
NAB estimates that production of dairy will increase by 1.7% throughout 2017-18.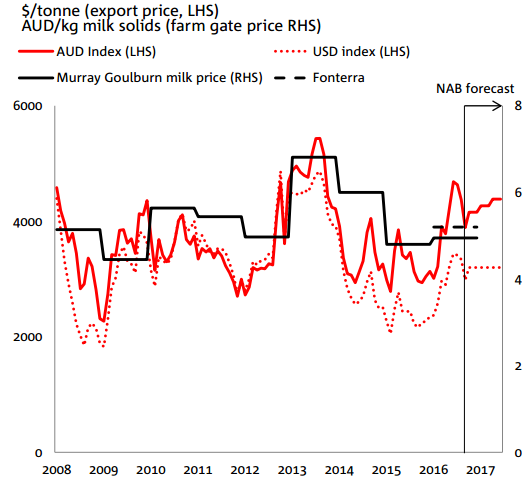 ABARES (the Australian Bureau of Resource Economics and Sciences) in its Agricultural Commodities Report for the March quarter 2017 has predicted an even higher increase, with a 7% increase in milk prices over 2017-18. ABARES expects this increase in price values for Australian dairy exports to average higher thanks to reduced production in major exporting countries.
ABARES predicts that farmgate milk prices could increase here by 2% to average 43.8 cents per litre before the end of the 2016-17 financial year. Farmgate milk prices are projected to rise to 50.1 centres per litre in 2019-20.
Over the medium term, ABARES forecasts milk production to reach 9.6 billion litres per year in the 2021-22 financial year. This prediction is based on the coming shift to low-cost grains and concentrated feeds, which will improve herd genetics and farm technology. This will lead to a knock-on effect where herd sizes will continue to expand and milk yields will improve.
Beef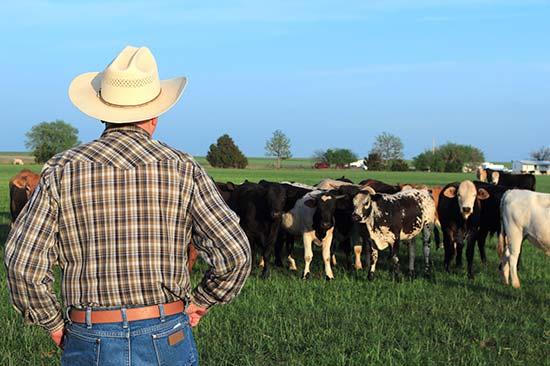 The beef sector is the largest farming sector in Australian agriculture, accounting for roughly 50% of all farms with agricultural activity (Meat & Livestock Australia). Despite being a smaller producer of beef compared to other countries, the Australian beef industry is the second largest exporter of beef in the world, so a strong performance in this sector is vital to agribusiness down under. So how is it expected to perform?
Thanks to 3 years of increased slaughter until 2016 due to drought conditions, beef cattle herd sizes across Australian farms were less than ideal. However, this trend was bucked somewhat throughout 2016-17, and by the end of next month the average expansion of cattle herd in the country are expected to peak at a 3% increase.
If the current low levels of slaughter are anything to go by, then herd sizes should continue to increase into 2018, which is good news for the beef industry here.
ABARES predicts beef production and export volumes to steadily increase until 2021-22, while prices are to decline as a result of rising competition from major overseas exporters. Assuming average seasonal conditions are ahead for Australia, then beef prices should fall slightly as the supply of cattle increases.
NAB believes that this is more of a long term-solution however. In the short-term (2017-18), the prices of beef from Australian exporters should rise, fuelled by rain in large areas of Eastern Australia. The following graph from NAB shows just how much the prices of beef jump after rain.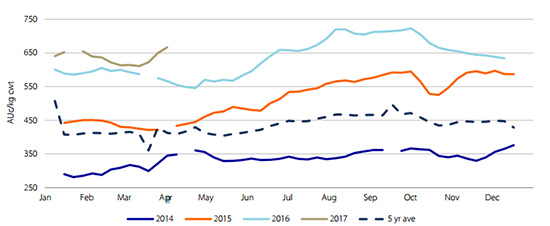 Source: Beef price trends following rain, NAB
The price of Australian beef is expected to fall from its current value of $5.40/kg to $4.65/kg over the next several years, thanks to increased competition from the usual competitors (Japan, the USA, South Korea, and China).
Wheat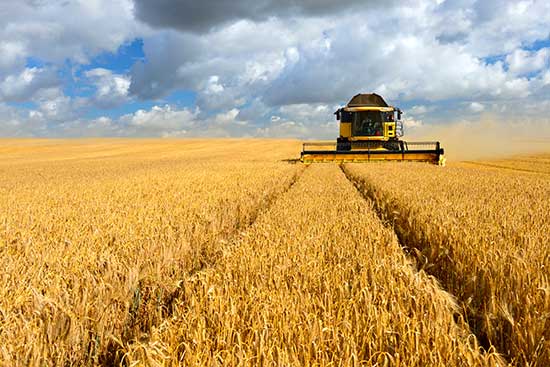 2016-17 was an extraordinary year for Australian grain and wheat production, according to the Department of Agriculture and Water Resources.
The 2016-17 crop production is estimated to be around 58.9 million tonnes, which is 30% higher than the previous record set in 2011-12.
This record harvest was the direct result of favourable grain conditions on top of a decade of strong growth. The conditions have been described by farmers as a 'Goldilocks' year, with the climate not too hot or too cold, too wet or too dry.
Loddon Shire Mayor Neil Beattie told The Australian that he had never seen the cropping regions of Victoria looking so good.
"I've been farming here for nearly 50 years and I can't remember a better season," Beattie said.
"We had a perfect start to the year, perfect sowing conditions, and it rained every week."
After such a powerful year, the wheat and grain sector is unexpectedly predicted to slow during 2017-18.
Alistair Davidson, the acting assistant secretary of ABARES, reports that the wheat and barley sector will decline slightly from $34 billion in value to about $30 billion.
Plentiful global supplies are expected to keep prices low, however, and export earnings are predicted to fall by about 9%.
Lamb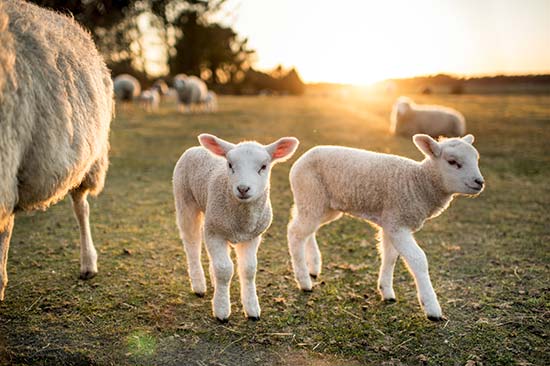 Like beef, the Australian lamb industry makes an important contribution to the economy, accounting for about 4% – or $2.32 billion – of the country's total agricultural production (ABARES).
The lamb sector was predicted to have a reasonably poor 2016, but thankfully, this didn't really eventuate. Instead, the average income from Australian lamb-producing farms reached its highest point in over 20 years at an average of about $265,000 per farm.
This trend has continued so far into 2017, with lamb prices setting a new record last month at $6.81/kg (AUD). This is 30% higher than at the same time last year, and is a 3% improvement on the last record set in the March 2011 quarter.
The price of lamb should continue to rise into next year too, as lamb and sleep slaughter has dropped by 11% over the past year. The falling slaughter rates have seen the total herd size Australia-wide increase to 73.6 million, and this figure could reach as high as 83 million heads by 2021-22 (ABARES & Rabobank).
This steady increase in production and herd size should see global exports of Australian lamb rise over the medium term. This should come after a slight drop of 3% to 253,000 tonnes of exported lamb within the next few months, before rising to about 290,000 tonnes within the next few years.
For 2017-18, lamb export numbers will actually be lower than they were in 2016-17, but the increased price of lamb to AUD $6.81/kg will see the value of these exports to hit $1.86 billion.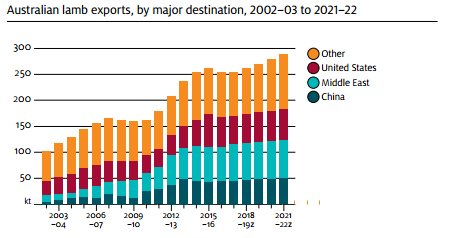 Source: ABARES
Australian lamb meat still has a long way to go before it catches New Zealand however. As the world's largest exporter of sheep meat, NZ exports almost 230,000 tonnes of sheep solely to the European Union, let alone the rest of the world. This figure is almost as much as Australia exports globally.
Countries in the Middle East, the USA, and China will be the key markets for Australian lamb going forward.
Wool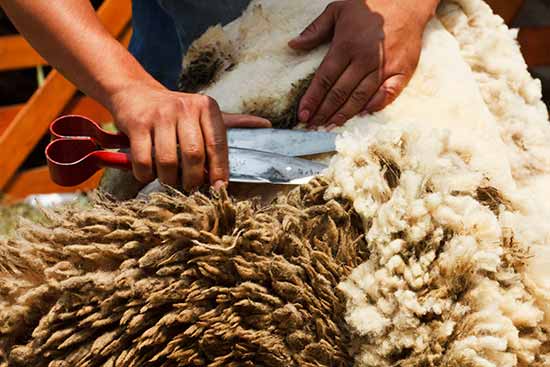 Australia is also one of the world's biggest wool producers, producing around 25% of the wool sold on the world market. In 2015-16, the Australian wool industry was estimated to reach a value of $3 billion (Department of Agriculture and Water Resources). It has gone from strength to strength since then, and has seen a very favourable start to 2017.
In March, the Australian Eastern Market Indicator (EMI) price for wool reached $14.57/kg. Thanks to favourable growing conditions, and a return to confidence in Australian wool farmers, the Emi wool price is expected to further increase by 6% by 2017-18, supported by strong global demand (Rabobank).
In fact, it seems that wool industries in almost every advanced, wool-consuming country are set for respectable economic performances in the year to come. Improved economic environments in countries such as India and Europe and an expectation for higher quality materials has seen consumer demand and confidence for wool reach its highest point since 2001 (Rabobank).
Chinese buyers in particular are set to dominate the market, as purchases there have risen by 9.3% from this time last year (Rabobank). This is a welcome return to form for the Australian wool industry, which has been plagued by several years of unfavourable prices and poor returns.
Sugar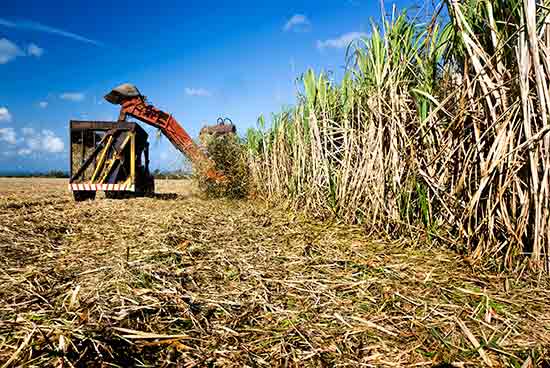 Sugar prices have endured a difficult start to the year, falling 20% from its peak in September 2016 of about $700/tonne (AUD) (NAB). Prices for sugar remain considerably higher than 2015 however, and they were expected to rise strongly into the remainder of 2017. That is, until Cyclone Debbie happened.
Cyclone Debbie wreaked havoc across Eastern and Northern Queensland, causing major crop damage in Mackay and the surrounding areas – a real hotspot for sugar canes. Up to 2 million tonnes of cane was affected.
While the financial effects of the cyclone on Australia's sugar industry are yet to be fully realised, it appears that the damage won't be as severe as it could have been.
Rabobank's General Manager for North Queensland, Chris Adams, had much to say on the matter.
"We basically missed out on the real effect of the cyclone, which is wonderful," he said.
"Most of the cane has absolutely been flattened, which is okay if it hasn't snapped."
While there have been setbacks for the sugar industry in Australia, the global market has seen no such troubles. The world price indicator for raw sugar is expected to rise by 26% in 2016-17 from the previous year, and should rise a further 5% in 2017-18 to rest at about 22 US cents per pound (ABARES).
Cotton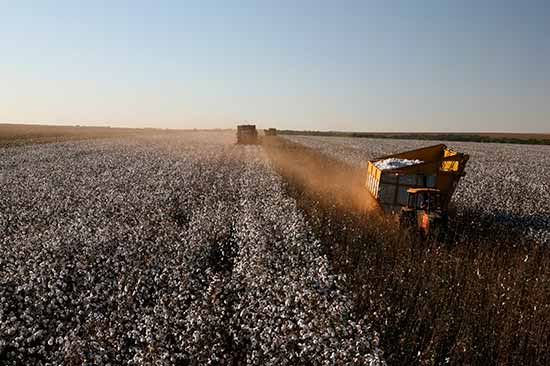 A big year is on the horizon for cotton farmers, with NAB forecasting an increase of 8.5% in cotton lint production in 2017-18, mainly due to the availability of irrigation water. Cotton plantings are now as far south as the Victorian border, which was previously unheard of.
By the end of the upcoming 2016-17 period, Australian cotton should have risen by a whopping 64% to 1 million tonnes, and this figure will only have increased in 12 months' time according to ABARES. Along with improved irrigation, this significant increase in cotton production has also been driven by high soil moisture and generally favourable weather conditions. Cotton production should peak at 1.1 million tonnes by the end of 202017-18, and this upwards trend is expected to continue until 2021-22 (ABARES).
It isn't just Australian cotton that's booming. World cotton prices are increasing all over the world due to production exceeding expectation, as the demand for high-quality fibre picks up across the globe.
World cotton production is forecast to improve by about 8% to around 24.7 million tonnes in 2017-18, due to rising cotton consumption in key areas such as China, Indonesia, Brazil, Vietnam, and more.
In 2016-17, returns to cotton growers in Australia are forecast to increase by 7% to reach an average of $590 per bale (227kg) for lint, including cottonseed. By 2017-18, returns to cotton growers are predicted to reach an average of $597/bale (ABARES).
Wine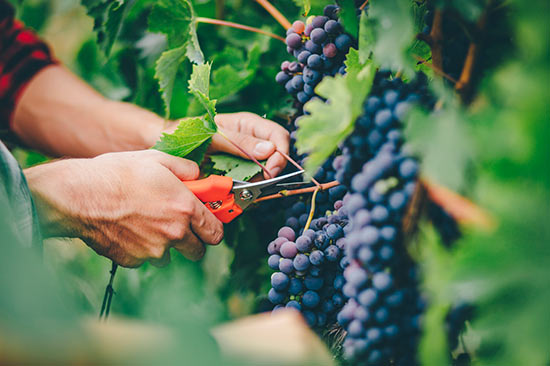 Wine Australia's 2016 price dispersion report shows a strong price from the wine sector in 2016-17, with more to come. It expects the wine sector to finish the year at around $2.37 billion in value, a figure supported by ABARES.
The Aussie wine industry is heavily export focused, and a 3.3% decline in global wine production should see the value of Australian wine exports rise by 5% to $2.5 billion.
This growth will also be driven by continually increasing demand from China and Hong Kong, plus a modest recovery to wine importing from the European Union, according to ABARES.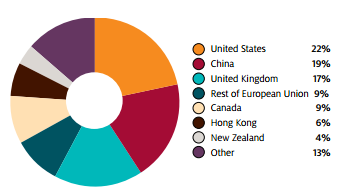 Source: Value of Australian wine exports by country in 2016, ABARES agricultural commodities report
Fruit and vegetables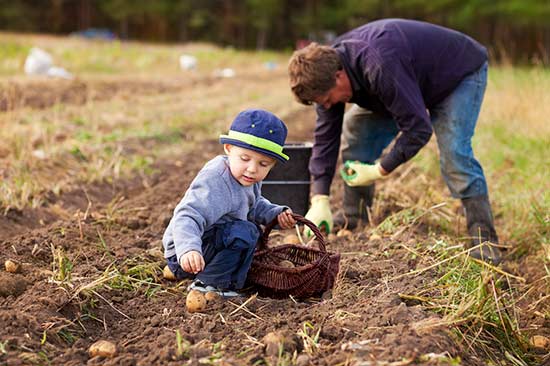 The fruit and vegetable sector is set for a good few years, according to ABARES. The gross value of Australian horticultural production is expected to rise from its current value of approximately $9.3 billion.
The fruit and vegetable sectors account for $3.7 billion of this amount each, with the remainder taken up by the production of nuts and flowers.
Over the next few years, the gross value of fruit production should rise to about $3.9 billion in real terms, while vegetables are expected to reach more than $4 billion (ABARES).
There are several key factors that could cause this strong performance. Mainly, exceptional rainfall across much of Australia for the past few years has accelerated production growth. There is also growing demand domestically for fresh producer, as well as favourable export opportunities overseas.
Reduced tariffs on horticulture exports will see demand from the likes of Asian markets increase exponentially, while widespread population growth should see demand rise domestically (ABARES).
Fertiliser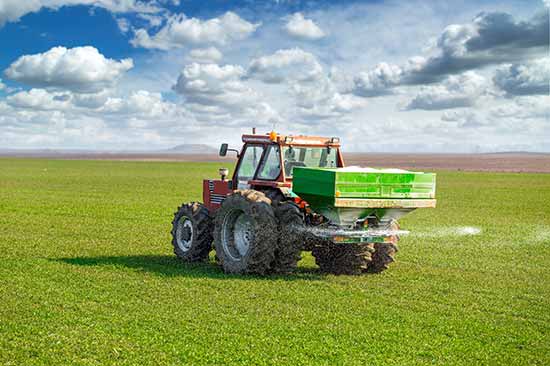 Recently, sluggish import demand for fertiliser has seen prices fall globally over the past few months, with US demand in particular being lower than expected.
Australia's importing window for fertiliser has had an extremely strong start to 2017, however, as Rabobank's data shows that import levels for Urea (a chemical commonly used in fertiliser) are up 80% to almost 260,000 tonnes.
In terms of global supply though, the Australian dollar still represents a risk to local retail prices. Should the AUD depreciate, the retail prices of fertiliser will be pushed up. Rabobank fully expects global prices of fertiliser to remain under pressure for the majority of 2017 and into 2018, as global supply is met with low demand.
Oil and freight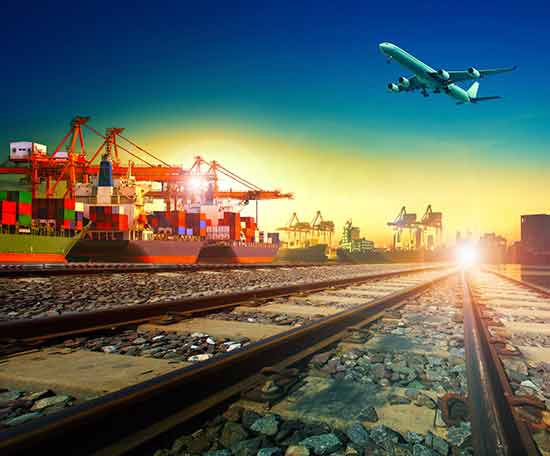 The oil and freight industry will continue to be volatile in the foreseeable future, according to Rabobank's monthly report for April 2017. After suffering a 10% drop in March 2017, the global oil market has recovered to the levels it was at in January and February 2017.
The current price of crude oil is about USD $56 per barrel, and Rabobank forecast that this will reach as high as $60/barrel by the first quarter of 2018. This predicted rise is mainly due to political instability, such as the USA's air strikes in Syria. Rising oil prices will cause the costs of distrusting the majority of Australia's agricultural exports to spike.
Climate predictions
According to the Bureau of Meteorology (BOM), 2016 was the fourth warmest year on record, with the annual national temperature about 0.87 degrees above the average. The climate throughout this year was influenced by a combination of drivers.
Arguably the biggest contributor to this was El Nino, a natural weather event that occurs when sea temperatures in the Pacific Ocean become much warmer than usual. The 2015 El Nino was one of the 3 strongest on record, leading to below average rainfall throughout the year.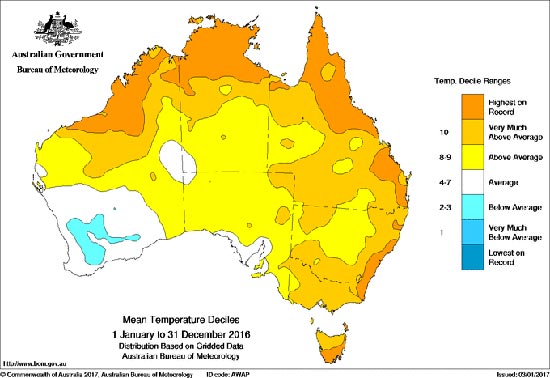 Source: 2016 annual mean temperatures, Bureau of Meteorology
Since the most recent El Nino ended late in 2016, the climate here has followed suit. In the latest BOM report for April 2017, the national mean temperature has fallen to just 0.9 degrees above the national average, with rainfall also moving back to roughly the national average.
This followed an exceptionally warm March, which saw every state except WA record its warmest March on record. Rainfall was very much above average here, but this was somewhat skewed by the torrent brought on by Tropical Cyclone Debbie.
While it may be a little too early to tell at this state, the current data gives the impression that the weather in Australia is beginning to calm and return to normality, which is good news for our farmers.
So what does the Australian climate have in store for us in 2017-18?
Well, according to 6 out of 8 models used by Australian climatologists to predict weather events, we could be in for another El Nino.
New analysis by BOM has found that Australia is at a 50% chance of being affected by this phenomenon again, as there has been a steady warming over the Pacific Ocean in the past few months.
The Bureau's manager of climate prediction services, Dr Andrew Watkins, believes that a return of El Nino after a positive 2016 could easily make some difficult conditions for our farmers.
"We have been seeing a fairly steady warming up of those waters [in the tropical Pacific Ocean] since the start of the year," Watkins said.
With the possibility of reduced rainfall, warmer temperatures and increased fire dangers in the central areas, certain farming sectors such as wheat and grain may have to brace themselves.
Compare Agribusiness Providers
The Trump effect on agribusiness
Overall, Rabobank's Research Food & Agribusiness General Manager, Tim Hunt, believes that Australian agriculture looks poised for a strong next 12 months, with Rabobank's latest report "expecting smooth sailing ahead for most commodities".
The factors that led to this belief included a projected rise in global economic growth, plus the prices of livestock and crops being expected to rise to their highest point in 5 years. Hunt also believes that other positive factors like high dam levels, neutral climate indicators, and strong on-farm confidence have created a strong outlook for the farming industry, at least in the short-term.
But there is a potential wildcard in store for the Australian agriculture industry in the next year or so: the 'Trump effect'.
The Trump Presidency could potentially bring with it some short-term benefits, while things are more uncertain in the long-run.
"There is potential, particularly in 2017, for Australian agriculture to benefit in some regards from the new administration," said Rabobank's Mr Hunt.
"Fiscal stimulus, tax cuts, and reduced US regulation are likely to underpin solid near-term economic growth in the US – contributing to a strong consumer economy and demand for the agricultural products Australia exports to the US."
The Trump administration does bring a level of unpredictability about it, however, and there is really no telling just how the farming industry will be affected.
While the short-term possibilities for agriculture in Australia look good, there is less certainty about the less-foreseeable future. According to the report, the Trump administration is likely to create a rise in protectionism, which could cause high losses to Australia as an export-heavy nation.
Farming is the backbone of the Australian way of life, and every 12 months, Canstar releases an award report analysing the agribusiness market for farmers and financial institutions in Australia. The latest Agribusiness Award report for 2017 has just been released, so check it out to find the agribusiness products and services to help your farm prosper.
Check out our comparison table snapshot below, which features a snapshot of the current low interest rate agribusiness providers. Please note that this table features providers who provide loans of $250,000 in NSW, secured by commercial property or farm.