TAL Life Insurance
TAL is a specialist provider of life insurance, as well as superannuation funds, and investment products.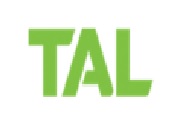 "We're dedicated to making life insurance easy."

About TAL
TAL was founded in 1869 and is now Australia's leading specialist life insurance provider. They insure the lives and incomes of 2.5 million Australians, and provide an income for the 1,400 employees in their offices across Australia.
TAL provides direct life insurance through InsuranceLine, and has been a joint winner of CANSTAR's prestigious award for Outstanding Value Life Insurance in 2013, 2014, and 2015. TAL is owned by the Dai-ichi Life Insurance Company, one of the world's largest life insurance providers.
TAL has created a quick and fun Infographic Quiz that you can take online to see how your attitudes towards life, risk, and life insurance compare to the rest of Australia.
As a partner of the 2014 MoneySmart Week, TAL created The Imaginarium, an amazing social experiment. Passers-by were interviewed about what was most important to them in life now and for the future, while hidden artists created beautiful images to represent these values and dreams. This experiment helped everyday Aussies to see the monetary value of the future they imagined, and many who had never considered income protection insurance before began to think seriously about it. You can view the artists' depictions of people's dreams on TAL's Facebook page.
How TAL supports the community
Community sponsorship: TAL's A Gift For Life program sponsors vital community partners including Assistance Dogs Australia, the annual Mother's Day Classic fun run for breast cancer research, MoneySmart Week, and the Paralympic Workplace Diversity Program.
Australian art and culture: TAL and Dai-ichi Life together bought the Derby Collection of 745 unique botanical artworks of many now-extinct Australian flora and fauna, preserving this collection for future generations.
How TAL supports the environment
TAL has reduced their paper usage by more than 35% since 2008, as well as decreasing carbon emissions and increasing recycling.
TAL offices have been recognised as a Fair Trade Community, using exclusively Fair Trade certified products.
Annual participant in Earth Hour.
Read TAL's 2014 Sustainability Report to find out more of the ways they are protecting the environment.
Compare Life Cover Available Directly From The Provider
Compare Life Cover Available From An Advisor
Compare Income Protection Cover
Compare Trauma And Major Illness Cover
Other Life Insurance from