NobleOak Direct Life Insurance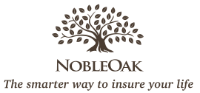 NobleOak is a provider of life insurance, income protection insurance and business expenses insurance.
Compare NobleOak Life Insurance
Considering NobleOak Life Insurance? See our comparison table below for a snapshot of their current market offerings. Please note that this table has been formulated based on a non-smoking, 30-year-old male in a professional occupation. To compare more direct life insurance products, please click here.
NobleOak wins Outstanding Value Award for Direct Life Insurance in 2018
In Canstar's 2018 Direct Life Insurance Star Ratings, we researched and rated 27 direct life insurance products from 27 insurers to determine which providers offer Outstanding Value. We are pleased to congratulate NobleOak, one of our three winners of an Outstanding Value Direct Life Insurance Award in 2018.
Why NobleOak is a winner
NobleOak has received this award for a third consecutive year for its Premium Life Direct product. This product received 5-Stars in all profiles considered and Canstar Research found the primary driver of this strong performance was low premiums, which reduced by 5% for all insurable amounts compared to last year.
NobleOak offers a number of features such as guaranteed future insurability, so a person can increase the sum insured when their circumstances change, e.g. when they marry or start a family. In addition, suicide is only excluded in the first 13 months of the policy, and other typical general exclusions do not apply, such as death as a result of being under the influence of drugs/alcohol, working at heights or underground, or participating in dangerous pursuits such as motorsports, mountaineering or hang-gliding.
Other standout features include optional additional coverage including total permanent disability (TPD) cover of up to $5 million and trauma cover of up to $2 million. This can be added without the requirement for the consumer to obtain advice.
How do I buy NobleOak life insurance?
You can get a quote for NobleOak life insurance by clicking on one of the NobleOak products in Canstar's direct life insurance comparison page for your occupation and age:
How much does NobleOak life insurance cost?
The cost of your life insurance will vary depending on several different factors such as your age, occupation, choice of insurer, and whether you're looking for direct life insurance or advised life insurance. You can compare NobleOak life insurance premiums for direct life insurance for your situation by clicking on the link below. Compare these premiums to the average premiums for direct life insurance on our database.
NobleOak Premium Life Direct
Canstar Research
Award:
Outstanding Value Life Insurance
The table below shows some of our best life insurance options available for a non-smoking male aged 30-39 years old, who is working in a professional occupation. This table is sorted by Star Rating (highest to lowest).
Compare the rest of your options when it comes to term life insurance using our website:
Other Life Insurance from