NobleOak Direct Life Insurance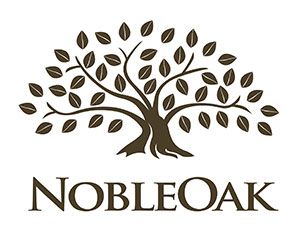 NobleOak is a provider of life insurance, income protection insurance, and business expenses insurance.
"With you for life." (NobleOak)
Compare NobleOak Life Insurance
Considering NobleOak Life Insurance? See our comparison table below for a snapshot of their current market offerings. Please note that this table has been formulated based on a non-smoking, 30-year-old male in a professional occupation. To compare more direct life insurance products, please click here.

NobleOak wins Outstanding Value Award for Direct Life Insurance in 2017
In Canstar's 2017 Direct Life Insurance Star Ratings, we researched and rated 31 direct life insurance products from 30 insurers to determine which providers offer outstanding value for money. We are pleased to congratulate NobleOak, one of our two winners of an Outstanding Value Direct Life Insurance Award in 2017.
NobleOak, with their Premium Life Direct product, are the only direct life insurance provider to have achieved a Canstar award for outstanding value in both 2016 and 2017.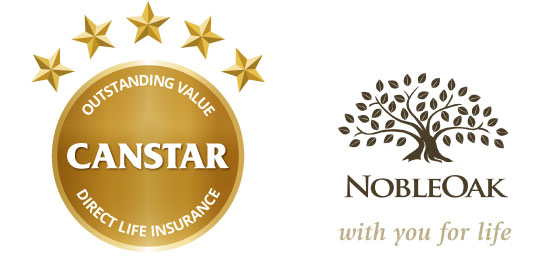 Why NobleOak is a winner
NobleOak has won the Outstanding Value Direct Life Insurance Award for the second time in 2017. NobleOak offers an outstanding value proposition by combining great price and features.
NobleOak offers great features such as the indexation of your sum insured amount, which means that each year your sum insured amount will increase by around 5%.
A premium freeze is also offered, meaning your premiums can be "frozen" upon request, so they do not increase each year. However, be aware that when a premium freeze is applied, your sum insured decreases each year as you age.
Cover applies 24 hours a day worldwide, meaning you are still covered while travelling overseas.
A funeral benefit of up to $15,000 is paid, to assist with the cost of your funeral if you should pass away.
A terminal illness benefit of up to $3 million is offered if you are diagnosed with a terminal illness. This can assist with costs such as paying medical bills, pre-paying funeral costs, and paying off a mortgage or other debts.
Guaranteed future insurability is offered, so a person can increase the sum insured when their circumstances change, e.g. when they marry, or have a new baby.
Financial Advice benefit is paid to help dependants manage the money from the insurance payout.
TPD cover of up to $5 million is available as a rider (an optional extra). TPD cover can be for a different sum insured amount than the death cover sum insured amount.
Trauma cover is available as a rider, and can be added without the requirement for the consumer to obtain advice.
Additional payments are available for grief support or counselling for family members.
Insurance claims can be initiated over the phone and online.
NobleOak Life Insurance FAQs
If you're in the process of choosing a life insurance policy, we hope the frequently asked questions (FAQs) below can help clarify what you're looking for. If your question is not answered, please contact us at Canstar so that we can add this information to the FAQs listed below.
How do I buy NobleOak life insurance?
You can get a quote for NobleOak life insurance by clicking on one of the NobleOak products in Canstar's direct life insurance comparison page for your occupation and age:
Are NobleOak life insurance premiums tax deductible?
It depends on whether you buy a policy through NobleOak or your financial adviser, or if you only have life insurance included through your super fund.
When purchasing income protection insurance, the insurance premiums will be generally tax deductible if you buy it directly from an insurer or through your financial adviser, but not tax deductible if you buy income protection through your super fund.
When it comes to life insurance, if you only have life insurance included through your super fund, the premiums paid are generally not tax deductible because the expense is not paid by you directly out of pocket.
Premiums for other forms of life insurance such as term life insurance, TPD insurance, or trauma insurance may not be tax deductible. Ask your tax accountant or financial adviser for details.
How much does NobleOak life insurance cost?
The cost of your life insurance will vary depending on several different factors such as your age, occupation, choice of insurer, and whether you're looking for direct life insurance or advised life insurance. You can compare NobleOak life insurance premiums for direct life insurance for your situation by clicking on the link below. Compare these premiums to the average premiums for direct life insurance on our database.
Will my NobleOak life insurance premiums increase as I age?
NobleOak life insurance policies are renewed annually, with stepped premiums that increase as you age and as your level of cover increases with indexation, to keep up with inflation.
An optional premium freeze is also offered, meaning your premiums can be "frozen" upon request, so they do not increase each year (level premiums). However, there are pros and cons to this, and it's important to understand that when a premium freeze is applied, your sum insured decreases each year as you age.
For more information about stepped premiums versus level premiums, read this article.
Do I need to have a blood test or medical exam to get NobleOak life insurance?
At the time of writing, NobleOak does not require medical examinations or blood tests to apply for direct life insurance. When you apply for direct life insurance, NobleOak will usually ask some medical, occupation, and lifestyle questions, and may require medical information for certain types of cover.
How do I change my level of cover?
You should be able to change your level of cover by adding or removing optional features like TPD cover, and by increasing or decreasing your sum insured for each type of cover included in your life insurance policy. Keep in mind that increasing your level of cover or adding your spouse or children to your policy is likely to mean you pay a higher insurance premium.
If you wish to change your policy inclusions, contact NobleOak on 1300 551 044 (open Mon-Fri), or email enquiry@nobleoak.com.au, or fax (02) 9299 7852 to discuss your options.
Can I get NobleOak life insurance if I have a pre-existing condition?
At the time of writing, NobleOak direct life insurance does not automatically exclude any pre-existing conditions.
NobleOak may impose Special Acceptance Terms on your cover at the time you take out the policy in order to cover you for certain conditions.
You have a legal duty to disclose (tell NobleOak about) any pre-existing medical conditions you have now or had in the past, as well as current medications and health issues. Find out more about pre-existing conditions for life insurance here.
How do I lodge a claim with NobleOak life insurance?
You or your beneficiaries can claim with NobleOak life insurance online or by calling them on 1300 298 112 (open Mon-Fri).
If your insurance claim is approved, NobleOak will arrange the payment of your benefit.
About NobleOak Australia
Founded in 1877, NobleOak has actually been around even longer, offering insurance to members since 1861 as the NSW Ancient Order of Druids. This makes NobleOak one of Australia's oldest insurance providers, but over the past year they have really impressed our Research team with how they have kept their policy offering fresh.
NobleOak are a specialist provider in Australia of Life Insurance, TPD and Trauma Cover, Income Protection Insurance, and Business Expenses Insurance. Since entering the market for life insurance, they have already won many awards for their policy products.
The vision of this insurance provider is to provide affordable and accessible life insurance cover to protect Australians and their families. They keep costs low by avoiding expensive mass advertising and large upfront commission payments to third parties, and they pass these savings back to their members in the form of lower premiums.
NobleOak proudly advertises that they have a client satisfaction rating of 98.5% (as of April 2016). If you phone them, they promise that a real person in Australia will answer your call within three rings.
NobleOak supports the Australian community by partnering with organisations such as Chemistry In Australia (RACI), the Pharmaceutical Society of Australia, and the Independent Practitioner Network.
Compare Life Insurance Directly From The Provider
Compare Income Protection Insurance
Compare Trauma and Major Illness Insurance
Other Life Insurance from