NobleOak Direct Life Insurance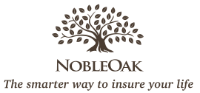 NobleOak is a provider of direct income protection insurance, life insurance, TPD insurance, trauma insurance, and business expenses insurance.
Compare NobleOak Life Insurance
Considering NobleOak Life Insurance? See our comparison table below for a snapshot of their current market offerings. Please note that this table has been formulated based on a non-smoking, 30-year-old male in a professional occupation. To compare more direct life insurance products, please click here.
NobleOak wins Outstanding Value Award for Direct Life Insurance in 2017
In Canstar's 2017 Direct Life Insurance Star Ratings, we researched and rated 31 direct life insurance products from 30 insurers to determine which providers offer Outstanding Value. We are pleased to congratulate NobleOak, one of our two winners of an Outstanding Value Direct Life Insurance Award in 2017.
NobleOak, with their Premium Life Direct product, are the only direct life insurance provider to have achieved a Canstar award for outstanding value in both 2016 and 2017.
Why NobleOak is a winner
NobleOak has won the Outstanding Value Direct Life Insurance Award for the second time in 2017. NobleOak offers an outstanding value proposition by combining great price and features.
NobleOak offers great features such as the indexation of your sum insured amount, which means that each year your sum insured amount will increase by around 5%.
A premium freeze is also offered, meaning your premiums can be "frozen" upon request, so they do not increase each year. However, be aware that when a premium freeze is applied, your sum insured decreases each year as you get older.
Cover applies 24 hours a day worldwide, meaning you are still covered while travelling overseas.
A funeral benefit of up to $15,000 is paid to assist with the cost of a funeral if you should pass away.
A terminal illness benefit of up to $3 million is offered if you are diagnosed with a terminal illness. This can assist with costs such as paying medical bills, pre-paying funeral costs, and paying off a mortgage or other debts.
Guaranteed future insurability is offered, so a person can increase the sum insured when their circumstances change, e.g. when they marry, have a baby or take out or increase a mortgage on their primary place of residence.
Financial Advice benefit is paid to help dependants manage the money from the insurance payout.
TPD cover of up to $5 million is available as a rider (an optional extra). TPD cover can be for a different sum insured amount than the death cover sum insured amount.
Trauma cover is available as a rider and can be added without the requirement for the consumer to obtain advice.
Additional payments are available for grief support or counselling for family members.
Insurance claims can be initiated over the phone and online.
How much does NobleOak life insurance cost?
The cost of your life insurance will vary depending on several different factors such as your age, occupation, choice of insurer, and whether you're looking for direct life insurance or advised life insurance. You can compare NobleOak life insurance premiums for direct life insurance for your situation by clicking on the link below. Compare these premiums to the average premiums for direct life insurance on our database.
How do I buy NobleOak life insurance?
You can get a quote for NobleOak life insurance by clicking on one of the NobleOak products in Canstar's direct life insurance comparison page for your occupation and age:
NobleOak Premium Life Direct
Canstar Research
Award:
Outstanding Value Life Insurance
The table below shows some of our best life insurance options available for a non-smoking male aged 30-39 years old, who is working in a professional occupation. This table is sorted by Star Rating (highest to lowest).
Compare the rest of your options when it comes to term life insurance using our website:
Other Life Insurance from