Asteron Life Insurance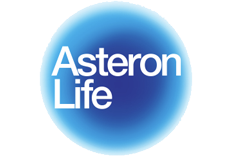 Asteron Life is a provider of life insurance policies that are only available through a financial adviser. Although Canstar does not compare or rate Asteron Life life insurance policies, we have outlined some key features below.
What life insurance products does Asteron Life offer?
Asteron Life offers life insurance policies that provide varying levels of cover depending on your personal and family circumstances and needs. Asteron life insurance policies can be taken out as a single policy or can be built into a superannuation fund.
Asteron Life currently offers a suite of life insurance products, including:
Life Insurance: Lump sum payment upon your death or being diagnosed with a terminal illness.
Total and Permanent Disablement (TPD) Cover:

Financial protection in the event that you become totally and permanently disabled. This lump sum payment may be used to pay medical expenses or generate an income, for example.

Trauma Cover:

A lump sum payment if you're diagnosed with a serious medical condition such as cancer, heart attack or stroke.

Income Protection Cover:

Generally provides cover for up to 80% of your monthly income if you're unable to work due to sickness or injury.
What features does Asteron Life life insurance offer?
Some optional and built-in benefits of an Asteron Life Life Cover policy include:
Life cover benefit:

A lump sum payment in the event of your death.

Terminal illness benefit:

A lump sum payment if you're diagnosed as terminally ill.

Funeral advancement benefit: Covers up to $20,000 in immediate expenses after your death to assist with funeral costs.
Financial planning benefit: Reimburses fees up to $2,500 for the cost of financial advice fees following the payment of a claim.
Waiver of premium due to serious disablement:

Allows you to wave your premiums for up to two years if you suffer a sickness or injury that permanently prevents you from performing at least two activities of daily living without the assistance of another person. Activities of daily living may include bathing, showering, dressing or eating, among other things.

Loyalty funeral benefit:

Pays an extra $15,000 to your beneficiaries in the event of your death if your premiums are paid to the age of 70 for 10 consecutive years.

Premium and cover suspension benefit:

Allows you to apply to suspend your premium and cover for up to 12 months if you are experiencing financial hardship.

Premium freeze option:

Allows you to freeze the premiums on your cover so that your future premium continues at a set amount.

Continuation of cover:

Allows you to convert your insured amount from a superannuation life insurance policy to a life insurance policy outside of super if you are no longer eligible to make contributions to your super fund.
How to apply for Asteron Life life insurance
Asteron Life life insurance policies are only available through a financial adviser. After you receive a quotation from your adviser, you are able to complete an Asteron Life application form which is available online.
You can also complete an online application form with your adviser, however, Asteron Life recommends that you obtain a copy of the application form submitted from your financial adviser.
Eligibility to apply
According to Asteron, to apply for stepped premiums you must be between 18-75 years old. To apply for level premiums, Asteron says you must be aged between 18-60 years old.
Upon application, you'll also be asked some simple questions about your health, lifestyle and family medical history to determine what level of cover Asteron Life is willing to offer to you.
Asteron Life Insurance FAQs