Petcover Pet Insurance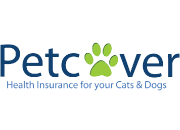 Petcover is a specialist provider of pet insurance.
Compare Petcover pet insurance
The table below displays a snapshot of pet insurance policies with accident and illness cover on Canstar's database with links to Petcover's website, sorted by Star Rating (highest to lowest). These results are based on cover for a one-year-old medium dog breed.
What types of pet insurance does Petcover offer?
Petcover offers four levels of cover for pet insurance:
Economy – Up to $7,000 veterinary fee cover
Entry – Up to $10,000 for dogs and $9,000 for cats veterinary fee cover
Mid-point – Up to $15,000 for dogs and $10,000 for cats veterinary fee cover
Superior – Up to $20,000 for dogs and $15,000 for cats veterinary fee cover
If you're unsure as to which kind of pet insurance is most appropriate for you, or would like to better understand the different levels of cover, check out our guide to the different kinds of pet insurance.
What breed of pets does Petcover pet insurance cover?
Petcover has insurance policies for domestic cats and dogs, as well as horses. Their Equine Policy includes mortality, theft and straying, with optional extras such as vet fee cover and permanent loss of use. For more information about horse insurance, click here.
What is not covered by Petcover pet insurance?
Petcover expressly lists some illnesses and injuries as exclusions that are not covered by its pet insurance.
Pre-existing conditions – If your furry friend has suffered or undergone treatment for a particular condition, and you decide to switch pet insurance providers, it may not be covered under your new policy. Always declare pre-existing conditions when first making an application.
Day-to-day care – Petcover won't cover the regular day-to-day expenses of owning a pet, which can include: regular or dietary pet food, vaccinations, micro chipping, flea/worm control, shampoo, collars/leads and dog beds etc.
Breeding – If you have bought dogs or cats with the specific purpose of breeding them, Petcover won't cover any injuries or conditions that arise as a result.
Dental care – This can include dental procedures, gingivitis and treatment of diseases or fractures, teeth cleaning or teeth removal.
Failure to take care – Petcover won't cover any treatment of conditions caused either deliberately or negligently, by you towards your pet. A few examples of this include leaving the gate open, forgetting to feed your pet, the ingestion of hazardous substances and an unsafe living area.
It's important to read the Product Disclosure Statement (PDS) to find any exclusions listed in a policy and to also consider what illnesses your pet may need coverage for. For more information about what's not covered by some pet insurance policies, check out our list of 13 common pet insurance exclusions.