If you're in a financially secure position and have been planning to buy your first home, you may be thinking that now is the ideal time to get into the property market.
Home loan interest rates on Canstar's database are at rock bottom, and there's the potential for reduced competition for properties currently due to a rising unemployment rate and overall economic uncertainty. Some people saving for a deposit whose income hasn't been affected may also have seen their capacity to put money aside increase recently, with spending on things like fitness, travel and going to the pub dropping dramatically due to government restrictions. In addition, the First Home Loan Deposit Scheme, which was launched earlier this year, presents an opportunity for some eligible first-time purchasers who need an extra deposit boost.
In short, if you have a stable job and income, some property experts believe now could be a good time to "get out there and see what's available".
"If you do find somewhere that you're really keen on, see if there's the potential for a deal to be done," Professor Steven Rowley from Curtin University's School of Economics, Finance and Property said.
And it does appear that many first home buyers are continuing to take out home loans. According to data from the Australian Bureau of Statistics, first home buyers made up almost 32% of all owner occupier commitments in March 2020, a small increase on the previous period.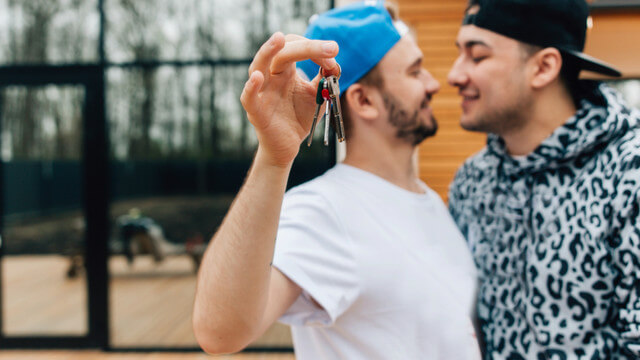 However, rather than jumping into the market straight away, Canstar's finance expert Steve Mickenbecker said first home buyers may want to consider biding their time. He suggested that while the uncertainty lasts, newbie buyers may be better off saving for a larger deposit, researching their finance options and waiting for house prices to fall should Australia go into a recession.
"First home buyers have typically spent around five years saving up a deposit and trying to get to 20% or getting to 15% and paying lender's mortgage insurance," Mr Mickenbecker said.
"If we hit recession, prices are likely to fall. If property values fall after you buy, that's five years worth of work that could be wiped out and you may find that you've paid too much."
Each of the big four banks is forecasting dwelling prices to fall in the near future. ANZ has forecast that prices in capital cities will fall by 10% from their peak before bottoming out by the middle of 2021, while Westpac is expecting a 5-10% drop this calendar year. Under CBA's base case, home prices will fall by 11% over three years. However, the bank has said that prices risk falling by 32% if there is a "prolonged downturn". NAB has also warned that house prices could plummet by 30% in a "severe downside" scenario.
In the meantime, Mr Mickenbecker said it could be a good idea for prospective buyers to do their homework so they can act quickly when the right time comes. This includes researching how much you can afford to borrow and where you can borrow it from.
Some of the top-rated first home buyer home loans on Canstar's database
If you're looking to compare first home buyer home loans, Canstar's database might be a good place to start.
The comparison table below displays some of the variable rate home loans on our database with links to lenders' websites that are available for first home buyers. This table is sorted by Star Rating (highest to lowest), followed by comparison rate (lowest-highest). Products shown are principal and interest home loans available for a loan amount of $350K in NSW with an LVR of 80% of the property value.
Before committing to a particular home loan product, check upfront with your lender and read the applicable loan documentation to confirm whether the terms of the loan meet your needs and repayment capacity. Use Canstar's home loan selector to view a wider range of home loan products.
*Comparison rate based on loan amount of $150,000 and a term of 25 years. Read the Comparison Rate Warning
What should first home buyers look for in a home loan?
When choosing a home loan, it's important to look at both price and features. For example, Canstar's Home Loan Star Ratings compare both price and features across the 4,000+ home loan products and dozens of providers in our database.
With price, finding a home loan with a competitive interest rate can potentially save you thousands of dollars over the life of your loan and means you'll be paying lower monthly repayments. You should also check the home loan fees, Mr Mickenbecker said.
When it comes to features, he suggested that buyers look for a home loan that gives you options.
"Take a loan that allows for flexibility to make extra repayments as that's how you can get ahead financially," Mr Mickenbecker said. "The loan should ideally also have a redraw or offset facility so you can access the money if you need to."
Keep in mind that additional features like these may add an additional cost, meaning they aren't necessarily suitable for every borrower's individual circumstances. For example, some lenders may charge a fee for each redraw you make.
Redraw facilities have also been in the spotlight recently, after ME Bank reduced the amount customers could redraw from their home loans without notice. This drew criticism from customers who had planned on using this money to help them weather the coronavirus pandemic. With this in mind, it's important to be across the loan T&Cs.
How much do first home buyers need to save?
In most cases, it's ideal to have a deposit of at least 20% of the purchase price of the property. If you have less than this, you'll typically need to pay lender's mortgage insurance (LMI). This protects the lender in the event that you can't meet your home loan repayments.
QBE, one of the main LMI providers in Australia, has currently suspended its LMI cover for new loans taken out by borrowers working in industries that have been impacted by coronavirus, such as gyms, tourism and hospitality. This means these workers may need at least a 20% deposit to get a loan, depending on the lender they choose and its LMI provider.
In addition to the deposit, it's also important to factor in the additional costs that come with buying a home. This normally includes stamp duty, conveyancing and legal fees, and building and pest inspections.
To help with these costs and to and other financial aspects of buying a home, it could be worth checking whether you are eligible for a state or territory first home owner grant or the federal government's First Home Loan Deposit Scheme. Under this scheme, eligible applicants can purchase a property with a deposit of as little as 5% without needing to pay LMI. According to Domain, out of the 10,000 places offered in this round of the scheme, there were just under 20% of spots up for grabs as of 20 April. Another 10,000 places will be available come July 2020. Participating lenders also now have the ability to extend an applicant's 90 day pre-approval period for a further 90 days. This means first home buyers may have up to 180 days to find a property under the scheme.
How easy is it for first home buyers to get a loan at the moment?
Before you apply for a loan, it's a good idea to establish a pattern of financial behaviour that shows the lender you can afford the loan, Mr Mickenbecker said. This means doing things like putting aside a regular amount of money each month.
"This will serve as a strong argument to show that you have the discipline to pay off a loan," Mr Mickenbecker said. "First home buyers don't have that home loan repayment track record, whereas refinancers do."
Lenders will also consider whether you could afford to meet your repayments if the interest rate rises by a certain amount in the future. This is known as a serviceability calculation.
Lenders will also typically look at your expenses, including your daily living costs, any debt you have (such as credit cards or personal loans), whether you have any dependents and your credit score.
Main image source: Halfpoint (Shutterstock)