Verifying your identity through a mobile app and signing your home loan offer with your touchpad or mouse – these are just some of the ways lenders are turning to digital solutions to continue offering mortgages while adhering to the social distancing rules of the COVID-19 lockdown.
The coronavirus pandemic has thrown a spanner into the works of the Australian economy and way of life.
When it comes to home loans, lenders and mortgage brokers have had to adapt to the social distancing regulations which have impacted their staff's ability to meet with customers face-to-face. This has led to some institutions making changes to their lending policies and procedures, including moving some of their home loan processes to the digital space.
While Australians have been slowly emerging from COVID-19 lockdowns, from 8 July the Melbourne metropolitan area and Mitchell Shire returned to stage three restrictions for six weeks. This means these digital processes have again come back into the spotlight.
So, what are some of the digital changes now in place, how will they impact the customer, and will they continue to be used after the coronavirus lockdown ends across all Australian states and territories?
What are some of the digital solutions lenders are using for mortgage applications during the pandemic?
According to Mortgage Choice broker James Algar, many lenders in the Australian market, particularly those based entirely online, were already using a range of digital home loan application processes prior to the pandemic, including online application forms, digital ID verification technologies and e-signatures.
Mr Algar told Canstar the COVID-19 social distancing restrictions had helped to push other lenders who were "stuck in the Stone Age" of face-to-face meetings and physical paperwork to introduce some new digital processes to their mortgage applications.
"We've seen most of the major banks come to the party now with different remote solutions, some better than others," he said.
Below is a list of some digital processes many lenders have introduced during the pandemic.
Video conferencing with your broker
Mr Algar said many lenders have now given brokers the green light to conduct client interviews through video conferencing when they are unable to meet in-person during the pandemic. Mr Algar said some brokers have had the ability to communicate with clients via video calls for the last four or so years, but until now this option was only really used when clients were overseas or living remotely.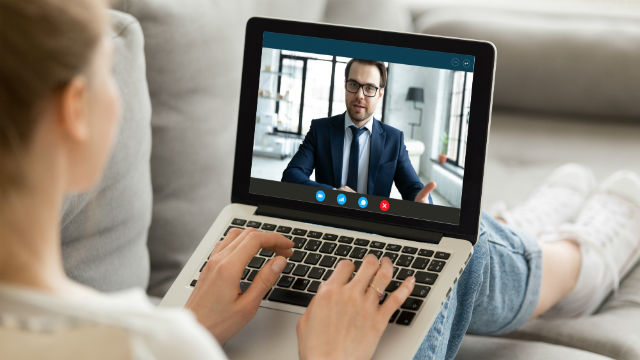 Digital verification of identity (VOI) checks
Mortgage Choice CEO Susan Mitchell said banks typically require brokers to verify the identity of customers in a face-to-face setting.
"However, due to complications stemming from COVID-19, most banks, including the big four, have made changes to complete ID verification via other means, including video conferencing and also the use of phone applications," she said.
Mr Algar said an ID check during a video conference generally involves a client holding up a form of photographic ID (such as a passport or driver's licence) to the camera. The broker then takes a screenshot of the client holding up their ID and sends this – along with other screenshots of necessary identification – to the lender.
The IDyou app also allows brokers to verify clients' ID via video call through the app itself, which the broker and client will need to download.
Electronic signatures
In response to social distancing rules, Mr Agar said some lenders, including CBA, ING and ANZ, are now allowing customers to sign loan documents digitally, via applications such as DocuSign.
According to the DocuSign website, recipients (i.e. home loan customers in this case) will receive an email (from their lender or broker) containing a link that, when opened, will send them to an electronic copy of the loan document or agreement. The customer will be guided to create an electronic signature (using their touch pad, mouse or touchscreen) and can then click 'finish' to save the signed document, which they can then send back to their lender or broker.
What do customers need to do?
Borrowers who are going through the home loan application process will normally be guided by their broker or lender regarding the use of any new digital processes.
For example, according to Connective, an online broker aggregator, NAB home loan applicants will need to prepare their identity documentation in advance and then when prompted by their broker or NAB lending consultant, they will have to download the IDyou app to upload photos of their original documents. They will then join a video conferencing call through the IDyou app with their broker or NAB consultant to complete the interview process and VOI check.
Canstar money expert, Effie Zahos, said home loan applicants should have their online security "top of mind" when it comes to sending private documents via the web or mobile apps.
"It's important for applicants to check if they have all their software security systems up to date, on both their mobile and laptop, before sending any information," she said.
"You should also take care when sending private information via email or through public WiFi services as they are not the most secure formats."
Ms Zahos recommended applicants carefully follow the instructions given by their lender or broker when using these digital processes, and suggested checking in after providing any personal documentation to ensure it has been received.
What are some of the potential pros and cons of these digital processes for customers?
Mr Agar believes remote solutions such as digital VOI and video conferencing help make the home loan application process "less intrusive, more convenient, and much more straightforward" for customers and may ultimately lead to a "faster process" from submission to approval.
These solutions, he said, have also given at-risk clients the option of applying for a home loan or to refinance even if they are unable to leave their home during the pandemic.
"We had a client with emphysema, who was compromised and worried about leaving the house," he said.
"With some of these new processes in place, we were able to help that client refinance their home loan over the phone and via video call, which allowed them to take advantage of the lower interest rates currently on offer and ultimately save money on their loan."
Ms Zahos said if lenders decide to keep these digital processes in place, it may help to reduce their overhead costs, and they may then choose to pass on some of the savings to the customer through lower interest rates.
"We are always told that if we are doing things digitally it can help to reduce costs, so we may see this in cheaper rates for customers," she said.
However, while these new digital solutions could help to make home loan applications more accessible and straightforward for customers, Ms Zahos said the ease of the whole process will ultimately depend on the personal circumstances of the applicant, including their job status and income during the pandemic.
"These digital solutions are great if your affairs are simple, but there will be some teething problems, because right now nobody's lending situation is normal," she said.
Some home loan customers may also find these new digital processes difficult to navigate if they are unsure of how to use certain mobile or web technology.
However, Mr Agar said there are still options available for customers who are not "digital savvy" to apply for a home loan during the pandemic, including getting an ID check at their local post office and conducting their home loan interview over the phone. Mr Agar said many lenders are also still allowing customers to meet with their home loan consultant or broker face-to-face, if both parties are safe to do so.
Will these new processes remain in place after the COVID-19 pandemic ends?
CEO of NAB, Ross McEwan, said he believed the measures many banks had implemented to enable loans to be processed amid social distancing requirements could permanently change the way mortgages are written in the future.
Speaking at the Financial Review Banking and Wealth Summit Crisis Briefing in late March, Mr McEwan said an early prediction at NAB was that it could take up to 12 months to get the technology and processes running for mortgage advisers to use video conferencing. However, the service was up and running in three days in response to the COVID-19 lockdown, which he said shows that if you "push technology it can respond well".
"Again, there's a change that will have a dramatic effect on how people do a mortgage in the future," he said. "They [customers] don't need to come and see somebody physically, face-to-face anymore. They can do it from the comfort of their own home, through a video."
At the same Summit, ANZ CEO Shayne Elliott said that in the wake of the pandemic, ANZ, like many other banks, will need to rethink what its customers' needs are going into the future, and decide if any changes can be made to align with their changing behaviours.
While both Mr Elliott and Mr McEwan have alluded to a need to reassess their policies and procedures following the pandemic, it is still unclear whether they intend to keep some of the new digital solutions for mortgage applications, such as video calls, into the future.
Ms Mitchell said that when it comes to digital VOI, banks will need to assess whether there is any increase in risk.
"While the switch to digital is a more customer-friendly approach, banks will need certainty that the change hasn't opened them up to increased risk before making these changes permanent, so we expect a wait-and-see approach," she said.
Co-founder and CEO of Lendi, David Hyman, echoed Ms Mitchell's sentiments and said that while Lendi hoped lenders would continue to use these online processes into the future, most of them had made a number of changes very quickly in response to a rapidly changing environment of the pandemic, so reviews would be needed.
"But customer outcomes have been really positive, which is the most important thing. So, we are really hopeful that these changes are here to stay, but it's a bit too early to tell if that will be the case just yet," he said.
You might also be interested in the following articles:
As with all our content, Canstar's coronavirus coverage will always be free for our readers.
Cover image source: Agenturfotografin (Shutterstock)