With the Australian Government's implementation of measures to encourage social distancing amidst the COVID-19 pandemic, businesses and entire industries have been finding creative ways to pivot and bend in line with the restrictions.
One such industry is real estate, where agents in some areas are restricted when it comes to holding open homes and in-person auctions. In response, the industry has seen a rise in online auctions.
According to Ray White Ascot Sales Director and Auctioneer, Philip Parker, despite five of his eight auctions being cancelled on the first Saturday of April, when social distancing nationally was at its most restrictive, he was still seeing high clearance rates.
"We used to sell around 20% of properties by auction, but those numbers have probably drifted to more like 40% in these times," Mr Parker told Canstar.
"I'm finding buyers are comfortable dealing with an agent over the phone or online, possibly more than in person, so losing the face-to-face aspect hasn't caused many major issues in that regard."
But with growing economic uncertainty hitting many Australians' hip pockets, is there still an appetite for purchasing property in general?
"The inquiry rate is down, but the people inquiring are far more qualified as buyers meaning they are ready to purchase," Mr Parker said.
"And choosing to sell through an auction shows you are a serious seller, which is appealing to serious buyers."
Real Estate Buyers Agents Association of Australia (REBAA) President Cate Bakos found two main factors had been making some people hesitant to bid through an online auction. These were the uncertainty around lenders tightening their belts, making non-conditional purchases riskier, and questions around the authenticity of the other bidders.
"Can agents stage it with fake bidding? Likely not, given fines apply, but unless buyers can see the other bidders, it is natural they may have some concerns," Ms Bakos said.
Despite some uncertainty surrounding it, we are still seeing properties moving. Actor Sam Niell was reported to have sold his Double Bay home for more than $3.6 million through a virtual platform and CoreLogic reported the number of homes taken under the hammer in the week commencing 13 April nearly doubled compared to the week prior with 1,848 auctions scheduled across the capital cities. Early figures showed 39.1% of those sold, though this number was likely to be higher as more results were reported.
"I sold three properties under the hammer last Saturday with 12 registered bidders," Mr Parker said.
"We also had around 50 viewers, which is equivalent to what we would usually see at three on-site auctions."
So, considering online auctions are becoming more commonplace in real estate, what exactly are they and how do they work?
What is an online auction?
In many respects, online auctions in Australia are very similar to traditional auctions, but without the need to be physically present. Buyers still register their interest with the agent in advance and any bid they make is still unconditional and legally binding. The main difference is that potential buyers place their bids from the comfort of their own home.
In live online auctions, buyers typically view the auctioneer through a live stream and bid via an agent, either over the phone or through an app. The auctioneer could be filming themselves live at the property or at the seller's real estate agency, where an agent will often sit nearby to communicate the bids that come through.
Chief Auctioneer at First National, Matt Harvey, said that in addition to live auctions, his agency had also been using a platform that enabled "eBay-like bidding" where an auction is open for four weeks and bids are displayed publicly up until the set closing time.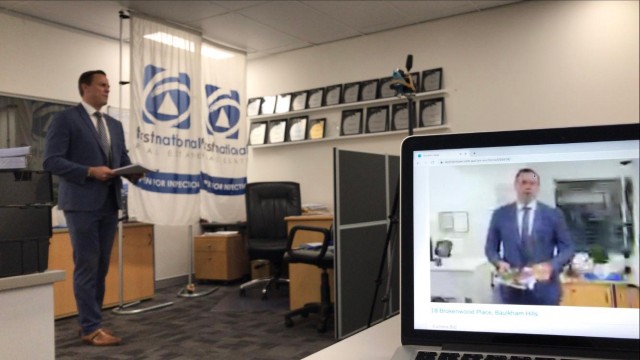 The comparison tables below display some of the variable rate home loan products on Canstar's database with links to lenders' websites, for borrowers in NSW making principal and interest repayments on a loan of $350,000 with an 80% LVR. You can choose between the refinance, first home and investing tabs to view results most relevant to you. The results are sorted by 'current rate' (lowest to highest). Before committing to a particular home loan product, check upfront with your lender and read the applicable loan documentation to confirm whether the terms of the loan meet your needs and repayment capacity. Use Canstar's home loan selector to view a wider range of home loan products.
Lowest interest rates for refinance home loans
*Comparison rate based on loan amount of $150,000. Read the Comparison Rate Warning.
Lowest interest rates for first home loans
*Comparison rate based on loan amount of $150,000. Read the Comparison Rate Warning.
Lowest interest rates for investing home loans
*Comparison rate based on loan amount of $150,000. Read the Comparison Rate Warning.
What platforms are used?
According to Mr Parker, the more common platforms for live online auctions in Australia include AuctionNow, Gavl and Bidtracker, with many auctions streaming through Facebook Live for onlookers who are interested in watching. He said some auctions were also being held over the phone, which he preferred as it reduced the chance of a time lag. The agent could choose to use more than one app at the same time, and could allow some bidders to dial in rather than using an app, if that is their preference.
The eBay-style platform Mr Harvey said he uses is called Openn Negotiation.
The platforms used vary depending on the agent's preference, so if you're considering joining an online auction, it could be a good idea to speak to the agent in advance to understand exactly how the auction will run and how you can register. The way the auction will operate will also vary depending on the platform used. Some platforms, such as Zoom, enable bidders to see and hear each other, whereas others may only provide a video and audio feed of the auctioneer who announces when a bid has come in.
How to prepare for an online auction
A key point to remember is that any bid you make at auction, even if it is online, is unconditional, so it is important to have your finances in order beforehand. This could be particularly pertinent if your employment has changed recently, as this could impact the amount banks may choose to lend you.
According to Ms Bakos, just like with on-site auctions, it is a good idea to get pre-approval for a home loan if possible, and to have a good understanding of your upper limit well before the auction.
Once you have established your financial stance, Ms Bakos suggested running a dress rehearsal with the platform to make sure it was working and you knew how to use it.
"Follow the agent's instructions and log on early to talk to the agent and ensure everything is working. Find out who to contact if you experience any issues, and be organised to reduce last-minute stress.
"Be familiar with the agent's rules before you start playing the game, to avoid missing out."
She said it was a good idea to get comfortable with the tech and the methods used to make a bid.
"Tech issues are something every buyer dreads, but happily most agents do generally facilitate sound and video checks. Some platforms are more clunky than others, so buyers should familiarise themselves with the platform before T-minus-zero."
Additionally, Ms Bakos said that although bidding from the comfort of their own home could reduce the risk of emotional bidding for some buyers, it was still something to be mindful of.
"Platforms that don't facilitate visual connectivity to competitors could reduce emotional responses and help people stick to budgets.
"For those that do, however, it is a strong pull for buyers to get swept away and I've seen it for myself."
"Set yourself a price limit and your maximum stretch (maybe 2-3%) if you want to be particularly competitive and make sure you stay within your budget."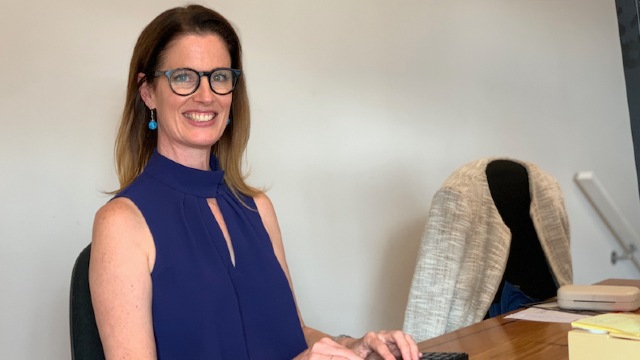 Are online auctions here to stay?
While Mr Parker said we are seeing an increase in online auctions, he pointed out they were not entirely new as buyers who couldn't physically attend auctions in the past often made bids over the phone. However, he acknowledged online auction platforms were gaining popularity and would likely be here to stay.
"Auctions are like a game of football. Most people prefer to watch it live and be in the crowd.
"When this situation rectifies, we will go back to doing auctions the way we did before, but there will be more options available for those who can't attend."
Mr Harvey also said he saw online auctions as a means to get through this period, and that they would be of interest for some sellers in the future, but that the onsite auction was still his preference.
"Agents get a lot more marketing potential from onsite auctions with neighbours, friends of friends and people curious about the property market. There's also more atmosphere at an onsite auction where you can engage with the audience – it isn't quite the same when you make a joke and there's only the agent in the room with you," Mr Harvey said.
"There will continue to be a use for online auction platforms, but they will never take away from onsite."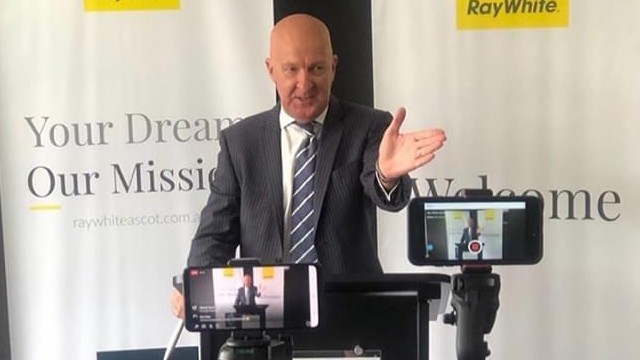 Tips if you're considering selling through an online auction
If you're looking to sell your property right now, the two common options available are to sell through private treaty or an online auction. Mr Parker said that some advantages of online auctions were that they created as much competition around the property as possible and the sale would not be subject to conditions.
He said it was more challenging as an auctioneer to engage with bidders compared to holding onsite auctions, but there were ways to stir interest and achieve a positive result.
His key advice?
"Just choose a good agent. I found if the agent understands how to do it all and they are comfortable with it, it can be a smooth transition for the buyer and seller and we are still seeing good clearance rates."
He said it could also be a good idea to view a few online auctions to understand how they work, and to speak with a couple of agents to learn more about their approach to selling property this way.
Mr Harvey said some agents were being clever in their marketing of online auctions and were using the situation to the vendor's advantage.
"We had one agent clear four out of his five properties before they were due to go to auction on the weekend by telling prospective buyers they could settle beforehand, but if there weren't any suitable offers they would go to auction."
He said online auctions could be very useful in setting a deadline for bids and meant a price didn't have to be set, unlike a private treaty.
"Highly sought-after properties in sought-after areas are well positioned for online auctions as they can drive some buzz around them and get that interest.
"Some people are hesitant to use online auctions because they are different to what we know or see on television, but they do still provide some certainty to the vendor on a timeline for the sale."
Actor Sam Neill, best known for his role in Jurassic Park, has sold his Double Bay home and made a little bit of history in the process. https://t.co/iMHW3O0ixm #realestateau #NSW

— Realestate News (@NEWSProperty) April 21, 2020
How else has real estate been impacted by coronavirus?
One of the key changes has been the restrictions placed on open homes and non-essential gatherings of more than two people. This means couples viewing a property typically now need to take it in turns to enter the property with the agent. Many are asked to use disinfectant wipes for any surfaces they touch and some choose to wear a mask.
In response to this challenge, a number of real estate agents have produced 'warts-and-all' videos, or virtual inspections, showing the property in detail without editing. This enables potential buyers to view the property, including any under-home access and the view over the fence in some instances, without physically needing to attend.
Ms Bakos said another change was that auctions were no longer largely limited to being held on a Saturday, with increased availability of buyers meaning weekday evenings were now more of a possibility.
Cover image source: Supavadee butradee (Shutterstock)
As with all our content, Canstar's Coronavirus coverage will always be free for our readers.
<