Qudos Bank Savings Accounts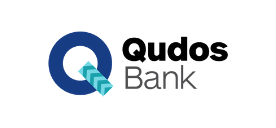 Qudos Bank is a provider of savings accounts, credit cards, home loans, personal loans and range of insurance products.
What savings accounts does Qudos Bank offer?
At the time of writing, Qudos Bank offers the following savings accounts:
General Savings Account

– an everyday savings account that gives you unrestricted access to your money. The account comes with a free Visa Debit card if you are over 18 years old.
Qantas Points Saver

– earns 400 Qantas Points per annum for every $1,000 of your average balance, credited monthly.
Bonus Saver

– receive bonus interest if you make no withdrawals in any month.
QSaver

– an online savings account which offers savers the ability to access funds as needed.
Cash Management Account

– a savings account with cheque book access and direct debits with easy access to funds.
You can view the current interest rates on some of Qudos Bank's savings accounts in Canstar's comparison tables.
Do Qudos Bank savings accounts require a linked transaction account?
Qudos Bank does not state that it requires a linked transaction account to use its savings accounts. However, Qudos Bank advises that in the case of its Bonus Saver, account-holders will not have direct access to the account via card. To access funds within a Bonus Saver account, they will need to be moved into a linked General Savings account.
If you are looking to compare transaction accounts, you can do so here to potentially find one that suits your requirements.
Does Qudos Bank charge fees on its savings accounts?
Savings accounts can come with several fees, such as monthly account-keeping fees, transaction fees, withdrawal fees and more. At the time of writing, Qudos Bank charges no account-keeping fees its savings accounts.
What does Qudos Bank offer in terms of mobile banking for savings accounts?
The Qudos Bank App is available through the Apple and Google store. Notable features of the Qudos Bank App include:
Quick balance check

Card management

Login with PIN, fingerprint or facial recognition

Schedule payments

Notify Qudos Bank of overseas travel plans, including dates and destinations
How do I apply for a Qudos Bank savings account?
Before applying for a Qudos Bank savings account, consider comparing it against other savings accounts on the market to ensure it's the right one for you.
If you choose to apply for a Qudos Bank savings account, you can do this online, over the phone or at a Qudos Bank branch, provided you have the correct documentation.
To apply for a savings account online, Qudos Bank says you must:
Be at least 18 years old

Be an Austrailan citizen or resident

Have your driver's licence, passport or Medicare card at hand
Qudos says there is no minimum balance required for its savings accounts.
About Qudos Bank
Originally the Qantas Credit Union, Qudos Bank was established in 1959 by 14 Qantas employees. Now, Qudos Bank says it has a membership of over 94,000 and assets of $3.76 billion. Qudos Bank says it is one of the only financial institutions in Australia that rewards its members with Qantas Points on a range of banking products.