BankSA Savings Accounts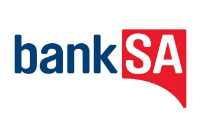 BankSA is a provider of banking and insurance products including savings accounts, transaction accounts, term deposits and credit cards.
What savings accounts does BankSA offer?
At the time of writing (4 March, 2020), BankSA offers the following savings accounts:
Incentive Saver: this account pays bonus interest if you deposit at least $50 each month into your savings account (if you are under 21 years old, bonus interest is payable when you deposit at least $0.01 a month). The account comes with tiered interest rates meaning the higher your balance the higher the interest rate your savings would earn.
Maxi Saver: this account currently comes with a three-month introductory bonus rate for new customers. A lower standard variable rate then applies. BankSA says you need to have a linked BankSA transaction account to open this savings account.
You can view the current interest rates of some of BankSA's savings accounts and compare it to the other options on Canstar's database using your comparison tables.
Do BankSA savings accounts require a linked transaction account?
BankSA requires you to hold an eligible BankSA transaction account to open its Maxi Saver account. It does not specify whether a linked transaction account is required for its Incentive Saver account.
If you're looking to compare transaction accounts, you can use Canstar's comparison tables to potentially find one that suits your requirements.
Does BankSA charge fees on its savings accounts?
Savings accounts can come with several fees, such as monthly account-keeping fees, transaction fees, withdrawal fees and more. At the time of writing (4 March, 2020), BankSA charges no monthly service fees on its Incentive Saver and Maxi Saver accounts. BankSA does, however, charge a $2.50 fee for staff assistance (when a withdrawal or transfer is conducted through staff or when cashing a personal cheque at a branch) and a $2.00 fee for a frequent statement (requesting a statement outside of cycle).
Keep in mind that you may incur fees with a linked BankSA transaction account. BankSA says you are required to have an eligible BankSA transaction account (such as the Complete Freedom account) in order to open its Maxi Saver Account. The Complete Freedom account has a $5 monthly account service fee if you don't deposit at least $2,000 a month.
Further fees and charges can be found in the terms and conditions on BankSA's website.
What does BankSA offer in terms of mobile banking for savings accounts?
BankSA offers online and mobile banking for its savings products. Through the BankSA mobile banking app, you can do things such as quickly check your balance and make payments or transfers.
How do I apply for a BankSA savings account?
Before applying for a BankSA savings account, consider comparing it against other savings accounts on the market to ensure it is the right one for you.
If you choose to open a BankSA savings account, you can do so online, over the phone or by visiting a BankSA branch.
To open a BankSA savings account, you must be over 14 years old and have an Australian residential address and currently live in Australia. BankSA says you will also need to have your Tax File Number handy and have at least one form of ID, such as your driver's licence, Medicare card, passport or birth certificate. You can also get your ID checked at a BankSA branch. Bear in m ind that other eligibility criteria may apply, so consider checking these with BankSA before getting started with an application.
About BankSA
BankSA says it has operating in South Australia since 1848 when the bank's sole employee opened the bank's books and doors in Adelaide. Since 2008, BankSA has been a division of Westpac Banking Corporation. BankSA says it has South Australia's largest network of branches and ATMs and serves one in four South Australians.