More than 250 people around the world have died while taking a selfie. In this brave new world where dangerous selfies have become a possible cause of death, how are life insurers responding and what impact could this have on policies?
How many people have died from selfies?
A 2018 report published in the Journal of Family Medicine and Family Care, found there were 259 recorded "selfie deaths" from October 2011 to November 2017, with an "exponential increase" in deaths from 2014-2015 to 2016-2017. While this is the most comprehensive report on selfie deaths to date, the authors say these figures are "just the tip of [the] iceberg".
Of the reported deaths, almost three-quarters of these involved males, the mean age was about 23 years old and approximately half the deaths were in India (one death was recorded in Australia during this period). The report also found that over half of the deaths were caused by "risky" behaviour – for example, standing on the slippery edge of a cliff to take a selfie.
Despite the number of people across the world who have reportedly died this way, a new survey indicates that people are still willing to engage in risky behaviour in order to snap the perfect shot. Conducted by Dutch-based phone case company Case24, the survey found that nearly half of the 2,023 respondents said they would stand on the edge of a cliff to get a picture, 19% would stand on a train track and 7% would climb a tall building or other landmark. The survey also found that 41% of respondents had previously risked their safety and 11% had been injured while taking a selfie.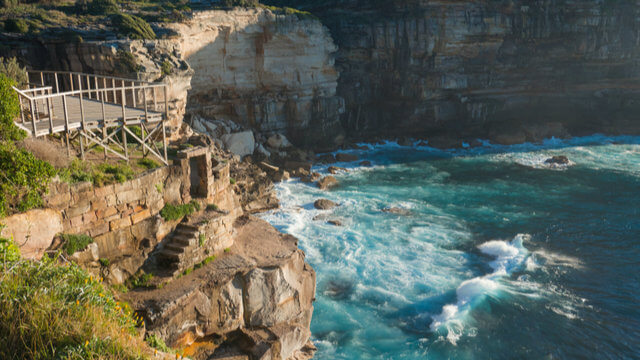 Just last month, a 21-year-old British woman died falling from a cliff at Diamond Bay Reserve, a popular selfie spot in Sydney. The woman had reportedly climbed over a fence to pose for photos. Less than six months earlier, another woman fell to her death in the same spot. Witnesses told police that she may have been taking photos when she fell.
Some Indian cities have reacted to the rise in selfie deaths by establishing "no-selfie zones". In 2016, Mumbai declared 16 no-selfie zones across the city. In 2018, the state of Goa identified 24 no-selfie zones on its coastline. A team from the Indraprastha Institute of Information Technology in New Delhi has even created an app, called Saftie, that notifies users when they are near a dangerous selfie location.
It appears that some life insurers are also responding to the selfie death phenomenon. Last year, the Sydney Morning Herald reported that one insurance broking company was even marketing life insurance that covered "deadly selfies". This then begs the question: if you die while taking a selfie, will your life insurance pay?
Does life insurance cover selfie deaths?
"The simple answer is yes," Anthony Brown, CEO of NobleOak Life Insurance told Canstar, although he added that "each claim would be assessed under its own individual merits".
Mr Brown said that if you are in the habit of taking "extreme selfies", then you should tell your insurer this when applying for a life insurance policy.
"If this is a regular pastime, hobby or sport, it's always best to disclose this to your insurer at the time of applying for a policy," he said. "At the time of application, the underwriter will assess if an exclusion is warranted."
If it is excluded, this would mean your policy will not pay out if your death is caused by you taking an "extreme selfie".
There are a number of dangerous hobbies or activities that your life insurance may not cover you for because they may have a higher risk of injury or death. For example, of the life insurance policies on Canstar's database, only one covers dangerous pastimes such as bungee jumping, aviation/aerial pursuits and hang gliding. Even then, the policy says cover may be excluded at the time of application. For example, a regular skydiver may not be covered for skydiving incidents.
"Numerous dangerous pursuits and pastimes exist," Mr Brown said. "It's always best to fully disclose to your insurer to ensure you know if you are covered for it or not. It is also a good idea to check that your policy doesn't include automatic exclusions for certain sports or activities."
If you have an existing policy and want to check what you are and aren't covered for, contact your individual life insurer or read your life insurance's product disclosure statement (PDS). It may also be worth checking if there are any implications for your cover if an incident occurs overseas versus in Australia.
Main image source: Soloviova Liudmyla (Shutterstock)
---
Thanks for visiting Canstar, Australia's biggest financial comparison site*