Times of economic uncertainty often call for new ways of thinking, particularly when it comes to how we earn money. If you're exploring your options, we've rounded up some side hustle ideas to get you started – from the everyday to the slightly more, shall we say, creative…
---
---
For Rachel Smith, author of the books Underspent and Ready for Redundancy, her first taste of side hustling came during the Global Financial Crisis of 2008, when the company she worked for in the UK made some of her colleagues redundant.
"I remember that Monday as though it were yesterday," Rachel told Canstar. "I watched people pack their things into cardboard boxes. Some people sat and cried. Those redundancies opened my eyes and changed my life. I learnt that I needed to do things differently."
The experience served as a wake up call for Rachel. To boost her financial resilience, she decided to diversify her income by throwing herself into some new jobs and projects, which she has expanded on over the years.
"On top of my full-time job in an engineering consultancy, I started working part-time as a scuba diving instructor. I picked up shifts cooking on a dive boat and did weekend silver service waitressing, she said.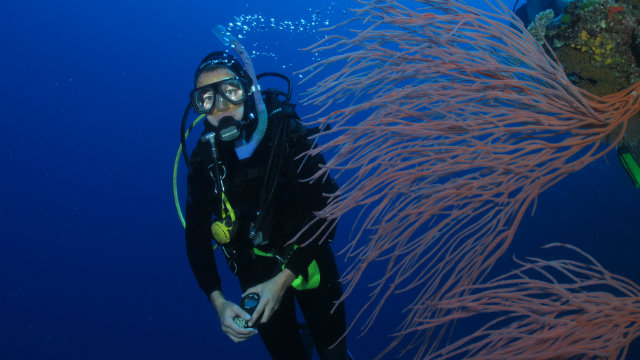 "I rented out my spare room too, with the lodgers' rent covering more than half of my mortgage. I even made the equivalent of an extra $30 a week by making lunch for a colleague who couldn't be bothered to make his own."
In addition to providing income security, Rachel said her side hustles helped her pay off her home loan in seven years, rather than 25. They also helped inspire her career as an author and speaker, which in turn has helped generate even more income.
What is a side hustle?
A side hustle can be any type of job you do in addition to your regular employment. The aim is to bring in extra income, ideally by doing something you're passionate about.
Side hustles, or side gigs, can also allow you to test out an idea and whether it brings in enough cash that you might be able to make a career out of it long term. It might also be a passion project that you'd like to explore, just for the fun of it.
A side hustle could also revolve around what you own, rather than (or as well as) what you can do.
"I made sure that the assets that I owned made a return on investment for me," Rachel said. "I rented out some of my scuba diving gear, camping equipment and even my car. Many people rent out their car parking space. Every $50 here and there helps."
Side hustle ideas in Australia
Since Rachel's early forays in this area, opportunities for people to start side hustles have exploded. Platforms like Gumtree, Airtasker and Fiverr now allow people to post jobs under a dizzying array of categories, meaning there's an almost limitless number of things you can do to earn a bit of extra money on the side. Canstar has rounded up some of the more popular options, as well as some you might never have thought of.
Let's start with some of the ones you might have heard of already…

1. Dog walker or pet sitter
Platforms like Pawshake and Mad Paws allow people to advertise their services to dog owners who need someone to look after their pooch while they're away or want help maintaining their pooch's exercise regime. Around $16-30 seems to be the going rate for a one-off walk (minus costs such as any fees charged by the platform), but you may be able to turn it into a regular income stream by charging a weekly rate for multiple walks, or adding pet sitting to your range of services.

2. House sitter
With people spending more time than usual at home at the moment, there may be fewer people looking for house sitters. But that's not to say you can't still find people who need someone to water the plants and feed their pets while they're away. TrustedHousesitters and Aussie House Sitters are among the popular sites where house sitters can set up a profile.

3. Car or parking space rental
With many people working from home at the moment and potentially driving less as a result, you may have a car, van or other vehicle parked outside that isn't being used very much. If so, you might be able to occasionally rent it out to people who temporarily need a set of wheels. It's becoming a popular trend and data from peer to peer car sharing company Car Next Door shows that in the six months from April to October 2020 there was a 245% rise in the number of cars listed on the platform in Sydney. If you do decide to share your car mindful of how it might impact your car insurance policy. DriveMyCar is another of the more popular car renting platforms in Australia.
And now for some potentially lesser-known ideas…

4. Professional 'flipper'
If you have the necessary skills and time to spare, you might be able to bring in some extra income by restoring or refurbishing old or unwanted items – either ones you own or ones you can acquire at no or low cost – and then selling them on at a profit. Popular things to 'flip' include furniture or other household items, cars or even property.

5. Rent your wardrobe
Do you have any clothes in your wardrobe that other people might want to borrow for a special occasion? Particularly if they're more expensive designer pieces, you may be able to list some of your items on wardrobe lending platforms, such as Designerex and the Volte. It is a good idea to take lots of pictures of your items before lending them out, in case they come back damaged. Designerex says it offers users a rental estimate but it's ultimately up to you how much you charge.

6. Scooter collection and charging
The electric scooter is an increasingly popular mode of transport in cities across the world. That's all well and good, but how do I turn this into a side hustle, you may be asking? Well, some companies pay people to collect scooters after they've been dropped off, charge them and drop them off to be used again. It's reported to be a competitive business, though, so may not be ideal for those looking for reliable income.

7. Freelance writer
If you have a flair for words, you may be able make some cash by writing for websites, blogs or other publications as a freelancer. What you may be able to earn from this can vary significantly, with some writers charging per word and others per article. If you have specialist knowledge or experience within a particular niche, you may be able to command a higher price for your work. Platforms such as Fiverr, Jora and even LinkedIn may be useful in sourcing writing gigs.

8. Urban farmer
Do you have space for a veggie garden and a set of green thumbs? Well, you might be able to turn your fresh produce into another source of income. This could come from simply selling fruit and veggies, or perhaps even eggs, to friends, colleagues and neighbours. If you produce food in larger quantities, you could also consider taking things up a notch by setting up a stall at local farmers' markets.

9. Succulent grower
You might even be able to make some side-coin by growing and selling the very 'now' succulent variety of plants. These plants are generally small, so don't require too much space, and can be propagated (split to form new plants) to help keep your costs down.

10. Fruit picker
A shortage of backpackers travelling to Australia has meant that one of the main sources of fruit pickers for regional farms has dried up. In response, the Australian Government is encouraging young Aussies to "have a crack" at fruit picking, with proposals for a JobSeeker supplement for people who take up this kind of work. Be mindful that fruit picking work can be physically challenging, and the industry has received criticism in the past for how workers are treated.

11. Streamer
Through platforms like YouTube and its competitors, you may be able to earn money by live streaming or uploading videos. Funny animals, gaming, how-to guides and product review videos could be fruitful categories to focus on, according to Influencer Marketing Hub. The income from streaming generally comes from fees paid by subscribers to your channel, advertising revenue from the platforms, donations from fans or from merchandise sales related to your content.

12. Cleaner
One of the results of the coronavirus pandemic is that many people and businesses have become more hygiene conscious. For those of us looking to earn some extra money, this may present an opportunity to offer cleaning services on the side. Many businesses require cleaning services outside regular office hours, so it may even be something you could fit in alongside your regular job.

13. Paid market research
Some companies looking for a business edge pay consumers to test or provide feedback on their products or a new idea they are looking to launch. This is usually run through market research companies, so it may be worth researching firms who do this to see if there are any paid opportunities available. Examples of companies who pay people to assist with market research include Realtime Research, Respondent, Focus People and the Purple Corporation.

14. Language teacher
If you speak a language that's in demand, you might be able to teach it to others and make some extra cash in the process. This could either be through a formal language school, where you may need a qualification to become a teacher, or more casually for 'students' who simply want to improve by practising with a fluent speaker.

15. TV or movie extra
"Don't I know you from somewhere?" people may ask you, but if you're okay with that, then you could consider trying your hand at being a film or TV extra. While it's a challenging time for the arts sector in Australia, several states including New South Wales, Queensland and Western Australia are looking to open up or expand studios for film and television production. With Thor star Chris Hemsworth an advocate for local filming, and Nicole Kidman bringing filming 'Down Under' for the $100 million Nine Perfect Strangers, now might be a good time to explore making cash if a director is calling "Action!" near you.

16. Photographer
If your skills lie behind the camera, selling photos could help you snap up some extra income. Stock photo platforms, such as Foap and Twenty20, pay contributors whose pictures they can sell to brands and businesses. Depending on the platform, photographers may be paid a one off fee for their content or a commission each time it's sold on. Alternatively, you may be able to sell prints directly to buyers online.

17. Secret shopper
A secret or 'mystery' shopper is paid to visit businesses and pose as a customer in order to assess and rate the service offered. There are a number of secret shopper providers in Australia, with the rate of pay likely to depend on who you work for. For example, Retail Mystery Shopping Australia says it pays a flat fee for each assignment which varies depending on the client and assignment requirements. You might also be required to make a purchase, for which you'll be reimbursed. Another provider, The Secret Shopper, says secret shopper attributes include "a good level of literacy and a great memory".

18. Flyer distributor
If you don't mind long periods of time on your feet or lots of walking, you may be able to earn some money handing out flyers or dropping them through letter boxes. Marketing company IVE says what distributors earn is "results based" and variable by area, depending on the materials to be distributed, the quantity required and other local factors, such as the terrain and housing density where you're working.

19. Arts and crafts
For the crafty among us, selling your designs could be a way to bring in some extra cash. Items such as jewellery, homewares or even clothing are commonly sold at local markets or through online platforms like Etsy.

20. Hair seller
If you have long hair and are considering going for a shorter look, you may be able to put that surplus hair to use. Wig and hair extension makers sometimes pay people for their real hair they have had cut. This sometimes comes with requirements, such as the hair being a certain length and without any unnatural colouring.
It's important to note that these are not recommendations. If you're thinking about taking on casual work to earn extra money, you should do your own research on the jobs and platforms mentioned here, to find out if they're right for you. It's also important to think about the risks involved and the financial implications.
How much money can you make with a side hustle?
How much you might be able to earn really depends on what you choose as your side hustle or hustles, what demand is like for what you are offering and how much time you are able to devote to your job on the side. When assessing how much you may make, it could be helpful to also factor in how much tax you may need to pay and costs such as platform fees, materials, travel expenses and insurance.
According to Airtasker, people can earn up to $5,000 per month using the platform, with tasks such as furniture assembly ($118 per task on average), pick up and delivery ($80 per task on average), and gardening/lawn mowing ($145 per task on average) among the more popular tasks. It's worth bearing in mind though that these per task figures are before the platform takes its cut, which can range from 10–20%.
Incomes made through side hustles can vary significantly, though. According to a study on Digital Platform Work in Australia, some jobs deliver less than the national minimum wage.
The study found that those doing clerical and data entry jobs ($0.01-$9.99 and $10.00-$14.99 per hour) and writing and translation ($0.01-$9.99 per hour) were most likely to be amongst the lowest earners on digital platforms. Transport and food delivery workers were overrepresented in the $15-$19.99 and $20-$29.99 per hour earning categories. People providing professional services (such as accounting, consulting, project management and legal services) indicated higher hourly earnings (above $50). The overall average hourly rate was $32.16, according to the study.
How can I succeed at my side hustle?
They say a goal without a plan is a wish. But how do you create a plan to help your side hustle become a success? In his Financial Autonomy blog, financial advisor and Canstar contributor, Paul Benson, suggests some key steps to consider.
Research and choose your side hustle, taking into account your own strengths and weaknesses, as well as the opportunities and threats that might contribute to or take away from your success.
Develop a business plan that maps out your roadmap to success, including aspects such as:

The problem your business will solve, and for who
How you will promote what you are offering
The costs for delivering your product or service
What success looks like for you

Think about marketing – for example, what makes what you do better than your competition and how will you demonstrate that to customers?
Sort out the mechanics, such as registering for an Australian Business Number and business name. Think about how you will receive payments too. Will you need a merchant services provider to help with that?
Launch your side hustle, evaluate, learn and modify as you go
What risks should I watch out for with a side hustle?
While earning extra cash can be appealing, casual working through digital platforms is not regulated in the same way as other forms of employment. As a result, workers "wear the risk" according to Dr Penny Williams of QUT Business School, who was one of the authors of the Digital Platform Work in Australia report.
She told the QUT ExecInsights podcast that these workers are "not getting superannuation, they're not getting sick leave, they're not necessarily having the same entitlement to a safe work environment that an employee would".
Dr Williams also said that the extra money and flexibility that tempts people into this kind of work doesn't always materialise. She said her research found that many people left digital platforms because "they couldn't get the hours they wanted, or they were putting in too much time and effort for a small return".
As well as these factors, there are some other financial and personal considerations to think about if you do decide to take on a side hustle. These may include:
Tax
Any income you earn above the minimum threshold will be subject to taxation, according to the Australian Tax Office (ATO). Bear in mind that your total annual income for tax purposes would include your side hustle earnings, plus the income from your other paid employment.
If you register your side hustle as a business and it meets the ATO's criteria, you will need to register to pay goods and services tax (GST) on your sales.
It may be a good idea to seek the help of a registered tax adviser to make sure you're aware of what tax you need to pay and what deductions you may be able to claim.
Insurance
There are several forms of insurance you may want to consider to protect you financially from certain risks that could crop up as part of your side hustle work. These could include vehicle insurance, public liability insurance and income protection. It could be worth checking what insurance, if any, is available through the platforms you use for your side hustle.
Superannuation
As you are likely to be classified as 'self-employed' for the work you do as part of your side hustle, any platforms you use for that work generally won't contribute to your super. Instead, you may want to consider making voluntary contributions to your existing super account using the money you have earned. Depending on your circumstances, making voluntary contributions to your super may help you to reduce the amount of tax you pay, according to Moneysmart.
Choice of platform
If you use a third party platform to advertise your services or arrange jobs, it's important to understand their terms and conditions, fees and what protections, such as insurance and security features, they offer to users. It may help to research a number of platforms, look at reviews and speak to other people who have used the platform before signing up.
Cover image source: JP Chretien, Benevolente82 and slonme (Shutterstock)
This article was reviewed by our Sub Editor Jacqueline Belesky before it was published, as part of our fact-checking process.
Follow Canstar on Facebook and Twitter for regular financial updates.
---
The comparison table below shows some of the savings accounts on Canstar's database for a regular saver in NSW. The results shown are based on an investment of $100,000 in a personal savings account and are sorted by Star Rating (highest to lowest), then provider name (alphabetically). For more information and to confirm whether a particular product will be suitable for you, check upfront with your provider and read the Product Disclosure Statement or other terms and conditions before making a decision.
---
Thanks for visiting Canstar, Australia's biggest financial comparison site*
→ Looking to find a better deal? Compare car insurance, car loans, health insurance, credit cards, life insurance and home loans with Canstar. You can also check your credit score for free.