Aussie is a mortgage broker and a provider of home loans, personal loans, credit cards, business loans, and insurance products.
"If you're looking for the right home loan, you're in the right place." (Aussie)
Loan Options: What Aussie home loans offer
The inclusions below represent a selection of the features available with a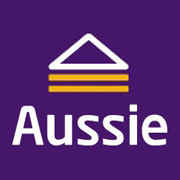 Standard Variable Rate home loan of $350,000 for an owner-occupier. CANSTAR is not making any suggestion or recommendation to you about this product. Please see our home loan comparison tables for more details and information about products on offer from this provider and the other providers on our database.
Compare Home Loans with CANSTAR
 Additional conditions may apply to different features. Please ensure that you read the product disclosure statement to determine all the current loan terms and conditions for the product you are considering.
Aussie Standard Variable Home Loan Features
No upfront fee (application fee) at time of writing.
Redraw facility available.
Split loan facility available; max 4 splits allowed; no split loan application fee.
Mortgage is portable.
Repayments may be made weekly, fortnightly, or monthly.
Additional repayments allowed.
Lump sum repayments allowed.
Interest only repayments available for up to 10 years.
Minimum loan amount $100,000 for Standard Variable or Select Basic Variable loans.
Non-family guarantee option available.
Loan can incorporate stamp duty.
About Aussie
Founded 25 years ago by John Symonds, Aussie does more than provide its own home loans – it is a mortgage broker company that provides access to home loans from other lenders.
Today Aussie has access to around 2,900 home loans offered by a group of approximately 20 lenders.
Aussie reports as having over 1,000 experienced mortgage brokers able to provide a loan in the branch or by coming to you with mobile lending services. Aussie opened its 200th store in August 2016.
Aussie's latest project has been the Little Aussie Stories series of customer success stories. Watch the stories on Aussie's YouTube channel.
Source: Aussie
At the time of writing, Aussie does not publicly provide information about its corporate and social responsibilities including the environmental sustainability of its business activities.
Compare Home Loans with CANSTAR
Source: Aussie
CANSTAR provides an information service. It is not a credit provider, and in giving you information about credit products CANSTAR is not making any suggestion or recommendation to you about a particular credit product.
If you decide to apply for a credit card you will deal directly with the financial institution, and not with CANSTAR. Rates and product information should be confirmed with the relevant financial institution. For more information, read our detailed disclosure, important notes, and additional information.
Read the Comparison Rate Warning when comparing interest rates on home loans.
Written by: TJ Ryan