Australian airlines are cracking down on baggage allowances for checked and carry-on luggage. Find out the limits for Australia's major airlines.
Baggage restrictions for Australian airlines
Flying round the country is something we all love to do – often. And with cheap airfares everywhere, who can resist such bargain flights? It turns out that many of those cheap domestic airfares don't include luggage, and you'll generally pay extra for checked luggage. This often adds up to quite a bit of money on both legs of your journey. So don't be caught short at the airport. Read up on your baggage rights before you book to avoid any unpleasant surprises.
Checked baggage largely goes by weight, whereas carry-on baggage is predominantly driven by both weight and dimensions. That's because it has to fit under the seat in front of you or in an overhead locker – both areas have space limitations. With passengers continually pushing the boundaries of late, airlines have had to tighten up regulations on what baggage they will allow on board. Here's a rundown of rules from the major domestic carriers in Australia.
Qantas Baggage Allowances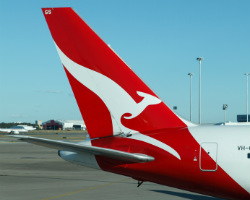 Your checked baggage allowance for your Qantas flight varies depending on your itinerary, cabin class and whether you are a Qantas Frequent Flyer or Qantas Club member. Typically, domestic flights within Australia allow Economy passengers one piece of luggage weighing a maximum of 23kgs; and Business class passengers, two pieces of luggage weighing a maximum of 32kgs. If you are a Platinum Frequent Flyer flying business class, your baggage allowance swells to three pieces of luggage at 32kg per piece.
Here's a summary:
Travel Class
Checked Baggage
Allowance
Adult
Qantas Club members and Silver Qantas Frequent Flyers
Gold Qantas Frequent Flyers
Platinum and Platinum One Qantas Frequent Flyers
Economy
1 piece (maximum 23kg)
1 piece (maximum 32kg)
2 piece (maximum 32kg per piece)
2 piece (maximum 32kg per piece)
Business
2 piece (maximum 32kg per piece)
2 piece (maximum 32kg per piece)
2 piece (maximum 32kg per piece)
3 piece (maximum 32kg per piece)
If you're on a small plane, you baggage allowance may be different.
In terms of carry-on baggage, Qantas passengers can take on board two small pieces (eg. A small bag and a briefcase), neither of which exceed 105cm in total linear dimensions. Or, you can take one of those small bags plus a suit pack or garment bag that doesn't exceed 185cm. These bags should not tip over the 7kg total weight ceiling for carry-on luggage. In addition, you may also carry on board one small personal item such as a handbag, laptop computer, overcoat, small camera or a reasonable amount of reading material.
Jetstar Baggage Allowances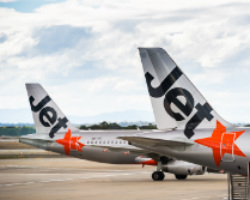 There's no allowance for checked baggage with Jetstar which works on the user pays system for all fares except Business class (automatically allocated a 30kg allowance). If you're flying other than Business class, it's cheaper and less hassle if you buy your baggage allowance with your ticket. You can choose any weight from 15kg up to 40kg (with no single bag over 32kg).
Jetstar passengers can take one carry-on bag weighing up to 7kg, plus a small personal item (which could be a laptop, pocketbook or purse, a laptop in a thin case, an umbrella or walking stick, a small camera, or infant food for consumption during the flight). Business Class passengers can bump up that carry-on allowance to two 7kg bags.
Virgin Australia Baggage Allowances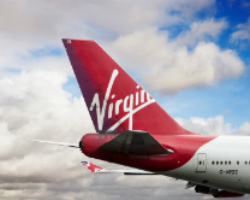 Fare type and Velocity membership levels dictate differences at Virgin but generally the domestic baggage allowances are similar to those at Qantas. Cheaper fares, such as Saver and Flexi, include one piece of checked-in luggage weighing no more than 23kg. Other fares and Velocity Silver and Gold members are entitled to two pieces of luggage weighing 32kgs while Platinum members can check in three pieces of luggage weighing 32kgs.
Fare Type
None/Red
Silver
Gold
Platinum
Saver
1 x 23kg
2 x 23kg
2 x 23kg
3 x 23kg
Flexi
1 x 23kg
2 x 23kg
2 x 23kg
3 x 23kg
Premium Saver
2 x 23kg
2 x 23kg
2 x 23kg
3 x 23kg
Premium
2 x 23kg
2 x 23kg
2 x 23kg
3 x 23kg
Business
2 x 32kg
(no single item may exceed 32kg)
2 x 32kg
(no single item may exceed 32kg)
2 x 32kg
(no single item may exceed 32kg)
3 x 32kg
(no single item may exceed 32kg)
Baggage Allowance According to Fare Type and Velocity membership level
Passengers can take on board up to 7kg which may be two pieces (a small bag or briefcase) totaling 105cm in linear dimension. Or you can replace one of those bags with a suit pack. In addition to the carry-on baggage allowance, one of the following personal items may be carried in the cabin:
A laptop computer*, handbag, pocketbook or purse (of reasonable size)
A wrap, a blanket, or an overcoat
An umbrella without metal points, or a walking stick
A small camera or pair of binoculars
A reasonable amount of reading matter
A pair of crutches or prosthetic devices – for use, provided that the guest is dependent on them for mobility
*A laptop in thin satchel-style laptop bag is considered to be a personal item. A laptop in a larger laptop bag will be counted as part of a guest's carry-on allowance.
Tigerair Baggage Fees & Allowances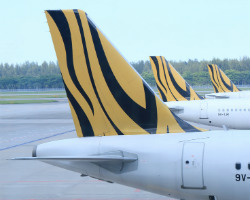 Like Jetstar, Tigerair keeps it prices low by giving passengers the choice of not paying to check in suitcases if they don't need to. Other passengers can select baggage weights to suit themselves, either 15 or 20kgs. The price you pay also depends on where you are travelling to. Tigerair calls it 'short' (flights under 1 hour and 45 minutes) and 'long' routes (over 1 hour and 45 minutes). The baggage price hikes up an extra $15 for long routes.
All Tigerair Light Fares and Express Fares include 7kg of carry-on baggage (which includes your handbag, laptop bag or any other items you're carrying). If you think you'll need more but don't want to wait to check-in a bag, you can purchase Cabin+ to increase your carry-on allowance to 12kg. And a warning: Tigerair do tend to weigh the carry-on luggage of all passengers and will charge an excess baggage fee if you're over that 7kg.
Add-ons add up
Would-be passengers are urged in the strongest of terms to book their luggage at the same time they are booking their flight which will usually be online. Make no mistake, all airlines will weigh your luggage at the airport so if you get it wrong you'll be slugged with a variety of additional charges. The budget airlines in particular have a range of fees they will charge for anything to do with your booking that has to be changed at the airport check in. Being prepared will mean the difference between a breeze-through check in and the check in from hell. Be guided by your airline's website for up-to-date info on what baggage they will and won't allow.
To assist you with comparing travel insurance products, see the table below featuring a snapshot of travel insurance policies on the Canstar database. This table has been generated based on a single traveller to Indonesia, and is sorted by Star Rating (highest to lowest) followed by provider name (alphabetical).
(QANTAS): Craig Dingle from iStockphoto
(Jetstar): Peterfx30 from iStockphoto
(Virgin Australia): EdithRum from iStockphoto
(Tigerair): TkKurikawa from iStockphoto
Canstar is an information provider and in giving you product information Canstar is not making any suggestion or recommendation about a particular insurance product. If you decided to apply for a travel insurance, you will deal directly with an insurance provider, and not with Canstar. Rates and product information should be confirmed with the relevant insurance provider. For more information, read our detailed disclosure, important notes and additional information.
The inclusions mentioned represent a selection of what is covered at the time of writing. Additional terms and conditions may apply to different features. Additional fees may apply to the product. Canstar is not making any suggestion or recommendation to you about this product. Please ensure that you read the product disclosure statement to determine all the current options and inclusions for the product you are considering.
Important Notes: The Star Ratings in this table were awarded in August 2016. The search results do not include all providers and may not compare all features relevant to you. View the Canstar Travel Insurance Star Ratings Methodology and Report. The rating shown is only one factor to take into account when considering products.