Are your old Barbies and Matchbox cars worth anything today? Canstar finds out…
There's no doubt some collectables make a better investment than others. A collection of seashells from the seashore, while fun to collect at the time, is not likely to appreciate in value. Some collections, like Beanie Babies, now sell for much less than their original retail prices, let alone the prices collectors paid to purchase "rare" bears. Meanwhile, a collection of vintage Star Wars action figures acquired in the 1970s or '80s can bring a small fortune today.
1925: Meccano Sets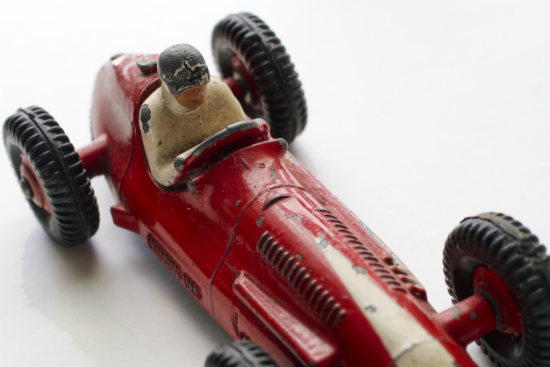 Meccano was the "building blocks" precursor to Lego and Duplo. It was developed in 1898 and patented in 1901 as Mechanics Made Easy, based on the revolutionary marvels of mechanical engineering that were appearing at the time.
The kits consisted of metal pieces including metal plates, nuts and bolts, axles, wheels, and gears. Kids could make almost anything with Meccano – miniature race cars, buildings, cranes, metal monsters, and anything else the imagination could dream up.
Meccano was a highly popular toy from its inception. The Meccano Guild was founded in 1919 as a fan club by the inventor of Meccano, Frank Hornby. Boys of all ages joined the club to make bigger and better projects together, which were then featured in the Meccano Magazine as a way for regional clubs to egg each other on (and to sell more Meccano sets).
At the height of its popularity, Meccano was the Christmas toy of 1925, and sets were available for 5 shillings. Today, Meccano Number 10 is the holy grail for collectors, with a No.10 in mint condition reportedly going for $4,000 or more, and a rare No.00 sold for $1,800.
Cost then
5 shillings

($0.50)

Cost then (equivalent in today's money)
$19.65
RRP for new item today
$39.99 from Meccano
Worth of collectables today
$1,800 – $4,000 each for rare or mint condition items or sets
 Pro Collector Tip: Join the modern equivalent of the Meccano Guild – the International Society of Meccanomen – to find out about sales of rare sets. The Society has around 600 members in more than 30 countries.
1939: Shirley Temple Dolls
we proudly display the largest Shirley Temple doll collection on the East Coast. #ShirleyTemple #shirleytempledoll pic.twitter.com/hDqXYKvRRm

— Spencer Doll and Toy (@spencerdolltoy1) July 23, 2016
Shirley Temple Dolls were dolls manufactured between 1934-1939 and were created to look like the iconic child star of Stand Up And Cheer fame, Shirley Temple. She was Hollywood's number one box office star from 1935 through 1938 – an accomplishment that no other actor has achieved. Her chirpy on-screen attitude during the Depression era helped people forget their troubles momentarily – and her dolls were similarly popular.
The first Shirley Temple doll, manufactured by Ideal Novelty & Toy Co., was one of the most successful dolls ever made up to that time. Over 6 million Shirley Temple dolls have sold – and the many outfits manufactured for the dolls by fashion designers ensured that accessories for the doll were constantly on demand from Australian and New Zealand girls of this era.
Today, dolls can reportedly be sold for anything from $200 for a damaged doll up to more than $2,000 for a doll that is in good condition or features a rare outfit. Collectors report that finding a doll in good condition has become a challenge because the material of the doll's eyes cracks easily, and the material of the skin can show crazing from age.
Cost then
52/6 (52 shillings and 6 pence)

($5.25)

Cost then (equivalent in today's money)
$221.39
RRP for new item today
No longer in production – vintage items only for sale
Worth of collectables today
$200 for doll in poor condition – $2,500 for pristine condition with original outfit
Pro Collector Tip: Be wary of fake Shirley Temple dolls! A real Shirley Temple, apart from the very first edition, will have "SHIRLEY TEMPLE" stamped across the back of the neck or head as the manufacturer's mark of authenticity. Ask for photographs of this mark when contacting private sellers. 
1954: Micro Models (Matchbox Cars)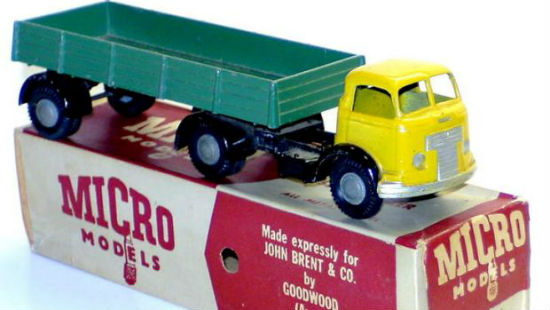 Micro Models were Australia's version of the matchbox car, die-cast models manufactured in Australia and then New Zealand between 1925-1961. Only 42 different models were made, making them a favourite toy of boys in the 1950s and a solid investment for those who held onto them.
Today, while the more common models have stabilised in value since the last major auctions, rare models still go for amazing amounts of money, and a good collection can be even more valuable.
In 2014, an investor acquired just a single car, the Micro Models Commer articulated semi-trailer, for $650 – a record price for Micro Models sold at auction. Back in 2007, one investor paid well over $25,000 to buy 50 lots of Matchbox cars, including some mint condition models still in their original cellophane and boxes.
Cost then
5s/3d (5 shillings and 3 pence) – 7s/6d (7 shillings and 6 pence)

($0.52 – $0.75)

Cost then (equivalent in today's money)
$8.78 – $12.55
RRP for new item today
No longer in production – vintage items only for sale
Worth of collectables today
$500 with aerial intact and box – $650 record for model with box in good condition
Pro Collector Tip: Even just the box that a Micro Model came in can go for $100! A box in intact condition versus one with some tearing can mean hundreds of dollars of difference in the price. 
1964: Barbie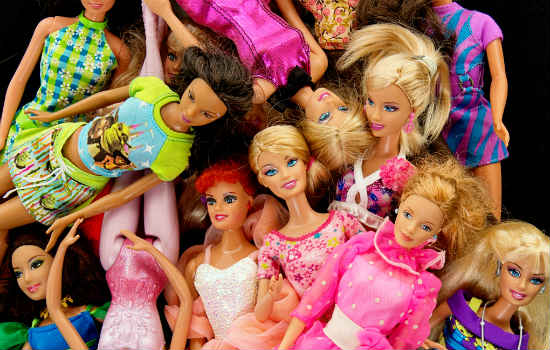 Today, it's hard to imagine someone who doesn't know who Barbie is. Over 1 billion Barbies have been sold to date in over 150 countries worldwide. Barbie has an unbeatable resume featuring more than 150 different careers, with memorable Barbie dolls including:
Astronaut Barbie, 1965
Black Barbie, 1980
UNICEF Summit Diplomat Barbie, 1990
Street Rapper Barbie, 1992
Paleontologist Barbie, 1997
Presidential Candidate Barbie, 2012
New body shapes (original, tall, petite, and curvy) and more ethnicities (African, Latino, Asian), 2016
But the blonde and brunette dolls first manufactured by Mattel in 1959 were treated with scepticism by the toy buyers at the annual Toy Fair in New York because it was so unlike the baby- and toddler-shaped dolls popular at the time. Ruth Handler, inventor of Barbie and founder of Mattel, recognised that the market had a void as she watched her daughter Barbara playing with paper fashion dolls. Girls loved playing with fashion dolls to imagine their future lives as a career woman, cheerleader, college student, and more, and there was no 3D doll to play with.
The Barbie collecting trend first became big in the 1990s, with the introduction of eBay allowing everyday Aussies and Kiwis to buy and sell their old Barbies. The most expensive Barbie sold at auction was the Stefano Canturi Barbie, which featured real pink and white diamonds, and sold for $302,500 at a fundraiser for breast cancer research – still less than its valuation of a cool $600,000.
Cost then
27s (27 shillings)

($2.70)

Cost then (equivalent in today's money)
$36.36
RRP for new item today
2016 Barbie $14.99

Original Barbie $44.95

Worth of collectables today
$50 for Barbie Basics – $27,450 for Original Barbie in mint condition – $302,500 for Stefano Canturi Barbie with real diamonds
Pro Collector Tip: The Barbie Basics line from 2009-10, despite being created as an adult collector's edition line of dolls, has not appreciated as much as most other Barbie lines. Most models in this line are still available from the manufacturer with an RRP as little as $10.00 USD. 
1978: Star Wars Action Figures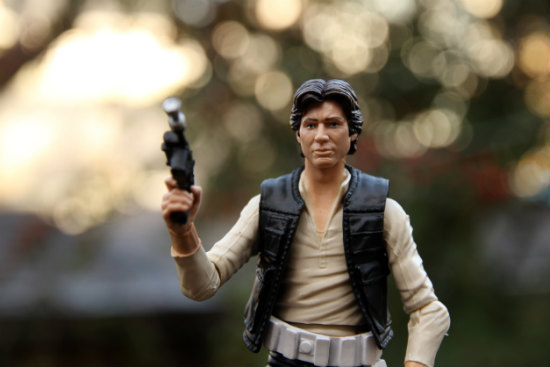 When the first Star Wars movie arrived on our cinema screens in 1977, baffling many with its Episode IV subtitle, no one imagined that the series might one day surpass $32 billion in merchandise sales alone, with that figure increasing by at least $1.5 billion per year.
When 20th Century Fox put up $10 million for the first Star Wars, they believed it might only return $8 million to $12 million in box office tickets. So they signed a contract under which writer George Lucas kept the merchandising rights to all movies in the trilogy, prequels, and sequels. Lucas is now worth several billion dollars thanks to this initial undervaluing.
Today, action figures from the original Star Wars trilogy are worth thousands of dollars. Even action figures of "extras" such as the vinyl cape Jawa from 1978 can go for as much as $2,000. We look forward to seeing whether the new Episode VII – The Force Awakens merchandise becomes valuable as collectables, or goes the way of the prequels merchandise (almost worthless).
Cost then
$3.00
Cost then (equivalent in today's money)
$14.88
RRP for new item today
$34.95 for Princess Leia Premium Action Figure, Elite Series (Disney Store)

$29.95 for Yoda or Darth Vader lightsaber

$210.95 for life size Kylo Ren Force FX lightsaber

Worth of collectables today
$6,000 for telescoping lightsaber Darth Vader from 1978

$2,000 for vinyl cape Jawa from 1978

$1,000 – $2,000 for rocket firing Boba Fett from 1980
Pro Collector Tip: Those who "invested" in action figures, toys, and boardgames based on the prequels (Episode I – Phantom Menace, Episode II – Attack of the Clones, and Episode III – Revenge of the Sith) have found they may have wasted their money. Very few items from these movies have appreciated in value since they were purchased. 
1996: Tamagotchi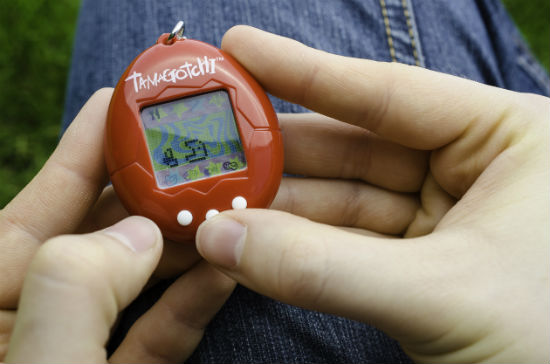 Tamagotchi, the original electronic pet, was first released by Bandai in Japan in 1996. Invented by Akihiro Yokoi and Aki Miata, this small, round game box features an electronic pet that starts out its life as an egg. Once it hatches, your job is to keep it alive – feeding it, cleaning up its poop, giving it medicine if it gets sick, and keeping it happy by playing "paper, scissors, rock" with it. Treat it well and it would evolve into a lovable, well-behaved pet; treat it poorly and it evolved into a vicious, demanding monster.
Kids from the 1990s don't have to be told all this, of course – we lived it. We hid our Tamagotchi in our backpack so we could play with it under our desks during Maths class, desperately trying to meet the demanding feeding schedule of the baby Tamagotchi until it grew larger and hardier. If you were lucky, you had an older sibling at uni or TAFE who could stay home to care for your Tamagotchi while you were at school.
The Tamagotchi was immediately popular, selling 40 million devices worldwide within days of being stocked in toy stores. At the height of the Tamagotchi's fame, North America was selling 15 per minute. For parents, picking an electronic pet over a real, live, pooping, eating pet was simple.
By 1998, the frenzy in the USA was all but over, but it continued worldwide, with more than 76 million Tamagotchis sold as of 2010, and the spin-off fighting version, Digimon, being equally popular. The toy has also remained popular in Japan. Knock-offs such as Dinkie Dino, GigaPet, and Nano Baby crashed onto the scene following Tamagotchi and Digimon, but with limited success.
In 2013, Tamagotchi evolved into an app on your smartphone, which has been downloaded more than 3 million times. It has been speculated that this may have rekindled a recent popularity for collectors seeking physical Tamagotchi models.
Sadly, you can see from the below video that the children of today are no longer able to understand Tamagotchi's complicated 3-button system, having been trained to use just one button as members of the iPod/iPhone generation…
Source: BuzzFeedBlue
Today, a Tamagotchi in its original box can go for $60 or less for the average model, and as much as $400 if you have a rare model.
Cost then
$14.99
Cost then (equivalent in today's money)
$24.44
RRP for new item today
$39.99
Worth of collectables today
$60 for average Tamagotchi or Digimon in working condition without packaging

$220 for 1996 model sealed in box

$400 for rare Devil-Gotchi model
Pro Collector Tip: Visit the TamaTalk fan website to find out what a fair price for a vintage Tamagotchi would be.
Other toy collections worth a little or a lot
The Tickle Me Elmo, bought new in 1996 for $49.99 (about $81.49 in today's dollars) is today worth about $15 to $30 on Gumtree. Elmo's looking pretty sorry for himself now.
A Super Soaker Monster XL, the Christmas toy of choice for 1998, was one of the largest water guns ever made. It could be bought for $38.95 (about $62.81) back then, and new models sell for $7.99-$49.99 RRP, but the Monster XL is a special case – it sold for USD $500 in 2016. A used Super Soaker CPS, the most powerful water gun ever made, sold for USD $300 this year.
Heading into the new millennium, the Furby was the gift to get in 1999. It cost $80.00 back then (about $127.13) and can still be bought new for $99.99 – but a vintage model is now worth more than $500.
Toys from the 2000s overall do not appear to have aged well. For example, Razor Scooters bought in 1999 for $250 are now worth a mere $50-$70. Bratz dolls bought in 2001 for $29.95 are now not worth anything much; the Yasmin doll sold for $250 but she was a rare one. Zhu Zhu Pets bought in 2009 for $22.99 now sell for just $2.49.
Other types of investments
We've talked previously about the pros and cons of whether collectables are a good investment – and why the new, complicated tax rules mean collectables make a terrible SMSF asset. But have you considered other investment options that we research and rate here at Canstar?
Compare Online Share Trading Platforms
Compare Fintech Investor Solutions with Wealthbricks by CANSTAR