CUA Term Deposits
CUA Term Deposits: Customer-Owned Institution of the Year
CUA is a provider of term deposits, home loans, credit cards, bank accounts, personal loans, car insurance, and health insurance.
"Life rich banking." (CUA)
Source: CUA
CUA term deposits
CUA is the winner of Canstar's 2017 Award for Customer-Owned Institution of the Year – Term Deposits. CUA managed to beat 44 other customer-owned institutions to win this award.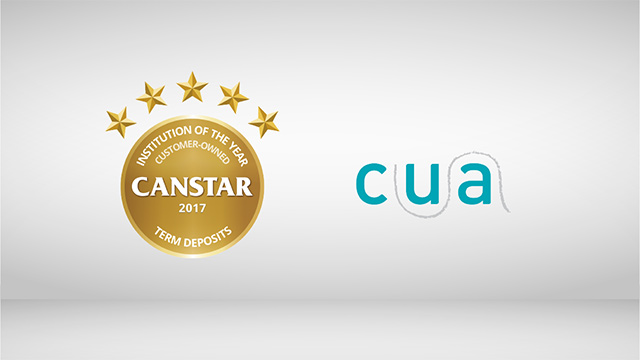 CUA ranked second in 2016's star ratings report, but came out on top this year, performing significantly better due to their improved performance on both price and features compared to the rest of the market. Here's a breakdown of why CUA won:
Above market average interest rates: Compared to the market, CUA has improved their rates significantly, providing more favourable rates across the terms and amounts assessed than the majority of their competitors.
The interest rates offered for 5-7 month terms for both $25,000 and $75,000 term deposits outperformed the market average by 0.3 basis points. The interest rates offered for 18 months on $25,000 term deposits outperformed the market average by 0.01 basis points.
CUA's competitive rates are supported by their robust feature offerings, such as account options and discounts, providing consumers with a fantastic value proposition.
Account options: CUA's term deposits provide a great deal of flexibility in its account options by offering more maturity options and reminders to its customers.
Discounts and bonuses: In addition to offering free direct credit to another financial institution, CUA also offers free bank cheques at maturity.
Loan terms:  Additionally, CUA offers terms from 1 month to 5 years for both $25,000 and $75,000 term deposits, providing consumers with the opportunity to invest for the length of time that best meets their needs.
Flexible interest repayments: You can receive your interest payments at maturity, monthly, or annually.
No monthly account or application fees
Minimum deposit of $5,000
Source: CUA
At Canstar we have previously rated other CUA products, such as:
You can compare these products using the Canstar comparison website:
Compare Home and Contents Insurance
Customers of CUA can also receive the following benefits:
Mutual banking: As a customer-owned institution, CUA's profits are used to provide better products and services at competitive rates and fees to every single member. Every customer of CUA is a shareholder and gets a say in how the company is run.
Digital wallets: As of late last year, Apple Pay is available to all CUA members, giving them an easy, secure, and private way to make purchases that are both fast and convenient. Earlier in 2016, CUA also made Android Pay.
CUA was founded in 1966 after the merger of a few small credit unions founded in the 1940s, including the Catholic Thrift and Loan Co-Op, the Thrift and Loan Credit Union, and the Postal Workers Co-Op Credit Union. At the time of writing, CUA is the largest customer-owned financial institution in Australia.
Over the years, CUA has won numerous Canstar awards, such as Outstanding Value Hospital Cover in 2016 (VIC) and 2015 (QLD), as well as various banking awards such as Outstanding Value for Basic Variable Home Loans, Fixed Investor Home Loans, and Youth eSavers in 2017 alone.
It was also recognised with the WGEA's award for Employer of Choice for Women in both 2011 and 2015.  CUA prides itself on supporting a number of community initiatives, such as:
CUA Community Care: Providing grants to schools to create veggie patches, learning tools, and playgrounds for kids, since 2011
School Fun Run program: Sponsoring fun runs as a healthy alternative to school fundraising chocolate drives
SIDS and Kids: Fundraising for health research into SIDS and stillbirths through the charity Red Nose
In addition to these community programs, CUA is also a sponsor of the Brisbane Heat, in an aim to make financial literacy cool and engaging for children.
Source: CUA
In light of CUA's success, Canstar caught up with Susan Mason, Head of Products and Marketing at CUA to ask some questions about their term deposit products and the current environment.
Q: Congratulations on winning Canstar's 2017 Award for Customer-Owned Institution of the Year – Term Deposits. After coming second last year, how did you make the jump to first this year?
A: We're absolutely thrilled to receive the Customer-Owned Institution of the Year award for our Term Deposits. The CUA team has been working hard to improve our term deposit product offering and member experience. We believe that our term deposits offer strong value and flexibility for members. Key features and benefits include:
Competitive interest rates
Choice of investment terms ranging from one month to five years
Option to receive interest payments monthly, annually or at maturity
Guaranteed rate of return with interest calculated daily
No monthly or account application fees.
In the past year, CUA has also launched a new streamlined online account opening process for its term deposits, making it easy for new-to-CUA members to join CUA online in just a few in minutes.
Q: Why should people choose a term deposit with CUA than with another provider? What can you offer them that's different?
A: CUA Term Deposits offer consistently competitive rates over time and across a range of terms. Many other banks may only offer just a few 'special rates' during certain periods and much lower rates on other terms or at other times. CUA Term Deposits have been recognised with 5 stars for outstanding value by Canstar for seven years in a row, demonstrating our consistent competitiveness. For those members aged 55 and over we also offer preferential pricing on terms of year 1 and over.
CUA is also Australia's largest credit union, offering responsible financial, health and insurance solutions to around 500,000 Australians. As a mutual, we were created by members for members. We care for our members through the changes and challenges in their lives and are committed to supporting them with solutions that meet their needs. Being member-owned means we reinvest our profits back into our business to continually improve member experience and add new services (such as launching Android Pay, Apple Pay and Samsung Pay to our members).
We are also committed to giving back to our communities through social initiatives. We have significantly scaled up our volunteering efforts and launched a reinvigorated new local community grants program through CUA branches.
Q: It's no secret that term deposit rates have fallen steadily over the last few years. Do you see them recovering at any point in the near future?
A: CUA regularly reviews interest rates on savings accounts and term deposits to ensure a good value offer to our members, while reflecting other external factors like market conditions, competitor pricing and the level of funding we need to allow us to keep lending to new members.
Interest rates in Australia are at record lows and this is driven by a number of economic factors beyond our control. But CUA has maintained a strong competitive position in the market and we continue to offer a choice of attractive interest rates to savers.
Showing Rewards credit cards in Canstar's database with links to lenders' websites. The display is sorted by purchase rate (lowest to highest) to consumers for a spend of $5,000 per month.
Table only displays five products. 
Click here
 to see more. Be sure to read the full terms and conditions of each deal before signing up.