Managed fund platform AtlasTrend has introduced a voice-activated personal investment assistant.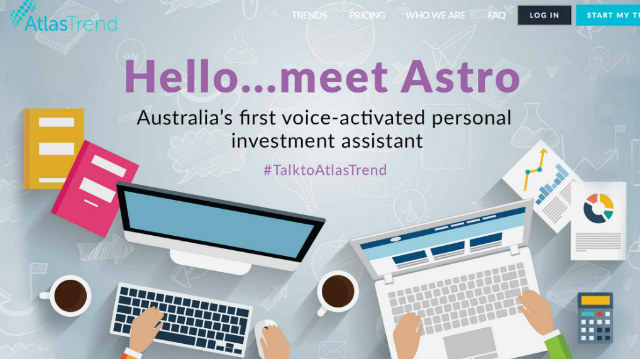 Called 'Astro', the voice-activated fintech bot is officially the first of its kind in Australia, using verbal commands to let users invest money in AtlasTrend's global trends funds.
AtlasTrend says it launched Astro in a bid to challenge traditional institutions and old-fashioned approaches to investing money.
"In this day and age, while people like reading, they tend to prefer video and audio and like to interact with those mediums," AtlasTrend Co-founder Kent Kwan told Canstar.
"Effectively, it's an app we've built that works across google assistant platforms like Google Home, Google Home Mini and Google Assistant devices."
Mr Kwan hopes that the introduction of the Astro will get more people engaged in the investment conversation.
"The aim of the Astro is to help people by giving them a sense of the fundamentals of investing; building a portfolio, building wealth early, how to invest in global trends as well as some weekly news that might be relevant if they're thinking about investing."
"We're hopeful that the Astro will give investment topics a bit of personality."
According to Canstar's General Manager of Wealth Josh Callaghan, this is an industry-leading move.
"As smart systems become more embedded in our homes and workplaces, these sorts of moves will help investors stay across the important information in their portfolio," Mr Callaghan said.
"Recent figures have shown how quickly voice search has grown, now accounting for about a quarter of total searches.
"The first mover advantage in this space will not only open up new potential markets for AtlasTrend but, more importantly, will give them a head start on developing next-generation tools to help investors."
Summary of Astro availability

AtlasTrend & Astro features
Available publicly

Available with AtlasTrend membership

Cost
N/A
$10/month min.
Increase your investment knowledge & learn:
The fundamentals of investing & insights on building wealth
Yes
Yes
How to invest in growing global trends
Yes
Yes
Weekly notable events and their effect on investing
Yes
Yes
Jargon-free investing roundups (monthly)
Yes
Yes
Behind the scenes investing insights on major companies like Nike, Facebook, Amazon etc.
No
Yes
Invest easily in growing trends
No
Yes
Make additional investments
No
Yes
Access AtlasTrend's Australian support team
No
Yes
How exactly does voice-activated investing work?
At this stage, Astro doesn't do all of the work for you, due to security concerns. To keep your money safe, your very first investment needs to be done through AtlasTrend's platform, where you will enter the relevant details.
After this first investment has been made, you can use Astro to make further investments by talking to it ("Astro, I want to make an investment").
You identify yourself using a form if ID specified in your initial AtlasTrend investment, such as a phone number or email. You then specify which fund you'd like to invest in and how much.
Astro will then send you a confirmation email. It won't directly debit your bank account, but will instead ask you to do it to prevent unauthorised access. While you might have to transfer the money yourself, Astro has already done the grunt work.
AtlasTrend believes that this is the best way to remove any potential security concerns, although they have said that Astro will continually be upgraded once it is launched.
The future of voice-activated investing
However, the Astro is the first piece of technology that allows people to invest using their voice, and Mr Kwan says that there is 'absolutely' a big future for voice-activated investing.
"The reason why we've spent time and resources developing Astro is because we see a real future in smart speakers – by 2022, over half of the US will have such a device and we expect Australia to follow suit," he said.
"A smart speaker isn't a real human, but technology is advancing so fast that in a few years you could have a real conversation with it about investing, and that's why we think it's an important investment for us."