Created in 2015, AtlasTrend aims to 'democratise investing' by trying to help people easily invest in assets with high potential for growth.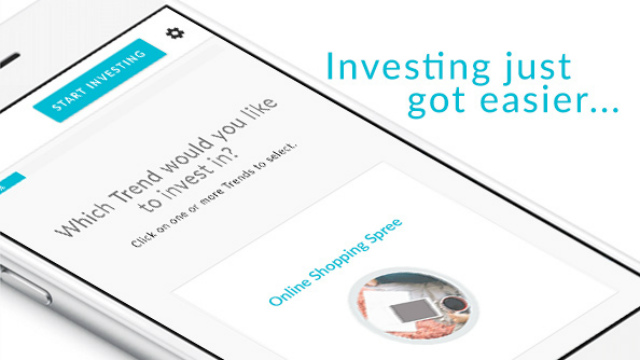 The core focus of AtlasTrend's business model is its 'trends' investments. These trends are not like regular indices. Instead, they invest in 8-12 listed global shares built around global themes like technology and health. The four trends that AtlasTrend currently offers are:
Big Data Big: invests in technology software companies, cyber security etc. (1-year performance to 31/1/18: +15.83%)
Healthy Lifestyle: invests in health & organic foods, medical devices etc. (1-year performance to 31/1/18: +7.38%)
Online Shopping Spree: invests in E-commerce retailers, online marketplaces etc. (1-year performance to 31/1/18: + 24.94%)
Splurging Baby Boomers: invests Healthcare, Pharmaceutical, travel etc. (1-year performance to 31/1/18: +10.24%)
You don't have to invest in these four trends however – using AtlasTrend's Atlas Hub, you can make your own decisions or follow their expert advice.
In terms of cost, AtlasTrend offers a free seven-day trial. After that, investors can expect to pay the following:
A yearly management fee of 0.99%
A 0.10% (capped) ordinary expense recovery for each Trend
A trigger-based performance fee. If the Trends outperform the MSCI World Net Total Return ex Australia Index (in Australian dollars) and the return is positive, 15% of the outperformance is payable to AtlasTrend.
Canstar Q&A with Kent Kwan: Co-Founder of AtlasTrend
Canstar recently caught up with Kent Kwan, one of the three Co-Founders of AtlasTrend, to find out more about AtlasTrend's key aims and functionality.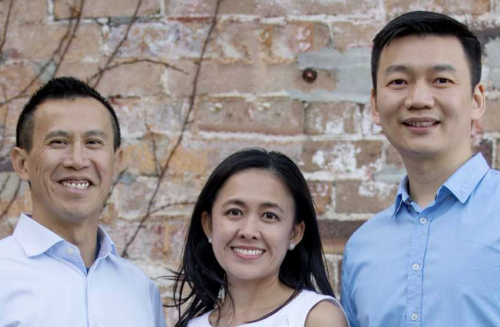 Kent Kwan (right) with fellow AtlasTrend co-founders Kevin Hua (left) and Jade Ong (centre)
Q: What was the inspiration behind creating AtlasTrend?
As the three co-founders of AtlasTrend, we all previously worked for large investment management and financial market companies. In those roles, collectively we invested billions of dollars for investors around the world. We all agreed there were some things that were fundamentally unfair about the investment management industry. In particular, some of the best investment opportunities were often only available to a very small number of people.
Starting with a blank sheet paper, it was an opportunity for us to use technology to create a brand new type of investment service from scratch with the mission of democratising global investing. That is the inspiration behind creating AtlasTrend, to provide an investment service that is simple to use, transparent and accessible for all.
Q: You say your aim is to 'democratise' investing given the low financial literacy levels in Australia. How does AtlasTrend help accomplish this?
We think investing is often made out by the traditional investment industry to be much more complicated than it should be. When you strip away the jargon, the unnecessary complexity and properly utilise technology to provide investment opportunities, investing suddenly becomes much less daunting.
We get a lot of joy helping more Australians overcome the mindset that investing in the stock market is too hard or complicated. We accomplish this by providing:
Information that empowers investors: AtlasTrend users have unlimited access to a library of jargon-free investment tips and strategies direct from our investment team to help them either start their investing journey or become a better long-term investor.
An accessible online investing platform: We make it very easy and transparent for anyone to start investing in our actively managed funds (which we call "Trends") from $100 per month.
We believe the two elements above are essential to help democratise any industry – providing accessible transparent information plus a simple way to benefit from that information.
Q: How did you decide on which four 'trends' to allow members to invest in?
When we started creating the "Trends" our members are now invested in, we asked a simple but very important question – What are the themes or trends happening around the world that are transforming the way millions and sometimes billions of people live their lives over the next 10 to 20 years? We conduct a lot of fundamental research to find and verify these long-term trends.
We believe strong companies that either create or drive these trends should thrive. Our investment team use a combination of big data technology and their over 50 years of investing experience to build and actively manage an investment fund dedicated to investing in large listed company shares that are set to benefit from a specific Trend. For example, the AtlasTrend Online Shopping Trend invests in companies like Amazon and Alibaba.
Our members simply choose the trends they want to invest in (e.g. the online shopping trend) and our investment team actively manages the rest including the underlying investment decisions relating to which shares each Trend invests in.
Q: What makes some trends perform better than others?
Two of our most popular trends with our members have provided strong investment returns. In the last 12 months to 31 January 2018, the online shopping trend and the big data trend have achieved 24.94% and 15.83% investment returns respectively. Since they launched on 9 November 2015, they have achieved 13.86% p.a. and 8.60% p.a. investment returns respectively (to 31 January 2018)[1].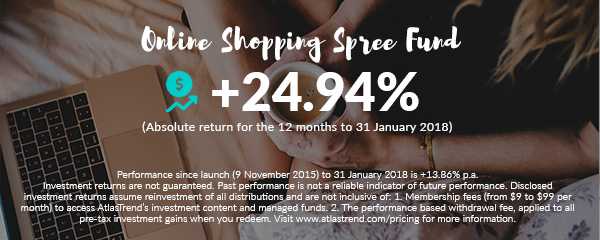 The investment performance has two main drivers:
High growth trend dynamics: Both the online shopping and big data trends are enjoying a period of strong underlying growth. For example, total online shopping sales in the US grew at over 3.5 times faster than non-online shopping sales in 2017. We believe the high growth dynamics in the online shopping and big data industries are set to continue for the next 5 to 10 years.
Investing in the right companies: Our investment team use our internal technology system and their many years of investment experience to find the right companies to invest in for each Trend on our investing members' behalf. For example, Amazon has to date been an excellent investment for the online shopping trend having more than doubled its share price since the online shopping trend first started investing in it around 2 years ago.
Q: Do you have any plans to add different trends in the near future?
In addition to the four trends (online shopping, baby boomers, healthy lifestyle, big data) that are currently available for investment, we are working to launch some new exciting trends including one that is focused on clean disruption. The intention is for this Trend to invest in companies that are benefitting or will benefit from the global disruptive megatrend towards the generation, storage and use of cleaner energy (compared to fossil fuel energy).
It is an ideal investment trend for people who want to invest with a positive conscience in a better world.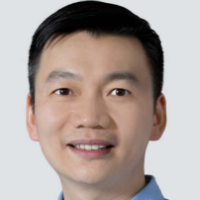 Kent Kwan is the Co-Founder of AtlasTrend and has more than 15 years experience in financial markets. He has managed more than $1 billion in funds internationally over his career, which includes roles as Chief Investment Officer of Arowana International and Portfolio Manager at JPMorgan Asset Management, London.