Wondering who's leading the pack in the local stock market? We take a look at the top 10 performing ASX 200 stocks over the past year, from September 2017- September 2018.
1 ) Afterpay Touch Group Limited (ASX:APT, +289.5%)
Afterpay Touch, the 'buy now, pay later' payments group, has topped the ASX 200 in terms of performance. Its stellar run, which has seen the stock rise more than 289% in the past twelve months, has been driven by strong momentum across the business as earnings leapt fivefold to $33.8m. The number of customers using the service has risen from 0.8m to 2.3m over the past year. Some investors may have been excited by the company's expansion into the US, which has an online fashion market that's approximately 20 times larger than Australia. Afterpay also recently acquired 90% of ClearPay Finance, a UK-based 'buy now, pay later' business, to accelerate and potentially de-risk its entry in to the UK market.
2) Appen Limited (ASX:APX, +194.3%)
Language and search data services company Appen Limited has seen its stock jump over 194% following a bumper year for the business. Appen provides nine of the top ten global technology companies with the data necessary to develop machine learning algorithms and improve their search functions. Off the back of unprecedented demand for its services, its share price has soared. Appen's financial results received a significant boost from its US$80m acquisition of US-based competitor Leapforce in late November 2017.  Following the announcement, the market gave the acquisition a thumbs up as the stock soared 30%.
3) Beach Energy Limited (ASX:BPT, +168.0%)
Beach Energy, an Australian oil and gas producer, has surged over 168% in the past twelve months. Beach's $1.585b acquisition of Lattice Energy, Origin Energy's conventional oil and gas arm, with an effective date of 1 July 2017, has proven to be well timed. Energy prices have rallied strongly with brent crude up more than 50% from the date of the acquisition. Beach's recent FY18 results have shown that the broader business has benefited significantly from the surge in energy prices. Sales revenue increased by 92% and underlying net profit was up 86% from the prior corresponding period.
4) Altium Limited (ASX:ALU, +149.4%)
Altium Limited, the electronic printed circuit board design software company, has been another high-flying technology darling on the local market. The stock closed up more than 35% after the company reported record revenue growth of 26% and earnings per share growth of 33%. Altium may have benefited from the depreciation in the local currency as the company derives a significant portion of its revenues from international markets. Altium may have also benefited from the rise of the internet of things (IoT), a global trend which refers to the interconnection of computing devices embedded in everyday objectives via the internet.
Related articles: 4 Megatrends Worth Talking About
5) WiseTech Global Limited (ASX:WTC, +133.3%)
WiseTech Global, the provider of cloud-based software solutions for the global logistics industry, has been on a tear since its IPO in April 2016. WiseTech has grown its top line at a 41% CAGR (compounded annual rate of growth) over the past five years as uptake of its flagship product has increased internationally. Recently, the company reiterated a positive outlook for FY19 with a continued focus on accelerating growth into more products and more geographies. WiseTech may have also benefited from the broad rally in technology stocks in the local and international market.
6) Sirtex Medical Limited (ASX:SRX, +112.6%)
Sirtex, the Australian medical device company, has had a strong run over the past twelve months following a bidding war for 100% of the company's stock. Varian Medical Systems, a US based radiation oncology treatments and software maker, approached Sirtex with an initial offer of $28 per share in January 2018. The offer was unanimously recommended by Sirtex's board. Subsequently, Chinese alternative asset manager CDH Investments lobbed a bid for Sirtex at $33.60 per share in May 2018. Sirtex's board opted to pursue the superior CDH offer, and has unanimously recommended it to shareholders.
7) Xero Limited (ASX:XRO, +91.3%)
Off the back of continued strong subscriber growth, cloud accounting company Xero has had a particularly good year. Investors may have also been upbeat as Xero's cloud-based accounting software is said by some commentators to have reached critical mass in key markets. While Xero is yet to turn a profit, the company reported a positive EBITDA (earnings before interest, tax, depreciation and amoritzation) and a 60% reduction in the company's net loss from -$69.1m to -$27.8m in its FY18 earnings release. The FY19 outlook issued by management was upbeat with a continued focus on growing Xero's global small business platform.
8) IDP Education (ASX:IEL, +79.8%)
IDP Education is an international education organisation offering student placements both domestically and internationally. IDP also has an ownership stake in the English language test IELTS, which is used by the Australian government for migration assessments. IDP has benefited from the growing demand for international education and the rise of English as a global language. In its recent FY18 financial results, IDP cited the Indian market as a major growth area, highlighting a 60% increase in student placement volumes and a 58% increase in IELTS volumes.
The table below displays a snapshot of online share trading platforms on Canstar's database for 'casual investors'. Please note that these results are based on an average of 2 trades per month, are ordered by star rating and then by providers' name alphabetically. Before investing, check upfront with your provider and read the PDS to confirm whether it meets your needs. 
9) Santos Limited (ASX:STO, +77.7%)
Santos may have also been another beneficiary of the rise in oil prices, up 77.7% in the past year. Santos has been executing its 'build and grow' strategy of bringing online growth opportunities across its core portfolio. Santos also recently announced the 100% acquisition of Quadrant Energy for US$2.15b. In its recently released first half 2018 results, Santos posted a 99% uplift in underlying profit to $217m, free cash flows of $367m (up 22%) and a reduction in net debt of $491m over the prior corresponding period.
10) Seven Group Holdings (ASX:SVW, +73.5%)
Seven Group Holdings, the conglomerate spanning across media, mining and the construction industry, closes out our top 10 list with a year-on-year jump of 73.5%. Seven Group upgraded its earnings guidance earlier this year on the back of a strengthening mining sector and the east coast infrastructure spending boom. Over the past 18 months, Seven Group has also made several potentially redefining deals involving Coates Hire and Beach Energy. The dual tailwinds of a mining recovery and increased infrastructure spending may have helped Seven Group to report a jump of 72% in underlying earnings to $321.9m.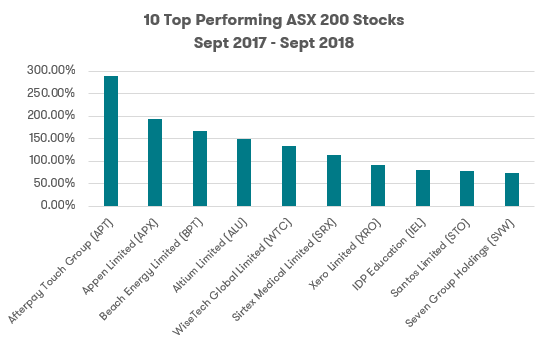 Data sourced from ASX, graph prepared by Canstar.
Thinking of investing?
The past year has seen a number of stocks boom and reach new heights, which can be quite alluring for some investors. However, it is always best to do your research and bear in mind that past performance is not an indicator of future performance. Check out our article on how to pick stocks and, if ever in doubt, seek help from a professional financial adviser.
Figures correct as of 13/09/2018 and taken from ASX.
Want more articles like this sent straight to your inbox? Sign up to our newsletter below.