As Amazon prepares to launch its Alexa voice service on the Echo in Australia in "early February", Westpac and NAB announced customers who purchased the smart speaker would be able to check on their personal finances using voice technology.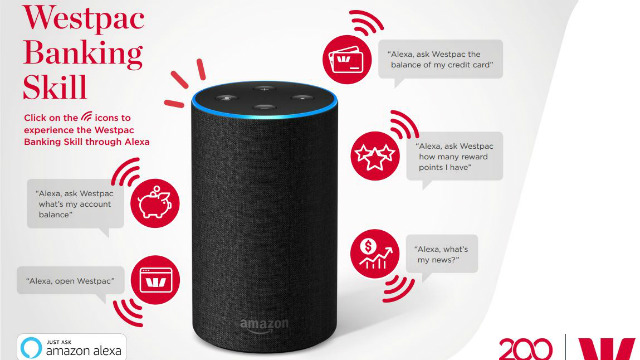 Westpac Digital Labs teamed up with Amazon to build the new cloud-based Westpac Banking Skill that will allow customers to access their bank account balance, recent spending history, reward points status and financial market updates by asking for the information from Alexa.
Westpac customers will not be able to transfer money or make payments using the service but can ask a range of questions relating to their account balance and transaction history (for the last 50 transactions).
"As more people adopt innovative voice-activated technologies in an increasingly mobile world, we are excited to be one of the leaders in this space providing secure, easy to use, cutting edge banking services for our customers," Westpac Consumer Bank chief executive George Frazis said.
The NAB 'skill' for Amazon Alexa will allow customers to check account balances on savings and transaction accounts and monitor how much is owing on home loans, personal loans and credit cards, among other things.
NAB executive general manager for digital and innovation Jonathan Davey said other features could be added to the NAB 'skill'.
"In the future, we certainly see this experience turning into one where you can pay bills, make funds transfers or even purchase items at the command of your voice," he said.
According to Mr Davey, to protect customer data customers will have to enter a pin to activate the NAB 'skill' on Alexa and the service will time-out after a period of time.
NAB's FAQ page regarding the launch of its Amazon Alexa 'skill' notes that customer account information will be shared with Amazon, but NAB is "not able to assure you that the information will be handled in accordance with the Australian Privacy Principles".
Other Australian brands including REA Group, Qantas, Seek and EnergyAustralia have also been quick to launch their own 'skills' for Alexa.
Using the Westpac Banking Skill on Amazon Alexa
This is an example of how a Westpac customer might interact with Amazon Alexa using the Westpac Banking Skill:
Customer: "Alexa, ask Westpac how much money I have in my savings account?"
Alexa's response: "You have $3,450 in your Westpac eSaver."
A Westpac financial markets update will also be available where customers can include the financial news in their daily news updates by selecting Finance News from Westpac via the Alexa app and then asking, "Alexa, what's the news?"
Using NAB's 'skill' on Amazon Alexa
NAB customers using Amazon Alexa voice services could ask:
"Alexa, ask NAB. What's my account balance?"
"Alexa, ask NAB. How much do I owe on my credit card?"
"Alexa, ask NAB. Tell me about recent payments into my account."