For many women nearing retirement, the shine of no longer having to work can quickly wear off when the reality of their
superannuation
balance hits home and, in some cases, brings with it financial stress about the future.
According to advocacy group Women in Super, Australian women currently retire with an average of 47% or $85,000 less super than men. This means women are often at a disadvantage when it comes to the wealth they have when they finish in the workforce.
And the problem doesn't look like it's going away either, with Industry Super Australia predicting the retirement income gap will still be 39% by 2030 (average balances are projected to be $262,000 for women and $432,000 for men).
But perhaps the most relevant factor in this discussion is the gender pay gap, which continues to widen the gap in super balances, especially for those women who have lived a lot of their lives managing domestic duties with no annual wage.
For women looking to develop their own strategy for building wealth, here are some steps I'd suggest are a place you could start.
1. Contribute to your super from a young age
There are different rules at different ages on how much and when you can contribute to super, as well as how much tax you'll pay.
The Australian Taxation Office (ATO) explains that if you're at least 18 years old and being paid $450 or more before tax each month, your employer must pay Superannuation Guarantee (SG) contributions of 9.5% of your salary into your super account. You can pay yourself more from your before-tax pay (see 'Salary sacrifice into super' below) or from your take-home pay. Even the smallest amounts can make a surprising difference to your balance over time.
Currently, as the ATO advises, the general concessional contributions (before-tax) cap is $25,000 for everyone, regardless of age, and the non-concessional (after-tax) contributions are capped at $100,000, or $300,000 over a three-year period if you use the 'bring-forward' rule (in 2018/2019). The bring forward rule essentially means bringing forward three years worth of non-concessional contribution payments in a single financial year to reduce payments in the following years.
Note: the bring forward rule is generally not available to persons above age 65. Additionally, the government has promised to extend the rule to those aged 65 to 66 from 1 July 2020.
2. Salary sacrifice into super
Salary sacrificing, or salary packaging, is an arrangement between you and your employer that sees you pay for approved items or services out of your pre-tax salary. Depending on what you agree with your employer, you can salary sacrifice into your super account or to obtain certain goods or services, like computers, cars or childcare.
If you decide to salary sacrifice into super, the aim is generally to reduce your taxable income and put more money in your pocket by the time you retire. A simplified example of the potential benefits of salary sacrificing for the 2019/20 financial year is below.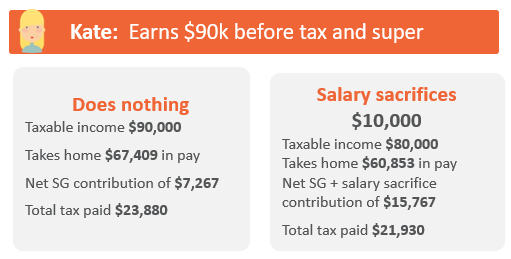 It doesn't necessarily suit everyone, though, so it's a good idea to get some financial advice before making a decision. Check with your super fund first as some providers (like Energy Super) offer their members advice on contributions at no additional cost.
3. Super co-contribution
Did you know, according to the ATO, if you earn $38,564 or less before tax in the current financial year, the government pays 50 cents for every dollar you contribute to your super fund in after-tax dollars, up to a maximum of $500 a year?
The amount of co-contribution depends on your income and how much you contribute but the limits may also change in the future.
According to the ATO, if you earn more than $38,564 before tax, for every dollar you earn over that amount your co-contribution entitlement reduces by 3.33 cents, until it cuts out at $53,564.
For example, if you earn $40,000 and you make a $1,000 after-tax contribution, the government's maximum contribution of $500 would be reduced by $48 which, hypothetically, would give you a co-contribution of $452.
While other eligibility rules also apply, this can be an option for some women looking to save more for the future without having to work any extra hours.
Note: these arrangements are subject to change and the example above is based on super co-contributions for the 2019/20 financial year.
4. Consider contribution splitting with your spouse
One of the lesser-known strategies to build your super balance is contribution splitting. Contribution splitting is essentially an agreement between you and your super fund which allows you to split some of the contributions made to your super with your partner, regardless of your age.
Your spouse needs to be either:
younger than their preservation age (regardless of whether they're working or not); or
between their preservation age and 65 and not retired.
The full tax offset is available for individuals who make super contributions to their spouse's account if their spouse earns up to $37,000 per annum. The offset then reduces for every dollar your spouse earns over $37,000, before it cuts-off completely once they earn more than $40,000 per annum.
5. Make smart investment choices
Something that many Australians may not be aware of is the level of choice they have in how their super is invested. We're always trying to get the message out to our members that smart investment choices can make a difference to their account balance.
Choosing the right investment option for your super is about understanding the level of risk you're comfortable with, considering things like your age and the stage in the retirement journey you're at, as well as your retirement expectations.
For example, a higher risk investment option (such as growth or aggressive) may be more suitable for someone with over 10 years until retirement. On the other hand, a conservative or low-risk cash option could be appealing if you're close to retirement, but can introduce the risk of your balance not keeping up with inflation over long periods.
Super funds typically give you a choice about how to invest your super. Have a look at the options and if you need it, get expert advice based on your personal circumstances.
About Robyn Petrou
Robyn is the CEO of Energy Super and has more than 25 years' experience in superannuation management. She is also a Director of the Fund Executives Association (FEAL), ESI Financial Services Pty Ltd and a past Director of the Australian Institute of Superannuation Trustees (AIST). She has teenage triplet boys who she credits for teaching her three very valuable leadership skills: organisation, resilience and how to function on little or no sleep – very important skills for us all.
Cover image source: Gaudi Lab (Shutterstock)