Chances are your mum does a lot more work than you realise.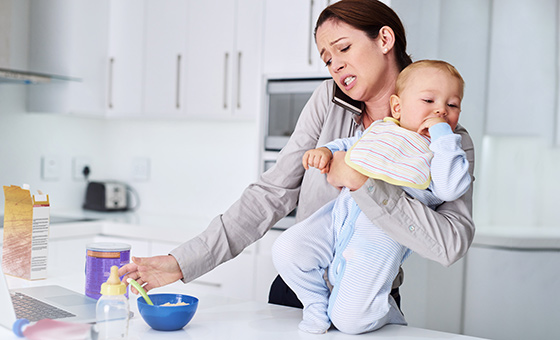 Mothers of all types are spending more time on unpaid domestic work around the house than their partners, so remember to take a second to thank your mum this weekend on Mother's Day.
ME's survey of 1,500 parents found that working mums are spending nearly 20% more of their time cleaning and doing childcare than working dads.
ME compared the workloads of full-time and part-time working parents, and found:
Mums working full-time spend 42 hours doing household duties, compared to 35 hours by dads employed on a full-time basis.
Part-time and casual working mothers spend 58 hours each week on chores and childcare, while dads working the same amount only spend 46 hours helping out around the house.
Over three quarters of mums working full time say that the work-life balance is challenging, and nearly the same number of mothers felt they do not "spend enough time with their family".
Even with all the extra work mums do around the house, mothers in the survey undervalue their labour.
Stay-at-home mums said they would only pay themselves a salary of $48,000/year, which is well under the ABS-reported average wage of $61,000/year.
Pat Nolan of ME says, "Mums are doing it all.
"They're working, contributing to the household income, managing the purse strings, as well as doing a majority of the domestic duties and childcare – no wonder they're maxed out."

For instance, tasks like groceries, laundry, managing the family budget, and driving the kids around are – for the most part – being done by mothers rather than fathers.
Mr Nolan says that with all the work that mums do, it is astounding that "Aussie mums would still only pay themselves a hypothetical wage below what the average Australian is being paid".
"It's a testament to the effort mums [put in] for their family without expecting a thing in return," he said.
So don't forget to show some appreciation for all the mums out there this Mother's Day, whether that's by relieving your mum of a few household chores or helping to set up a family budget – every little thing counts!