Roy Morgan Research has found 345,000 Australian homeowners could have an outstanding mortgage balance which is almost equal to or more than their home's value.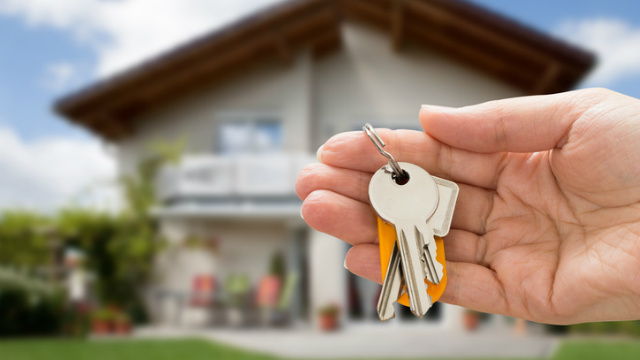 The finding comes from Roy Morgan's Single Source Survey, which canvases the opinions of over 50,000 Australians per year, more than 10,000 of whom hold owner-occupier mortgages.
The survey found that among Australian mortgage holders:
8% (equating to 345,000 from Australia's total population) had "little to no real equity in their home", with the amount they still owed on their mortgage either equalling or surpassing the value of their home

This represents a significant increase from twelve months ago, which saw 7.1% of Australian mortgage holders in the same position

The state where this issue proved most prominent was Western Australia where 14% (71,000) of mortgage holders had little or no equity
Those with little or no equity tended to have lower-value homes, averaging $501,000 compared to the total average of $761,000.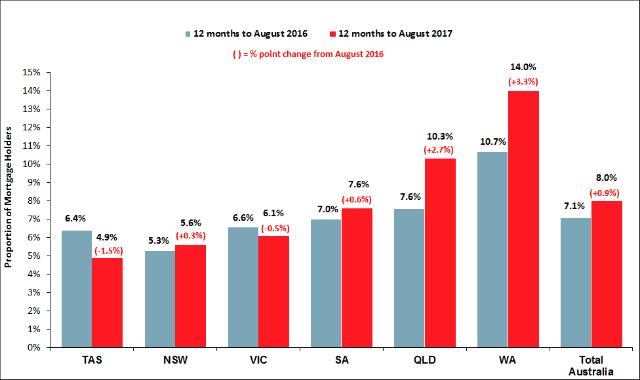 Equity key to avoiding financial risk
Roy Morgan Research pointed out that, along with the ability to keep up with mortgage repayments, the property value/outstanding loan amount ratio is a key factor in assessing a person's financial risk.
Roy Morgan Research Industry Communications Director Norman Morris said the increased number of homeowners with no real equity "represents a considerable risk" which would be greatly exacerbated if house values fell or if households were hit by unemployment.
"If home-loan rates rise, the problem would be likely to worsen as repayments would increase and home prices decline, with the potential to lower equity even further," he said.
"Although the majority of Australians with a mortgage have considerable equity in their home, speculation is emerging that the growth in house prices must soon come to an end and when it does, so will the growth in home equity."
Mortgage debt increasing, but mortgage spending falling
Compounding the issues raised by the Roy Morgan findings, new data from the ABS found that despite home values increasing over the last decade, the proportion of our incomes being put towards our mortgages has fallen.
In the 2005-06 period, holders of owner-occupier mortgages put 19% of their household income towards housing costs; that figure fell to 16% over the 2015-16 period
Owner-occupiers on average paid $434 per week vs. $452 now (in real terms), but the average mortgage-holding household's income has increased from $2,272 to $2,759
Dwelling and mortgage values have also increased over the last decade:

The real median mortgage value has increased from $171,000 to $230,000
The real median dwelling value has increased from $449,000 to $520,000

Low-income households are edging their way closer to mortgage stress, now spending 28% of their income on housing compared to 23% a decade ago.
ABS Director of Household Characteristics and Social Reporting Dean Adams said the decreased proportion of income being put towards housing expenses had been "likely driven by lower interest rates coupled with growth in household incomes over the last decade".
Speaking to Fairfax, Mr. Adams added that households may actually be putting more than the minimum amount towards their mortgages despite what the findings may suggest.
"Our survey measures what they chose to pay in mortgage costs, not what they had to pay," he said.
"As rates have come down, some will have spent more than they need to in order to get ahead on their loans."
Also speaking to Fairfax, Grattan Institute Chief Executive John Daley said the statistics were worrying in the context of the housing affordability crisis.
"Spending on housing is not going up particularly fast, but only because interest rates have fallen so far," he said.
"If interest rates go up from here, it will get ugly quite quickly."
1 in 5 mortgage holders could not afford a rate increase
A Canstar survey of more than 700 Australian home loan customers found nearly a fifth (17%) would not be able to meet their mortgage repayments in the case of a single 0.25% rate rise – equating to roughly 485,000 households in trouble.
Such a rise would mean an extra $45 per month in repayments on a $300,000 30-year loan.
Canstar spokesperson Belinda Williams said if mortgage holders were worried about the ramifications of a rate increase, they should act sooner rather than later.
"With the first Reserve Bank cash rate rise in more than seven years tipped to happen in 2018, anyone with a home loan who is already feeling the pinch or thinks that an extra $50 to $100 a month would be a stretch needs to act now,'' she said.
"The first step is to build a financial buffer into your repayment plan by cutting back on your spending.
"If you haven't already, approach your bank for a better rate or consider switching in search of a better deal."
Of the 83% who reported being able to afford a rate increase, 51% said they could only deal with a rate increase of between 0.25 and 1%.