With fixed interest rates now at record lows, fixing your home loan has arguably never been so appealing.
Fixed rate home loans are currently in high demand. Commonwealth Bank, one of the major lenders in Australia, reported that roughly 40% of its new home loan approvals are fixed rate loans. This increased demand may be due to the fact that fixed interest rates are currently trending lower than variable rates on average. In these economically challenging times, the certainty of a fixed rate and predictable loan repayment may also provide some peace of mind for borrowers.
What is a fixed rate home loan?
A fixed rate home loan is one where your interest rate is locked in for a set length of time (usually between one to five years) and your repayments stay the same during this period. This is in contrast to a variable rate home loan, where your interest rate and repayments can go up or down throughout your loan term.
At the end of the fixed rate period, your home loan will typically revert to the standard variable rate, or you may be able to choose a new fixed rate period. It's worth bearing in mind that the standard variable rate may be more expensive than other rates available so it could be worth shopping around again when your fixed term ends.
Are fixed rates cheaper than variable rates?
On average, fixed rates tend to be cheaper than variable rates. According to Canstar's database, the average variable rate is currently 3.39% for an owner-occupier paying principal and interest on a $400,000 home loan with a 20% deposit. In comparison, the average one-year fixed rate is 2.52%, the average two-year fixed rate is 2.47% and the average three-year fixed rate is 2.53%. Average fixed rates are the lowest they have ever been on our database, according to Canstar Research.
Canstar's Research team has tracked the average home loan interest rates on our database to see how fixed and variable rates have compared over time in Australia. Over the past 10 years, the average one-, two- and three-year fixed rate has been lower than the average variable rate loan. The gap between fixed and variable rates is also currently the widest it has been during the period examined.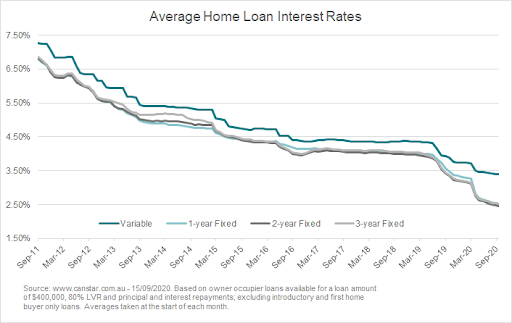 Of course, the interest rate isn't the only factor to think about when choosing a loan. The fees charged and the features on offer can also be important when it comes to assessing the overall value you're getting as a borrower. Canstar's Home Loan Star Ratings and Fixed Home Loan Award could help you to shop around a range of products and providers on our database, based on price and features.
Fixed rate home loan features
While they don't always come with as many features as variable rate loans, fixed rate home loans can still offer some flexibility, with some offering borrowers a range of options for making repayments and how to structure the loan.
Some common features include:
Payment type: You may have the option of making principal and interest or interest-only repayments.
Repayment frequency: You may be able to make repayments weekly, fortnightly or monthly.
Additional repayments: Some lenders allow you to make additional repayments up to a certain amount. For example, up to $10,000 per year. You might like to try Canstar's extra home loan repayments calculator to see how much you could save.
Redraw facility: Some lenders will also allow you to access any extra repayments you have made on your loan.
Offset account: Some fixed rate home loans come with a linked offset account. This may help you to reduce the amount of interest you pay on your loan, although it is a feature more commonly available with variable rate loans.
Split loan: Some lenders let you split your loan, so that a portion of it has a fixed rate and the rest has a variable rate. You can generally decide how you want to split the loan, if your lender offers this option. For example, you may want to split it 50/50.
Rate lock: Some lenders let you lock in your rate at the time of your application or loan approval, rather than at drawdown. This may be helpful if there is still some time until your settlement date. However, banks usually charge a fee for this.
Check with the individual lender or lenders you're considering to see what features are on offer and whether any fees or restrictions apply.
How long can I fix my home loan for?
You can typically fix your home loan for between one to five years, although some providers do offer fixed terms of up to 10 years. Be aware that the interest rates on offer may vary significantly depending on the fixed term you choose and you may pay a higher interest rate if you decide to fix your loan for a longer length of time.
When deciding how long to fix your loan for, consider whether your circumstances are likely to change during this period. For example, will you want to sell your property, make a large repayment or top up your loan?
Should I fix my home loan?
If you're considering fixing your home loan, it's important to carefully consider the potential pros and cons of doing so. These could include:
Pros
You know what your repayments will be during the fixed period, which may make it easier to budget and plan ahead
You are protected from any interest rate rises that may occur during the fixed rate period
Cons
You don't get the benefit of lower rates if interest rates go down during the fixed rate period
You may have to pay break costs if you repay your loan early, switch to a variable rate loan or make additional repayments above the maximum amount allowed under your loan contract
Whether or not you should fix your home loan will depend on your personal circumstances. This includes ensuring you are locking in your repayments at an amount that is affordable for you.
To help you decide if fixing your loan is right for you, Canstar's money expert Effie Zahos recommends asking the following questions:
Can you make additional repayments during the fixed term? If so, what's the maximum?
Can you get a package discount if you're bundling a fixed rate loan with other products?
Can an offset account be attached to the fixed rate portion of your home loan?
Can you lock in the advertised fixed rate when you first apply for your loan?
What fees do you have to pay if you break a fixed-rate contract?
If you are unsure whether you want to be totally locked into a fixed rate term, you might want to consider splitting your home loan so that a portion of your loan has a fixed rate and the rest has a variable rate. Check with your lender to see if this is available to you.
Compare fixed home loan rates

The comparison tables below display some of the fixed rate home loan products on Canstar's database with links to lenders' websites, for refinancing owner-occupiers in NSW making principal and interest repayments on a loan of $350,000 with an 80% LVR. Choose between the 1-year fixed, 3-year fixed and 5-year fixed tabs to view results most relevant to you. The results are sorted by 'current rate' (lowest to highest), then by company name (alphabetically). Before committing to a particular home loan product, check upfront with your lender and read the applicable loan documentation to confirm whether the terms of the loan meet your needs and repayment capacity. Use Canstar's home loan selector to view a wider range of home loan products.
Lowest interest rates for 1-year fixed home loans
*Comparison rate based on loan amount of $150,000 and a term of 25 years. Read the Comparison Rate Warning.
Lowest interest rates for 3-year fixed home loans
*Comparison rate based on loan amount of $150,000 and a term of 25 years. Read the Comparison Rate Warning.
Lowest interest rates for 5-year fixed home loans
*Comparison rate based on loan amount of $150,000 and a term of 25 years. Read the Comparison Rate Warning.
Main image source: Jacob Lund (Shutterstock).
---
Thanks for visiting Canstar, Australia's biggest financial comparison site*