When it comes to buying your first home, choosing the right mortgage can be a minefield. How do different types of home loans work?
There is no doubt that for many people, owning a home is part of their Great Australian Dream and home ownership may provide a great sense of personal satisfaction. For others, a well-selected property is also a long-term wealth building strategy. It is certainly a goal that has become more challenging over the past decade though, with the monthly repayments growing faster than the rate of inflation in every state.
But when it comes to financing your first home, choosing the right mortgage can be a minefield. CANSTAR's June 2016 First Home Buyers Award report assessed 432 loans across 62 lenders – so there is certainly no lack of choice out there!
Types of home loans by interest rate
When it comes to choosing a mortgage, there are four broad options:
1. What is a Variable Rate Loan?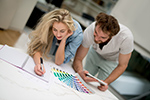 A variable rate loan means the interest rate rises and falls over the life of your mortgage. This may happen in response to the Reserve Bank changing the official cash rate, or it may simply be a business decision by your financial institution. There are different sub-types of variable loans including basic, standard, or revolving line of credit variable loans.
These days, standard variable loans can offer a wealth of features that – if used properly – can help to pay off a home loan more quickly. Standard variable loans may allow you to make extra repayments, redraw extra repayments that you've made previously, or use an offset account so that your savings reduce the interest you pay on your mortgage.
Many institutions also offer a basic variable loan, a "no frills" option with a lower interest rate for those who don't need extra features but are on a tight budget. Competition has become pretty fierce in the mortgage market, though, so your institution may even have a basic product that has the features you need attached.
The main advantage of a variable rate loan is flexibility. You have to make your minimum monthly repayments, but with most institutions, you can usually pay more on top of that if you want to repay your loan faster. Some fixed rate loans also allow additional repayments. Variable rate loans do not charge a break fee because there is no fixed term to break, but they do still charge a discharge fee if you decide to sell your property or change loans.
The main disadvantage of a variable rate loan is that your minimum repayment amount may rise or fall at any time as interest rates change. If you are on a tight budget, this could be a real problem for you.

2. What is a Fixed Rate Loan?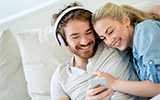 A fixed rate loan simply means the interest rate is "fixed" for a set period of time, commonly between 1 to 5 years. The fixed rates on mortgages are at currently at historic lows, so fixed rate loans are quite popular – around 64% of people comparing home loans on our website are looking for a fixed rate loan (CANSTAR database, June 2016).
The main advantage of a fixed rate loan is that it gives you certainty of what your repayments will cost for a while because your interest rate is guaranteed not to go up or down during the fixed term. This can help you to set your budget for a few years.
The main disadvantage of a fixed rate loan is the inflexibility: the interest rate does not change during the fixed term, and you face a "break fee" if you decide to switch to a different loan (for example, because you are selling and moving house) before the end of the fixed term.
When it comes to the fixed versus variable question, the main reason you would fix your interest rate is because you are confident the rate will go up in the next few years. In theory, you would save money by committing to the fixed interest in that case.
The other reason to fix is that for some borrowers, it is important to know exactly how much of their income they must pay towards their loan. These borrowers don't like "surprises" such as rate rises because it throws their budgets into disarray.
Be mindful that there are usually costs involved with fixing or unfixing the rate of your loan and in switching from one lender to another, so make sure the benefits outweighs the costs.
3. What is a Split Loan?
A split loan is a combination loan structure, where part of your loan is put in a fixed rate loan product and the other part is put into a variable rate loan product. The main advantage of a split loan is that it gets the best of both worlds – your fixed repayments are predictable, while your variable repayments can still get smaller if interest rates fall.
4. What is a Honeymoon Rate Loan?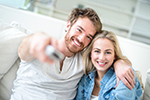 A home loan with an introductory rate or "honeymoon" rate means you pay a lower rate of interest for the first couple of years, before the interest rate reverts back to the loan's ordinary "base" interest rate. The base interest rate can be much higher than the honeymoon rate, so borrowers should consider this before signing up.
The main advantage of a honeymoon rate loan is that it gives you a little bit of time to get on your feet as a First Home Buyer before settling down into paying off that giant chunk of money. You might perhaps be facing some other large expenses in the first year or two of home ownership, such as buying furniture or replacing some old plumbing in your "fixer upper" home.
Related article
Learn more about Honeymoon Home Loans
Types of home loans by repayment style
When analysing your requirements for a home loan, remember it all boils down to whether your finances can cope with the variances of interest rate movements during the period of your loan. You should always factor in at least a 1% rise in interest rates when deciding whether or not you can afford the repayments on a certain loan.
What is a Principal and Interest Loan?
A loan where your monthly repayment includes a portion of the original loan amount (the principal) and the interest charged on the loan for that month. This is the right type of loan for any buyer who wants to own their home at the end of the loan term.
What is an Interest Only Loan?
A loan where your monthly repayment is only an interest payment, and you do not have to repay the loan amount itself (the "Principal" amount). Theoretically, the loan need never be paid out as long as interest payments are made, but your financial institution may well specify a timeframe in which your loan will revert to P&I.
An interest only loan may be utilised by property investors who are planning to rent the property out and can claim the interest as a tax deduction.
Questions you should ask your lender
It's very important that when you speak with your lender, you understand the common terminology used in home loan products, and you know what loan deals are out there before you commit. Be clear with any lender you speak to about what you need from a home loan.
Consider the following questions as a guide when visiting your lender?
Is there a first home buyer discount on this product?
Are there any ongoing fees on this product?
If I have to pay Lender's Mortgage Insurance (LMI) on this product, what will the premiums be?
Can I make additional repayments without penalty?
Any restrictions in paying your loan earlier? (Check the deferred establishment fees and early repayment penalty.)
Can the loan be taken as part of a package so that I save on fees on the other products I currently use?
If there is a redraw facility, what are the conditions on using it?
What is the comparison rate of the loan? (Check the average annualised percentage rate (AAPR), which adds the interest rate plus the fees and charges to come up with the real cost of the loan rather than just the advertised interest rate.)
Make sure the examples highlighted by your lender actually apply to you. For example, in order for you to save money, will you really need to keep at least $5,000 in your full offset account for the whole life of your loan?
Learn more about Home Loans