Australia's property market is booming, particularly in the major cities. A host of trends have emerged, some of which we've probably never seen the likes of before.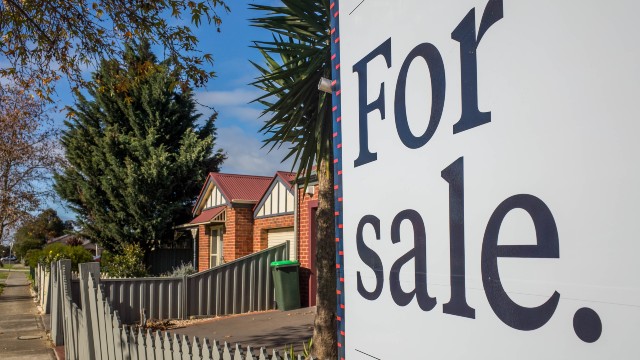 Emerging from the subdued property market activity during COVID-19 is the overwhelming presence of more buyers than sellers creating hot competition in many parts of the country, as everyone bids for the same, very limited stock, driving prices up.
At the same time, mortgage interest rates are at record lows, especially for longer-term fixed rates, increasing the motivation for buyers to get in for fear of missing out on cheap credit. The four major banks have fixed home loan rates under 2%, and even cheaper rates can be found at smaller lenders.
It's created the perfect storm for high house prices, and we've noticed some pretty crazy trends emerge from this market boom.
1. It sold for HOW MUCH? Houses going for way above the asking price
Despite some experts' predictions that there would be severe falls in property prices due to the pandemic, prices are approaching record highs in many capital cities, having experienced a temporary dip during 2020 in some areas such as Melbourne. CoreLogic data showed Australian home prices surged 2.1% higher in February, the largest monthly increase recorded by the property research house since August 2003.
There have been multiple reports of homes selling well above the asking price in Sydney, Melbourne, Brisbane, Hobart and Adelaide, creating even more pressure for first home buyers who may be competing with bigger offers from downsizers and investors.
In the eastern Sydney suburb of Randwick, a four-bedroom house on Coogee Street sold for $560,000 over the reserve price last week. The house was set for auction at a $2.8 million reserve, but the sale was negotiated prior to auction and sold for $3.36 million on 25 March, according to Ray White Randwick Sales Executive Michael Levy.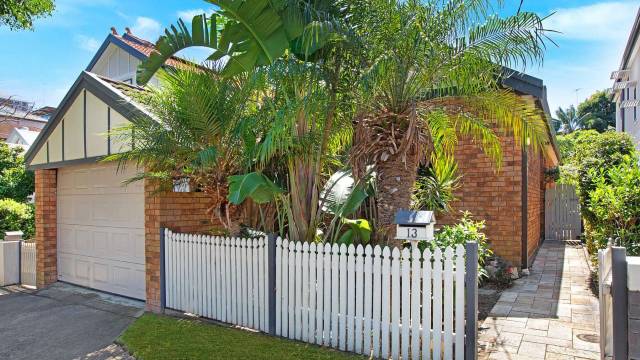 A house in Brisbane's Wavell Heights just sold for 15% greater than the asking price within four days, according to McGrath New Farm's Sales Agent Judy Newlands. The home received interest from 96 groups of people across two open home inspections, and 10 written offers were submitted.
Despite this trend, Ms Newlands told Canstar she was seeing some indications there could actually be a slowing underway.
"As we've seen in any property market boom, the heat always comes out," she said.
Ms Newlands said there had been some local buyer resistance to the hot market recently, with signs of cooling demand coinciding with the end of JobKeeper and the weekend before Easter and school holidays. She referenced an auction in an inner northern suburb of Brisbane in particular, where seven registered bidders attended the auction but no one wanted to even make a bid after over an hour. The snap Brisbane lockdown could also have a dampening effect.
Ms Newlands added that her colleagues had seen similar buyer resistance recently on homes that required renovation, where buyers pulled out having not done their "full homework" to take into consideration the cost of the renovations.
On the whole, though, house prices are expected to keep rising for some time yet. ANZ recently predicted Sydney and Melbourne house prices in 2021 would grow at their fastest pace since the late 1980s, with the bank's economists tipping price surges of 19% and 16% respectively in the cities this year amidst a predicted 17% overall growth in prices across the nation.
2. Buyers ignoring or bringing forward building and pest inspections
It's been reported that potential buyers in Sydney are ignoring unfavourable building and pest inspection findings – or not even ordering the reports in some cases – in a bid to secure a house.
Senior Sales Consultant for Quixley in Fairfield Victoria, John Atlis, said if a buyer had questions about the condition of the plumbing, the wiring, the roof or the floor at a particular property, they are advised that it would be best to engage a building and pest inspection report from a professional. Official bodies in some states and territories, such as the Queensland Building and Construction Commission in Queensland, also recommend all buyers arrange building and pest inspections before proceeding with a purchase.
"Of all the houses we sell I'd say probably only about 30%-40% order an independent building and pest inspection service, but no one has deliberately said they won't bother with it," Mr Atlis told Canstar.
Some buyers are taking a different approach, seeking to have their building and pest inspections sorted well before they ordinarily might. March was the busiest month in five years for Dedant Building and Pest Inspections in Brisbane, as many buyers requested inspections in a much shorter timeframe than usual, requiring the business to have to hire more staff.
"At the moment, things are happening really quickly and it seems that people are purchasing a lot of properties sight-unseen and before they're even listed online, so they're wanting building and pest done really quickly as well," Dedant representative Natalie Bristow told Canstar.
Usually the business would see prospective buyers book their building and pest inspections three or four days out, preferring to wait until they were sure they would have finance secured. Lately though, Ms Bristow said Dedant had received calls from people signing a contract of sale or even before they'd signed a contract to book in an inspection within the next day or two.
"The main thing is to get the building and pest done because if people are foregoing that thinking 'oh it doesn't matter because I'll fix it', they could find out later the place has been eaten by termites," Ms Bristow warned.
If issues arise in a building and pest report, buyers may be able to request the owner complete repairs or negotiate the purchase price down to cover the costs of those repairs. The exact laws around this may vary in different states and territories, so it could be important to seek professional advice from a qualified lawyer or licensed conveyancer to help guide your decision.
3. Low mortgage rates mean buyers could have increased borrowing power
Record-low interest rates mean borrowers have greater capacity to lend at the moment, giving greater encouragement to hit the market for buyers who can afford the price of the property they want.
Canstar's database shows fixed interest rates in particular have been cheaper this year, supported by a three-year line of credit from the Reserve Bank of Australia (RBA) to banks. This gives banks a cheap form of funding to lend money to customers for the time being.
To give an example of how this has increased a prospective buyer's borrowing power, the lowest three-year fixed home loan interest rate on Canstar's database costs 1.75% from UBank (2.22% comparison rate). Our researchers crunched some numbers in Canstar's Borrowing Power Calculator and found a person with today's total average gross income of around $89,000 a year (based on data from the Australian Bureau of Statistics) could afford a mortgage of $663,000. Ten years ago, when the lowest three-year rate on our database was 5.09% (5.57% comparison rate), the same person with the same $89,000 salary could only afford to borrow $462,000. That's a difference of $201,000.
There are concerns that when rates inevitably rise, as the RBA predicts could happen in three years' time, borrowers who have taken out large loans on low fixed rates will be up for refinancing at the same time as rate hikes occur.
Financial watchdog the Australian Prudential Regulation Authority (APRA) has indicated it is keeping a close eye on a few key factors in the property market, as housing credit growth picks up and increasingly outpaces income growth.
APRA Chair Wayne Byres told the Australian Financial Review's Banking Summit on Tuesday the regulator is watching out for the rate at which the following indicators of risk rise: high debt-to-income ratios, high loan-to-value ratios and the proportion of new loans that come from a broker compared to directly from a lender.
4. It's a hot market for auctions
Australia just had the busiest week for auctions since the week prior to Easter 2018, according to CoreLogic's numbers. A whopping 84.4% of auctions recorded a successful result across the combined capital cities.
Ms Newlands said now was not the time to be selling off-market, with strong competition making it difficult for real estate agents to value property. Auctions, on the other hand, could be a more transparent way to value properties in a heated market, she said.
"Sellers and buyers are happy to go to auction because it's a very clear and transparent way of seeing offers," Ms Newlands said.
Of course, there have been many reports of disheartened buyers locked out of buying at auction due to exorbitant bids or the property selling in a private offer, so what works well for some buyers and sellers may not necessarily work for everyone. There are also some additional risks for the buyer of purchasing a property via auction, such as the sale generally being treated as 'unconditional' even if they don't ultimately get approved for a home loan.
5. Little room for negotiation as buyers expected to go straight in with best offers
In private (non-auction) sales, buyers might be missing out on their chance to have a fair negotiation to make an offer on a house, with some buyers telling Canstar that expression of interest (EOI) forms seem to be treated as the final offer in their experience, rather than verbal offers where it may be easier to gauge what other buyers' offers are.
Ms Newlands said it was important that real estate agents tell buyers to treat these forms as their best offer in this hot market. This is because when there is a high volume of buyers, a seller may use these forms to narrow down which buyer they want to pursue for further negotiations.
EOIs are not binding or contractual legal agreements, but may include information about the property price a buyer is happy to pay, an estimated deposit size and other proposed terms and conditions. The offer isn't legally binding until an official contract is signed.
It could be worthwhile avoiding or watching out for certain terms in an EOI form that may not be in your best interests, even if they may seem tempting in the moment of trying to secure a property. For instance, Canstar was provided a copy of a blank EOI form from a well-known real estate agency in Queensland that asked prospective buyers whether they would like to waive the cooling-off period. Cooling-off periods for the sale of residential property apply to sales by private treaty and allow the buyer to withdraw from a contract of sale within a certain timeframe without any legal repercussions (although they may still lose some of their deposit), even after the contract is signed. In some states, such as Victoria, the cooling-off period cannot be waived.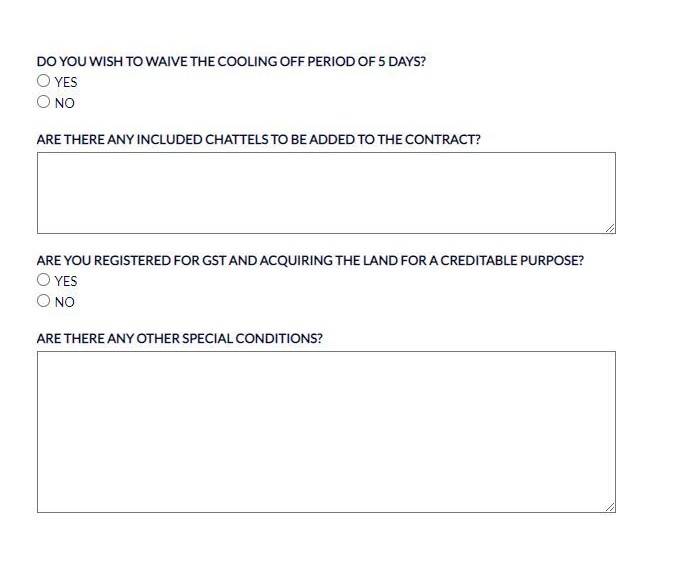 EOIs differ to a Multiple Offer Scenario, in which more than one buyer makes a formal offer by submitting a contract of sale, which, once accepted by both parties, generally leaves no further room for negotiations.
If you're in the market to buy or sell property, you might also be interested in the following reads:
---
Thanks for visiting Canstar, Australia's biggest financial comparison site*