Property is often the largest asset we will buy or sell, so naturally we want to get the highest bid with the conditions we are comfortable with when taking it to market. But is there a particular time that is more likely to yield the result we want, or as Goldilocks might say, when it's "just right"?
This topic, like any good story (or cake), has layers. Because multiple factors come into play in the real estate market. For example, last year we saw a decline in property listings compared to 2019, as consumer confidence took a dive and COVID-19 restrictions made it challenging to physically inspect or attend auctions. However, it appears the comeback is on, with more new listings hitting the market in the first few weeks of 2021 than in the same period in the previous two years, according to CoreLogic data.
More importantly for sellers, demand looks to be strong. ABS data shows the value of new owner occupier home loan commitments (the amount being lent to home buyers) was 38.9% higher in December 2020 compared to December 2019. According to CEO of Metropole Property Specialists, Michael Yardney, this heightened demand is outweighing the increase in supply and helping to drive competition.
So, is now a good time to sell your property to take advantage of the possible boom we are beginning to see? Canstar spoke with a number of experts to slice into this cake.
Is now the best time to sell a house or wait to see if prices go up?
The end of 2020 and into 2021 has brought about renewed confidence in the property market. Chief Economist at Archistar, Dr Andrew Wilson, said national newly reported sales during 2021 so far are 33.6% higher than recorded over the same period in 2020.
These could be positive signs for homeowners who are considering selling their properties.
Canstar finance expert, Steve Mickenbecker, said the volume of new home lending showed there was a strong vote of confidence among consumers in the growth of the property market in 2021, with no signs of slowing down.
"First home buyers and home builders continue to rush into the market, encouraged by record low interest rates and the generous government incentives," he said.
"Even investors are coming to the party," Mr Mickenbecker said.
Mr Yardney said house values rose 2.8% in the three months to January 2021 according to CoreLogic data, with the high end of the market leading growth in Sydney, Brisbane, Adelaide and throughout the ACT.
"The upper end of the market tends to go up first, and that then has a ripple effect on the rest of the market over time," he told Canstar.
"It can be an indicator that there will be further boom through the remainder of the real estate market later this year."
But does that mean homeowners should wait to see if there is a boom this year before selling?
Mr Yardney said not necessarily.
"If you are looking to upgrade, waiting until the end of the year could mean the value of property is much higher than it currently is, meaning while you may get more for your home, you also pay more for the next one."
But for people looking for a seachange, Mr Yardney said he believed capital cities could see more growth than regional areas by the end of the year.
"Overall, regional Australia has done better than capital cities in the last 12 months because it hasn't been as impacted by COVID-19 and there has been a slight shift in people moving there. I believe this may be a shorter-term trend, and I believe we will see strong growth in capital cities this year."
When is the best time of year to sell my house?
You may have heard that it is better to sell in spring and autumn. Some say it has something to do with the weather being more pleasant and gardens looking better. According to Dr Wilson, there are more buyers in spring and autumn, but also more sellers.
"Early spring and autumn is typically better for sellers and late spring and autumn better for buyers," he told Canstar.
"Spring and autumn are more positive for auctions, with winter more favourable to private sales, but it depends on the nature of the property cycle."
Michael Yardney pointed to NAB's representation of CoreLogic data of Sydney and Melbourne new property listings that shows there tends to be a slight fluctuation through the year, with the first peak in spring and the second in autumn, based on recent figures.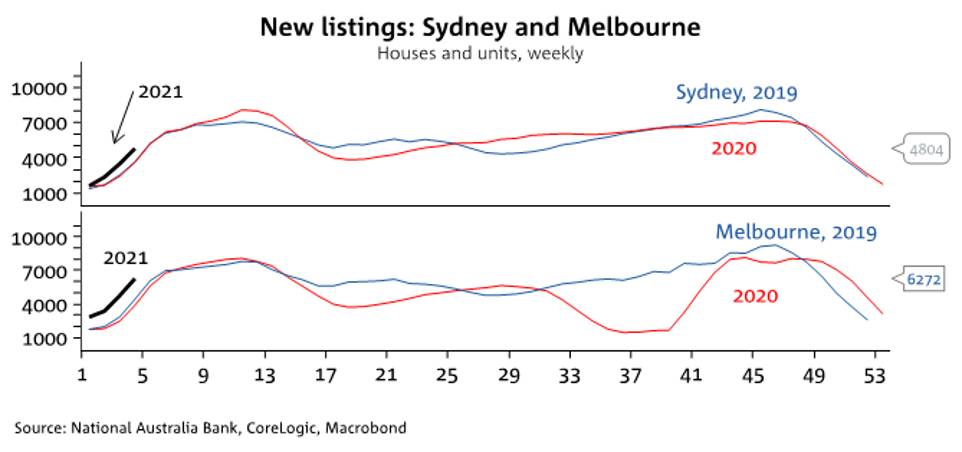 Is there a better time to hold an auction for a house?
Saturday is generally a preferred day for auctions, according to Dr Wilson. And he says midday to 2pm could be the sweet spot, though it may vary based on the specific property and cycle.
"Although mid-week and Sunday auctions have become more popular, the vast majority continue to be conducted on Saturday," he said.
"At the end of the day, the seller wants to accommodate as many potential buyers as possible to intensify competition."
Summary: Is there a 'Goldilocks' best time to sell a house?
While there may be slight differences in buyer activity depending on the season, and property price forecasts predict strong growth, the best time to sell your property may well come down to your personal circumstances. The location of your property, where you intend to move to, and your own time constraints are major factors in the decision, and may help determine when your property is at a 'just-right' temperature for you to sell.
Another consideration is what comes first: selling your property or buying another.
"You don't want to be rushed into paying too much because you have nowhere to live," Mr Yardney said.
"Similarly, you don't want to lower your selling price just to make the transaction line up. To know for sure which may be best for you, you have to investigate the state of the market, identifying whether it is a seller's market or a buyer's market.
"This, more than anything, can have a huge impact on your decision, because if your home is likely to sell quickly, you'll need a back-up plan in place to help you cope in between properties."
Cover image source: Vladislav Noseek/Shutterstock.com