Canstar has researched and rated 17 funeral insurance products from 13 insurers to determine who offers outstanding value for money, and we are pleased to congratulate Let's Insure Award.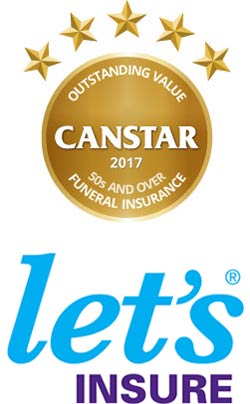 Canstar is pleased to congratulate Let's Insure on winning the 2017 Award for Outstanding Value Funeral Insurance. Here's why it won.
Let's Insure wins 2017 Canstar Funeral Insurance Award
Let's Insure offers great value for money in the funeral insurance space, and it has been justly rewarded for this by winning the 2017 Outstanding Value Funeral Insurance Award for the first time.
Let's Insure performed strongly across the board in the majority of the different consumer profiles Canstar examined. These consumer profiles look at outcomes for those seeking funeral insurance from their early fifties to early seventies, which are broken down based on gender and smoker status.
The two outstanding products, which apply to female, non-smokers in their early and late fifties, have been commended for their fixed payment option, where premiums will never increase.
Furthermore, Let's Insure's capped option – which sees premiums cease after the benefit amount has been paid – received a 4-Star Rating. This makes it one of the top 25% of providers for consumers in this market.
Some other highlights in terms of features offered include the following:
Lump sum payments let you choose a payout of up to $15,000, to help your family pay for your funeral expenses
Monthly premiums are free after the age of 85
Multiple lives can be insured under one policy
$30,000 cover is available for accidental death
Premiums are fully refunded if death occurs due to sickness (within the accidental death only period)
The ability to upload supporting documentation and make claims online
You're covered 24 hours a day, 7 days a week worldwide.
Fast claims payment; your claims will often be processed within 1 day.
A customer service line is available 5 days a week (Monday to Friday), either via phone or email.
It can also be noted that Let's Insure are leaders in the following feature categories:
Claims processes
Premiums
Policy terms
Let's Insure's funeral insurance is available for purchase until the age of 75, making it one of the 8 providers Canstar rates that enables funeral cover to be taken out into your seventies.
The inclusions mentioned represent a selection of what is covered. Additional conditions may apply to different features. Canstar is not making any suggestion or recommendation to you about this product. Please ensure that you read the product disclosure statement (PDS) to determine all the current policy options and inclusions for the product you are considering.
Compare Let's Insure funeral insurance
Considering Let's Insure funeral insurance? See our comparison table below for a snapshot of its current market offerings. Please note that this table has been formulated based on a female who is aged 70-plus years old, and is a non-smoker. To compare more funeral insurance products, please click here.
About Let's Insure funeral insurance
Let's Insure is a member of BlueInc Group, who are specialists in providing insurance products across Australia and New Zealand. The BlueInc Group was founded in 2004, and with over 200 employees, today they are one of Australia's leading funeral insurance providers. They are a well deserved winner of Canstar's Funeral Insurance Award for 2017!
Let's Insure offers a range of specialised and flexible insurance products; offering funeral cover, life cover, and accident cover. Their nimble approach allows them to have a dedicated customer service team, which gives a fast and efficient process to deal with the stresses of applying for funeral insurance. You can contact this customer service team through either of the following methods:
Call 1300 355 355, Monday to Friday
All of Let's Insure's insurance products are issued by St Andrew's Life Insurance (St Andrew's). St Andrew's is a leading provider of consumer credit insurance and life insurance products, and has been helping to protect Australians since 1998.
Let's Insure – through parent company BlueInc group – plays an ongoing and supporting part in its local community, supporting a range of charities and causes such as:
The Leukemia Foundation
The Movember Foundation
Sydney's 24 Hour Mega Swim
Heart Kids New Zealand, which supports children with heart defects
Let's Insure is also a strong advocate of diversity and integrity in the workplace.