How much does funeral insurance cost? Does it match the average cost of a funeral? 
Few people think about the logistics of a funeral until they attend one or have to organise one. Then the exercise can become overwhelming! It's fair to say there is a lot more involved in a funeral than meets the eye.
Much like other types of insurance, people pay regular monthly or fortnightly premiums to hold a funeral policy. So what does funeral insurance cost, and how can you make sure you don't pay too much?
Is paying for funeral insurance worth it?
It depends on the cost of your insurance premiums compared to the expected cost of your funeral. The key to funeral insurance is to do your sums and make sure that you won't end up paying more in premiums over the course of your life than the policy will pay out to your estate.
According to ASIC's report from October 2015, 80% of funeral policies are cancelled, and the most commonly cited reason for cancelling a policy was the cost of premiums. In addition, 1 in 3 cancellations (35%) were cancelled by the insurer because the consumer stopped paying their premiums altogether.
For this reason, we always emphasise that funeral insurance is not suitable for everyone, and it's important to make sure the coverage and premiums align with what you need for your funeral. Canstar can help you compare funeral insurance policies:
What does funeral insurance cost?
Here are the average costs Canstar has found in our research this year, and some examples of how that cost could accumulate over the time you hold a policy.
First of all, you can relax knowing that the premiums for funeral insurance have largely stayed the same since last year. The premiums you pay will depend on the age you first take out a policy, and your smoking or non-smoking status.
Premiums by entry age
So what are the average costs of funeral insurance for people who take out a policy at various ages?
Policy Entry Age
Average Monthly Premium
Cost Of Premiums To Age 80 (to nearest dollar)
52
$45.57/month
$15,313
57
$57.38/month
$15,838
62
$77.23/month
$16,683
67
$109.91/month
$17,189
72
$153.05/month
$14,693
Source: www.canstar.com.au. Based on $10,000 cover for policies included in the Canstar 2017 Funeral Insurance Star Ratings and Awards.
 
As you can see, the monthly premium is more than three times higher when taking out a policy at 72 years of age compared to at age 52. However, if you take out a policy at as young an age as 52, it is likely you will end up paying more over the life of your policy than if you had taken it out at age 72.
Premiums by gender
Our research shows that men pay slightly more than women for funeral insurance. This is because, statistically speaking, men in Australia have an average life expectancy of 80 years to women's 84 years (AIHW).
Women are also statistically more likely to go to the doctor earlier with a health concern, meaning that rates of cancer diagnosis and treatment are much higher for women than for men. Men often see a doctor about a health concern when it is already too late for prevention or treatment.
These factors mean that women present a lower risk of making an insurance claim on their funeral policy.
All of that adds up to cheaper funeral insurance, as you can see from the table below:
Men vs Women: Funeral Insurance Premiums – Average
Gender
Average Quoted Premium
($/month)
Female
$84.03
Male
$89.16
Source: www.canstar.com.au as at June 2017. Based on $10,000 cover for policies included in the Canstar 2017 Funeral Insurance Star Ratings and Awards.
The average difference becomes larger over time – what starts out as a $3/month difference in our early 50s can become a difference of around $13/month in our early 70s, as the table below shows:
Men vs Women: Funeral Insurance Premiums – By Age
Age (years)
Gender
Average Quoted Premium
($/month)
52
Female
$40.58
52
Male
$43.95
57
Female
$50.84
57
Male
$65.41
62
Female
$68.56
62
Male
$75.89
67
Female
$97.35
67
Male
$110.15
72
Female
$141.08
72
Male
$154.43
Source: www.canstar.com.au as at June 2017. Based on $10,000 cover for policies included in the Canstar 2017 Funeral Insurance Star Ratings and Awards.
Premiums by smoking status
As in life, so in death – it is definitely cheaper to be smoke free.
The table below shows how smoking makes an overall impact on funeral insurance premiums:
Smoking vs Non-Smoking: Funeral Insurance Premiums
Smoking Status
Average Quote
Smoker
$88.75
Non-Smoker
$79.31
Source: www.canstar.com.au as at June 2017. Based on $10,000 cover for policies included in the Canstar 2017 Funeral Insurance Star Ratings and Awards.
What starts off as a mere $7/month difference in premiums for a man in his early 50s can become a difference of around $16/month by his late 60s, as the longer table below shows.
How much will your funeral insurance premium cost?
Find yourself in the table below to find out how much funeral insurance would cost you per month on average:
Gender
Age
Smoking Status
Average Monthly Premium
($/month)
Female
52
Smoker
$46.18
Non-smoker
$40.58
Male
52
Smoker
$51.59
Non-smoker
$43.95
Female
57
Smoker
$57.39
Non-smoker
$50.84
Male
57
Smoker
$65.41
Non-smoker
$55.90
Female
62
Smoker
$75.62
Non-smoker
$68.56
Male
62
Smoker
$88.87
Non-smoker
$75.89
Female
67
Smoker
$105.75
Non-smoker
$97.35
Male
67
Smoker
$126.38
Non-smoker
$110.15
Female
72
Smoker
$150.15
Non-smoker
$141.08
Male
72
Smoker
$166.55
Non-smoker
$154.43
Source: www.canstar.com.au as at June 2017. Based on $10,000 cover for policies included in the Canstar 2017 Funeral Insurance Star Ratings and Awards.
Types of funeral insurance premiums
There are in fact two different ways that premiums may be charged for funeral insurance: level premiums or stepped premiums.
Stepped premiums mean the annual premium becomes more expensive as you age and an insured event such as disability or death becomes more likely. Stepped premiums may end up costing more than the benefit, so they may not provide value for money for consumers.
For this reason, Canstar only researches and rates level premiums in our star ratings for funeral insurance. Level premiums mean that while the annual premium may be more expensive initially, it is based on your age when you start the policy and it stays the same as you age. Level premiums only increase at the rate of inflation (known as "indexation").
Keep your eyes open when considering insurance, and if cost increasing by more than inflation each year would be an issue for you check that you will be paying level premiums before taking out a policy with them.
What does the average funeral cost?
It depends how you would like to make your grand exit – quietly with family only, or with an extravagant shebang for all your friends and loved ones.
In reality, costs can vary widely according to cultural expectations. For instance, a Jewish funeral is a simple and uncomplicated occasion – the direct opposite of an Italian funeral.
But to get a broad national average, we have gathered the following statistics:
Average Cost
Burial
$19,000 for funeral service, headstone, and interment
Cremation
$1,500 for direct cremation*

$7,420 for cremation and traditional funeral service*

$11,920 including interment of ashes

 
Budget funeral
$4,132 for services bought online

$5,646 for services bought directly from funeral directors

 
Direct committal
$2,215 for burial without funeral service
 
Sources analysed by Canstar: Gathered Here, Cremation and Burial, 2017; University of Sydney Business School, May 2017 (specific to products bought online).
*These options do not include interment of ashes (storage of the cremation urn at the cemetery). For non-interment cremation options, the family must take the ashes with them and organise their own storage.
Burial vs cremation
Burial funeral costs have been increasing exponentially as the available land supply in Australia's capital cities shrinks. Some Australians may find that their funeral insurance policy's benefit is not as much as their funeral may cost.
The biggest cost depends on your choice regarding cremation versus burial. Funerals in Australia can cost anything from around $4,000 for a basic cremation up to $15,000 for a burial (ASIC).
The difference in costs and availability is showing, with cremations now accounting for approximately 70% of funeral services in Australian cities according to Gathered Here. And in terms of preference, 2 in 3 Australians prefer cremation over burial (McCrindle Research, 2014).
Budget funerals
A report released in May 2017 from the University of Sydney Business School  found the average national price of a budget funeral ranges from $4,132 for services bought online to $5,646 for services bought directly from funeral directors.
Average price of funeral service products when bought online
Direct Committal
$2,215
Budget Funeral
$4,132
Cremation Fee
$875
Casket
$961
Transport
$322.50
Service
$2,604
Certification
$146
Source: University of Sydney Business School, 2017
Funeral costs vary by location
According to Gathered Here, the average cost of a burial in Australia is around $19,000 (including the cost for the monument and cemetery fees), but it depends on where you want to be buried. For example, prices have doubled over the past 5 years in Sydney, where the average cemetery plot can cost anywhere from $4,000 to $52,000.
Could you be underinsured?
Someone with a maximum benefit of $15,000 or less under a funeral insurance policy may be able to afford a budget funeral or a traditional cremation service, but they couldn't afford the average $19,000 burial-type funeral with the proceeds of the funeral insurance alone.
However, in 2017 Canstar surveyed funeral insurance providers about the average sum insured for Australian consumers. Of those surveyed, we found that the average sum insured can be around $7,500 to $8,500 for clients in their 50s, but for clients in their 60s the sum insured is likely to be much less at $6,500.
Knowing from the above figures that this would barely cover a budget funeral and its associated costs, this average sum insured is quite concerning.
However, for those who cannot afford a budget funeral, the Gathered Here report found that all the regulatory requirements for disposing of a body can be satisfied for just $1,200.
While choosing a policy that pays a small amount of benefit upon death may be cheaper than opting for a larger cover amount, when choosing the right level of cover to sign up for it's important to remember the point of taking out funeral cover is typically to provide the insured with peace of mind that if they were to pass away their family or loved ones would not be left with a hefty bill for the funeral and related costs.
How to avoid paying more in premiums than your funeral
Most funeral insurance policies typically pay out a maximum benefit of $15,000 when you pass away.
Many policyholders take out a policy too early and regret it, cancelling the policy after only a few years, effectively sending the premiums they've already paid down the drain. For this reason, Canstar highly recommends that before taking out any funeral insurance policy, consumers do their sums about how much they could pay in premiums from their current age to their expected "end date".
Thankfully, there are many insurance providers who offer a guaranteed benefit – a guarantee that you never pay more in premiums than the sum you are insured for. Some other providers will allow you to pay more in premiums than the sum insured, but when you pass away they will repay to your estate any "excess" you paid over and above your sum insured.
It's worth comparing your options to figure out which method would work better for your budget during your lifetime.
The graph below shows the reality of how your premiums can blow out over time until they are far in excess of the benefit you would receive: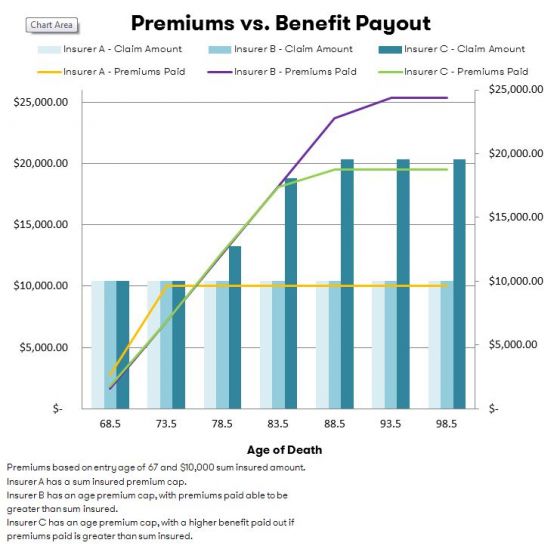 Source: www.canstar.com.au
In this example, the three insurance policies will affect the insured person's budget differently:
Insurer A places a sum insured cap on the premiums you pay, so the policy could cost you $10,000 and provides a $10,000 benefit.
Insurer B has an age premium cap only, so you can end up paying $25,000 in premiums to receive the same $10,000 benefit.
Insurer C has an age premium cap but will pay out a higher benefit if you pay more in premiums than your sum insured, so you could pay up to $20,000 in premiums but you would receive a $20,000 benefit.
If comparing policies sounds like a stressful exercise, sit back and let Canstar do the hard work for you. We're here to help make your decision-making process smooth and easy. This year, we researched and rated 17 products from 13 providers in Australia.
In the market for life insurance? The below comparison table features current funeral insurance products on the market sorted by our star rating (Highest-lowest) for a male policy holder in their early fifties and is a non-smoker.  
Of course, there's so much more to funeral insurance than just finding the lowest price – which is why Canstar is here. We aim to help Australians get the best possible coverage and policy terms and conditions, for an affordable premium.
Find out what features to look for in a funeral insurance policy – or dive straight into comparing funeral insurance policies:
What else do you need to know about funeral insurance in 2017? Find out by reading the rest of our 2017 Funeral Insurance Award report: