You've likely spotted his smiling face plastered over vans and trailers around the country, so who is the man under the bucket-hat?
David 'Jim' Penman, is the founder of Jim's group, one of the largest home-service franchises in Australia.
With an annual turnover of $500 million, the company's franchisees service roughly 35,000 customers a day across around 50 divisions from Jim's Antennas to Jim's Personal Training to the service that started it all – Jim's Mowing.
The rise of Jim's Group – and the tumultuous journey of the man behind it all – have been laid out in a recently released biography, Jim's Book, written by Melbourne-based author Catherine Moolenschot. The book is promoted as a 'warts-and-all look at Jim's colourful life' and what he did to turn his part-time mowing business from an initial $24 investment into what is now a profitable and well-known franchise group.
We met the man behind the 'Jim's Mowing' franchise, who was $35,000 in debt when he started the company in 1982 and now rakes in $500m each year! pic.twitter.com/6bc3bLj2LW

— Sunrise (@sunriseon7) March 5, 2019
Off the back of this book release, we spoke with Penman to shed light on how he was able to mow down tens of thousands of dollars of debt to become 'Australia's accidental backyard millionaire'.
Q&A with Jim Penman
According to the book, in the early years you 'turned over $500 to $600 a week, enough to cover debt repayments and meagre living expenses.' How did you make this stretch and what sacrifices did you have to make?
I just didn't spend anything. My wife and I would spend our one night out having fish and chips, and we'd have dim sims instead of fish because they were cheaper. For a night's entertainment, we'd borrow Asterix comics from the local library and read them in front of the fire. No holidays, no new clothes. It was years before we could go away, and even then we'd stay in a caravan park.
Because Felicity (my wife at the time) was less disciplined than me, I would control most of our spending. She had a credit card, but it was almost always capped at a $500 limit. I just wouldn't spend what we didn't have, and I've always been careful with money. I lived very austerely as a student for ten years, so this way of living wasn't anything new. As long as you spend less than you earn, you can get ahead.
How does this compare to the way you budget today, now that your business is turning over $500 million a year?
There hasn't been much of a change at all. I live far below my income. I drive an eight-year-old Toyota Outlander and a night out is typically at a local pizza or Thai restaurant, though often I prefer a backyard barbecue. I haven't bought a suit in decades, I still fly economy when I have to fly at all, and when I go to the supermarket, I usually buy the shop brand. I'm a multi-millionaire and am still one of the stingiest people around. My biggest extravagance was buying my wife a new Volvo some years back after she fainted at the wheel with our son in the baby seat. I wanted her to have the safest car possible.
On the other hand, I'll buy whatever book I want and contribute millions to scientific research into the root causes of social ills. I just don't have much of a taste for personal spending.
How do you keep your business growing when the marketplace is changing so quickly with the likes of Airtasker and ServiceSeeking?
It's not much of a problem because we concentrate ferociously on providing the best service. The demand for our services has risen much faster than we can grow our franchisee numbers. This happens particularly in the manual services space where fencing jobs, for instance, attract heavy demand.
Below is an exclusive edited excerpt from the third chapter of Jim's Book, republished with permission. In this chapter, we learn more about how Jim used his mowing rounds to help get his finances back on track and his business moving forward.
Chapter 3: Jim's Calling
Determined not to repeat the mistakes of laziness and mishandled finances, Jim went back to mowing lawns. It was the only job he knew. But he would do it properly, while hunting for a better business idea that could make him rich enough to pay off his debts and fund his PhD research.
Now, he only had $24 and a rundown Holden Kingswood, trailer, mower and whipper snipper to launch his new mowing business. He famously spent $4 on Letraset transfers and $20 on printing yellow leaflets advertising his array of gardening services – mowing, collecting rubbish, slashing and weeding – along with his contact number. He and Felicity were renting a house in Balwyn, and a few weeks before Christmas 1982 they dropped flyers into nearby letterboxes.
Work flooded in. Felicity answered the phone and booked jobs while Jim mowed the lawns. He mowed from morning till dusk, Monday to Saturday. He enjoyed being outdoors getting exercise, which he realised was essential to overcome his laziness.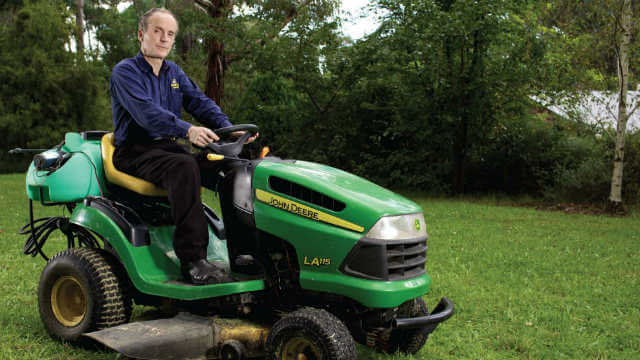 In January 1983, Jim turned over $500 to $600 a week, enough to cover his debt repayments and their meagre living expenses. Jim registered his business under the name 'Balwyn Gardening', after the suburb he and Felicity rented in.
Thanks to his extreme obsession with leaving every job looking as perfect as possible, referrals came in thick and fast. He tried employing people to do the excess work, but they never finished the job as well as Jim wanted and didn't earn enough to cover the costs.
Needing time off to work on his thesis he decided to sell a batch of his clients as a mowing round to earn a few thousand dollars. This time he didn't hire a sales rep, he advertised in the local paper, took calls and within a few weeks managed to sell it. But by the time the sale was made, through word of mouth and ongoing advertising, he was fully booked again with mowing clients. Perhaps he could sell these off too? He advertised again in the paper, and again, by the time the new guy was ready to take over, Jim was fully booked with mowing work. He sold off a third round of clients, surprised at his financial success.
Over the next few months Jim worked on his thesis and resubmitted it, then returned to mowing lawns. Five months later, in April 1984, Jim had an outstanding month: 'My thesis was accepted, I paid off the last of my debt and I learned I was going to be a father!' Jim exclaimed.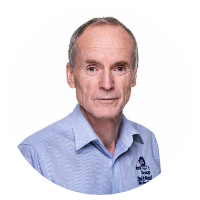 About Jim Penman
Jim Penman is the founder of the Australian home-service franchise, Jim's Group. The newly released biography about him, Jim's Book, delves deep into how he ignored conventional thinking to turn a few mowing rounds into a corporate juggernaut.
Cover image source: StockWithMe (Shutterstock)