We reveal this year's Award-winning term deposit providers, and explain how they stood out from the pack.
It's been a trying time for savers of late, with the cash rate currently at a historic low of 0.25%. But for people looking to grow their money at a competitive rate, there are still options available. You might just have to look outside of the obvious avenues.
"It's important that savers work their money hard to achieve at least a reasonable return," Canstar Finance Expert Steve Mickenbecker said.
For example, Canstar Research observed that some term deposit providers have recently been increasing rates against market trends, suggesting there's still appetite among banks to offer attractive rates to bring in consumer deposits.
This, plus the potential peace of mind of being able to lock in your interest rate for the duration of the term, means that a term deposit could be an option worth considering.
Beyond interest rates, providers can offer different terms and features on their term deposits, which can affect the overall value for savers. To help you compare a broad range of the options out there, Canstar assessed 78 term deposit products from 67 term deposit providers on our database and has given an Award to the bank and customer-owned bank offering the strongest range of term deposit options to consumers.
How were term deposit providers assessed?
To determine this year's winners, Canstar Research assessed each provider's range of personal term deposit products using a methodology that considers:
Price: the interest rate paid on balances of $25,000 and $75,000 over six different time periods, including 1-4 months, 8-13 months, and 5 years
Features: product aspects which make it easier for customers to apply for and manage their term deposits, and the range of options provided to the consumer at the term deposit's maturity.
Products were given a score out of 100, with price accounting for 85% of the final score, and features accounting for 15% of the final score. The bank and customer-owned bank (e.g. a bank which is not for profit and owned by its members, also known as a mutual bank) with the highest cumulative scores across their term deposit product ranges were awarded the Bank of the Year Award and Customer-Owned Bank of the Year Award, respectively.
"This Award recognises consistency in providing attractive rates across multiple terms, and is measured over a six-month period," Mr Mickenbecker said. "The Award winners have both performed well within this period, and remained highly competitive despite challenging market conditions."
This year's Award-winning term deposit providers
According to Canstar Research, both of this year's winners scored points for continuing to offer competitive interest rates despite the record-low cash rate, which was cut three times within the assessment period. Both providers are first-time winners and are institutions some consumers may not be familiar with.
Bank of the Year – Term Deposits: Judo Bank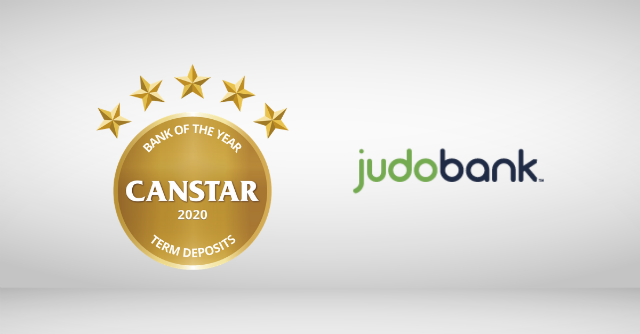 Victoria-based Judo Bank has won this year's Bank of the Year – Term Deposits Award. Judo Bank is a 'challenger' (i.e. non-major) bank which primarily caters to small to medium-sized businesses, but also offers a range of personal term deposit products to consumers.
Canstar Research noted Judo Bank was the market leader among banks when it came to interest rates, and beat the market average on features, with a market-leading performance on options offered at term deposit maturity. For example, Judo Bank says it offers an extra 0.10% p.a. in interest on rolled-over term deposits (term deposits which have matured and then been reinvested for a new term).
Looking at some other aspects of its products, Judo Bank says it charges 0% in fees on its term deposits, and offers three different options for receiving interest payments: monthly, annually, or at maturity.
Customer-Owned Bank of the Year – Term Deposits: Qudos Bank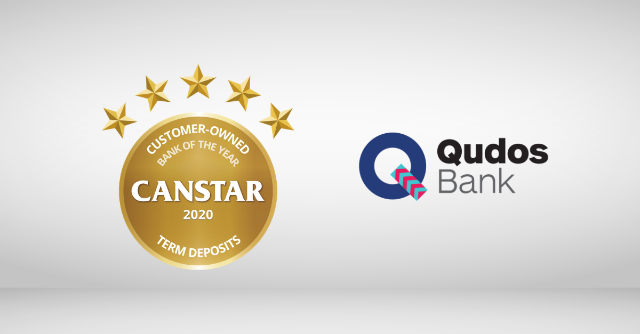 Qudos Bank is the winner of this year's Customer-Owned Bank of the Year – Term Deposits Award. The Sydney-based mutual bank charges $0 in fees on its term deposits, and offers a wide range of term options, including 3, 6, 9, 12, 24 and 36-month terms.
Qudos Bank's win was driven by a market-leading price performance, and a feature score which surpassed the market average. Qudos Bank's term deposit products also earned points for their market-beating feature performances when it came to application and account management, Canstar Research said.
"The Award winners are not household names, one being a neo-bank and the other a credit union formerly known as Qantas Credit Union," Mr Mickenbecker said.
"However, the Government Guarantee for deposits below $250,000 can give consumers confidence when it comes to depositing their money with smaller banks."
If you're considering placing your money in a term deposit, you can start by comparing the wide range of products in our database based on interest rate, terms offered and more.
Main image source: Number 1411 (Shutterstock)