Your superannuation statement is a very important document. Be sure to take a good look at these seven things.
When you get your superannuation statement in the mail or your inbox it's important to take more than a cursory glance at your balance and file it away. There are a number of things that you should look at to make sure you're on the right track to achieve your dream retirement.
Here are the top seven things you should check.
1. Your balance
How much do you have in your super and how does that compare to how much you should have? The SuperGuru website has a handy calculator called the 'Super Balance Detective'. You enter the year you were born and it will show you how much you should have in superannuation now to reach the ASFA Comfortable Standard balance by age 67. The table below shows how much you should have based on various ages.
How much super you should have to reach a comfortable retirement
| | |
| --- | --- |
| Age | How much you should have |
| 25 | $17,000 |
| 35 | $93,000 |
| 45 | $195,000 |
| 55 | $330,000 |
| 65 | $503,000 |
Source: SuperGuru Super Balance Detective calculator. The reported figure is the approximate amount a person should have in superannuation now to reach the ASFA Comfortable Standard balance by age 67.
If you find that you are behind where you should be it may be worth exploring ways to boost your super.
2. The transaction summary
The next thing to check are the transactions. Is your boss making the contributions and are they correct? You can use the MoneySmart 'Employer contributions calculator' to work out how much super you should be getting from your employer. Also, if you are salary sacrificing make sure that money has been going in.
It's worth noting that employers don't have to make contributions to super each payday so don't get thrown off if you don't see payments each fortnight or month. According to the ATO, employers just have to make payments at least four times a year, by the quarterly due dates which are outlined in the table below.
Super payment due dates
| | |
| --- | --- |
| Period | Due date |
| 1 July – 30 September | 28 October |
| 1 October – 31 December | 28 January |
| 1 January – 31 March | 28 April |
| 1 April – 30 June | 28 July |
If you think you have not been paid the right amount of super, have a chat to your employer to see if you can work it out. If you're not happy with their response you can get in touch with the ATO to help you resolve the issue.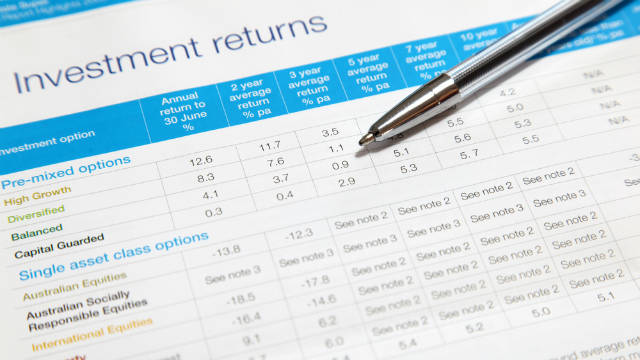 3. The fund's performance
It's important to look at how your fund has performed. A number of factors come into play here including your asset mix. That is whether you're in a conservative, balanced or growth option. Most members would be sitting in a balanced fund.
When you are looking at returns it's important to take a long-term view. Given the unprecedented investment market volatility and economic uncertainty it's not surprising that many funds produced a negative result over the past 12 months, but have performed better over three and five years.
Average Superannuation Net Returns
| | | | | | |
| --- | --- | --- | --- | --- | --- |
| Profile | Growth Asset Allocation | 1-Year Return | 3-Year Return | 5-Year Return | 7-Year Return |
| Cash | 0% | 0.65% | 1.11% | 1.30% | 1.64% |
| Conservative | 20-39.99% | 0.52% | 3.48% | 3.73% | 4.50% |
| Moderate | 40-59.99% | -0.80% | 3.52% | 3.81% | 5.54% |
| Balanced | 60-79.99% | -0.47% | 4.97% | 5.40% | 7.06% |
| Growth | 80-100% | -1.28% | 5.37% | 5.91% | 7.92% |
Source: www.canstar.com.au. Based on superannuation investment options on Canstar's database available for a 30 year old. Returns are net of administration, investment and performance fees and tax. Returns effective to 30 June 2020. Past performance is not a reliable indicator of future performance.
Be sure to look at how the fund compares with other funds that invest in similar assets. The table above shows the average super returns of various asset mixes which will give you an idea of how your fund has performed relative to its peers.
4. The fees
Make sure you take a look at the fees to ensure they aren't too high. High fees can have an impact on your super balance at retirement.
Many experts say ideally your fees should be about 1% of your balance. To work out your fees expressed as a percentage, take the total fee amount, divide it by your balance and multiply it by 100. So let's say you paid $1,500 in fees and your balance is $120,000 your fees come to 1.25%. That is higher than the average amount for that balance (see table below).
Average Superannuation Fees
(as a percent of balance)
| | |
| --- | --- |
| Balance | Average Fee |
| $20,000 | 1.40% |
| $40,000 | 1.21% |
| $60,000 | 1.14% |
| $80,000 | 1.11% |
| $100,000 | 1.09% |
| $120,000 | 1.07% |
| $140,000 | 1.06% |
Source: www.canstar.com.au. Based on superannuation investment options on Canstar's database as at 30 June 2020. For lifestage products an age of 30 years is assumed.
5. Your insurance cover
Many of us have insurance through our super. As well as taking a look at how much the cover is costing you make sure you think about whether the level of cover suits your current circumstances. For example, consider whether life changes mean you should adjust your levels of life or TPD insurance.
6. How your money is invested
Take a look at the asset mix and make sure it is still right for your needs. A 'balanced' fund will generally put your money into a mix of shares, fixed income and other investments, such as infrastructure.
A 'growth' fund will be more heavily weighted towards share investments, which may mean returns will be more volatile from year to year, but growth funds tend to deliver bigger returns over time.
If you're not sure about the best option for you consider getting advice from your super fund or an independent adviser.
7. Your beneficiaries
Check who is listed as your beneficiaries, that is who you want to get your super and insurance if you die. Make sure that is still correct. For example, if it is a partner who you have since split with you may want to change it.
It's important to note though that to make sure your super goes to the person (or people) you want you should have a binding nomination.
If you're comparing Superannuation funds, the comparison table below displays some of the products currently available on Canstar's database for Australians aged 30-39 with a balance of up to $55,000, sorted by Star Rating (highest to lowest), followed by company name (alphabetical). Use Canstar's superannuation comparison selector to view a wider range of super funds.
Fee, performance and asset allocation information shown in the table above have been determined according to the investment profile in the Canstar Superannuation Star Ratings methodology that matches the age group specified above.
Cover image source: GalacticDreamer (Shutterstock)
---
Canstar's Editor-at-Large, Effie Zahos, has more than two decades of experience helping Aussies make the most of their money. Prior to joining Canstar, Effie was the editor of Money Magazine, having helped establish it in 1999. She is an author and one of Australia's leading personal finance commentators, appearing regularly on TV and radio.