If you think you may be eligible for certain government benefits, rebates or allowances, CommBank's new 'Benefits finder' may be able to help you claim them.
However, some Australians may be unaware of what government benefits or allowances they're eligible to claim. In fact, research by CommBank from 2019 found that Australians were missing out on over $10 billion in unclaimed benefits, rebates and concession payments each year.
To address this gap the major bank launched a Benefits finder service for its customers. Here's our overview of how it works, and what it's designed to help you with.
What is Commbank Benefits finder?
The CommBank Benefits finder is a service offered by Commonwealth Bank aimed at connecting its customers with the benefits, rebates, and concession payments that they may either not know that they're eligible for, or don't know how to apply for.
Who is eligible to use the service?
In order to use the CommBank Benefits finder, you'll need to both be both a Commonwealth Bank customer and either have access to the bank's online banking platform, NetBank, or have the CommBank app downloaded to your smartphone.
If you're considering opening up a CommBank account so you can use this service, remember to bear in mind the other aspects of the bank's products and services (such as fees, interest rates etc.) and whether they are suitable for your needs overall. Consider too what features or services from your existing provider you might miss out on if you were to switch away from them. It may be beneficial to compare accounts from a range of providers before deciding.
What can CommBank Benefits finder help me with?
The CommBank Benefits finder sifts through different government benefits, rebates, allowances and discounts on your behalf to work out if you may be eligible for any of them. This includes:
Utilities rebates (water, gas, electricity etc.)

Government assistance programs such as

JobSeeker

Car registration rebates
According to Commonwealth Bank, as of April 2020 more than 500,000 claims had been started through the CommBank Benefits finder, and there were over 200 benefits and rebates available through the service. The top five claims made started through the service in the four weeks to 5 April were:
Unclaimed Money (34,000)

Unclaimed Super (7,000)

Power Saver Bonus (6,300)

Coronavirus and Job Seeker Payments (5,900)

Family Tax Benefit (2,800)

Rent Assistance (2,700)
How does the CommBank Benefits finder work?
Once you've downloaded the app or logged into NetBank, you'll need to answer a few questions about yourself and your current financial situation. You'll then be presented with a list of benefits you may be eligible for, along with an overview of each, and how much you could claim.
If you decide you want to apply for one or several of the benefits presented to you, the CommBank Benefit finder can help you begin the claims process, either by directing you to the benefit provider's website or by telling you how to claim the benefit in question.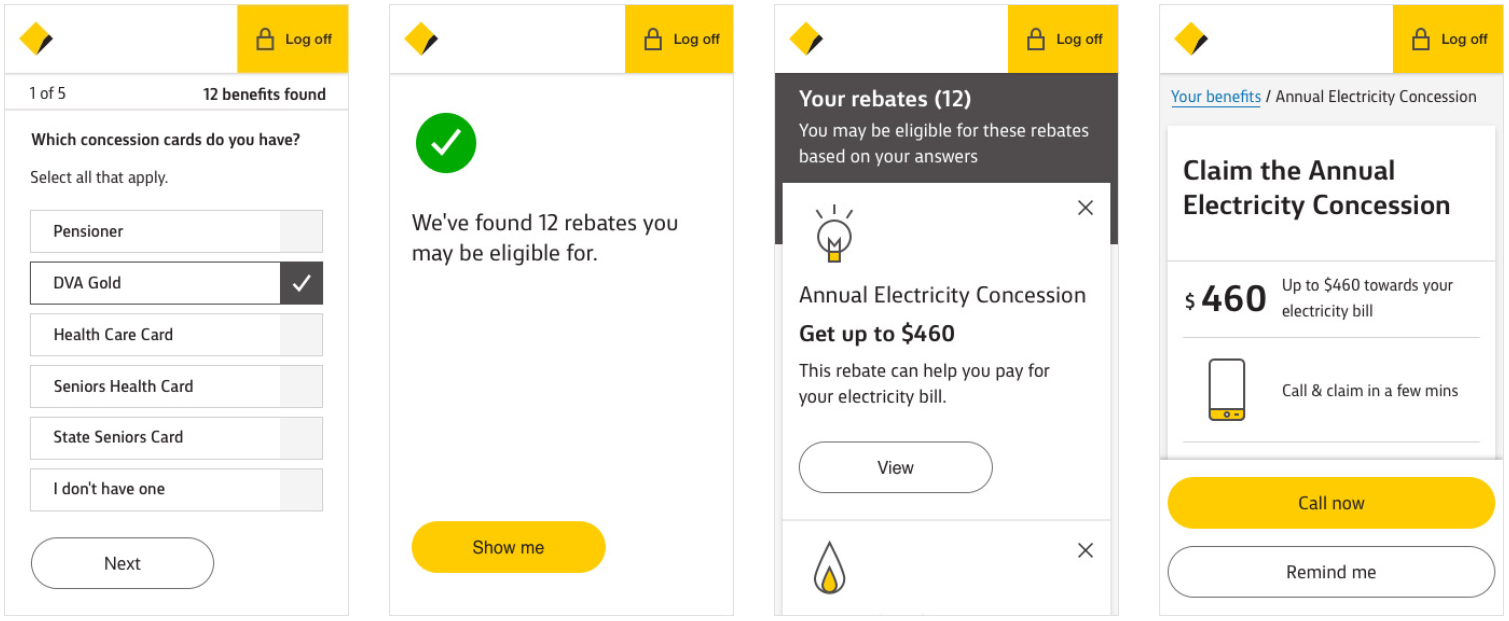 How do I access CommBank Benefits finder?
If you're accessing the CommBank Benefits finder through the CommBank app, it can be found in the side menu, by tapping on 'Benefits finder'.
If you're accessing the CommBanks Benefits finder via NetBank, you can find it in the 'Settings' section.
What if I can't access the CommBank Benefits finder?
If you're not a CommBank customer, there may still be ways for you to get help with accessing benefits and other financial relief. For example, a financial counsellor may be able to point you towards rebates and benefits you may be eligible for, as well as help you negotiate with your lenders, dispute insurance claims and help support you in your current financial circumstances. Or, if you are comfortable doing so, you may be able to find benefits you are entitled to direct from the provider, such as Centrelink, your local council or your state or territory government.
In addition, it may to helpful to be aware of some of the support available to people who have been financially affected by the coronavirus pandemic.