Canstar's Innovation Excellence Awards showcase a selection of the cutting-edge financial products that are helping Aussie consumers. Here we reveal why the judges selected this year's Award winners.
Each year, financial institutions are invited to submit products or service innovations to Canstar for consideration. Canstar then judges these products against several criteria, including how new or unique they are in the market, how disruptive they are, and how affordable and easy to use they are for consumers. The winning products receive Canstar's Innovation Excellence Award.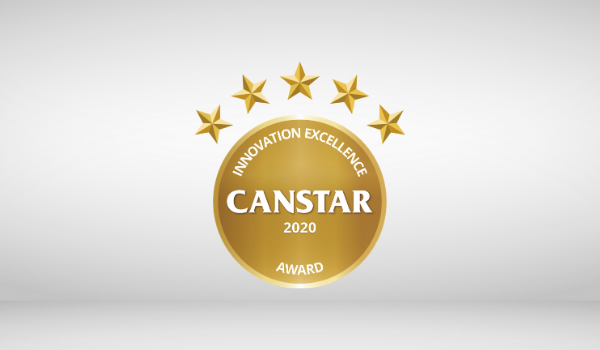 This year's nine Award-winning initiatives were drawn from a wide range of fields, including home lending, travel insurance, investment solutions and everyday banking. They aim to solve problems such as delays in insurance claims, mental health issues for Australians and the financial challenges facing those who have lost a loved one.
Read on for a summary of each Award winner, sorted alphabetically by provider name.
Allianz – Travel Insurance Claims Automation
To help save time for people lodging and following an insurance claim, Allianz has built an artificial intelligence (AI) model which can assess, process and pay travel insurance claims online in as little as 24 hours.
Canstar's judging panel was impressed with how Allianz had used AI to improve payment turnaround and reduce out of pocket expenses. No additional costs or fees apply to claims processed this way, and Allianz says that automation also reduces the potential for human error.
In 2019, with Claims Automation in place, 91% of travel insurance claims submitted to Allianz were completed online, and 35% of those online claims had been fully automated all the way through to payment. By contrast, Allianz says that in 2018 the average time taken to settle a travel insurance claim was 24 days, and that this has since been cut down to a matter of seconds as a result of travel insurance claims automation.
Canstar's panel of judges identified it as "a great example of how artificial intelligence can assist Australian consumers with the efficient processing of claims".
Athena – Automatic Rate-Match
At a time when Australia's home loan market has scarcely been more competitive, with the lowest rates sometimes being offered to new customers only, Athena's free 'automatic rate-match' service is geared towards helping existing customers ensure they don't miss out on the lender's lowest rates.
The service checks all home loan rates being offered to new customers, and if it finds one that is lower than the rate an existing customer is on, it offers that existing customer the lower rate. Existing customers who've received a rate cut through the service can choose to keep their home loan repayments the same in order to pay off their loan faster.
The judging panel applauded Athena for its innovative and disruptive spin on a regular rate match service. The panel recognised that through this approach the lender challenged the status quo by putting its customers first and rewarding loyalty.
Bupa – Online Cognitive Behavioural Therapy
Canstar has recognised this innovative service which offers Bupa members with Extras health cover online access to clinically-proven Cognitive Behavioural Therapy (CBT). Through the service, members can also access online programs designed to help with common mental health issues such as stress, worry, anxiety, and depression.
These services are accessible 24/7, and while they'll cost members an initial $59 per CBT course at the time of writing, Bupa will pay back 100% of the cost after a member has completed the course as an Extras insurance rebate. According to Bupa, 80% of people who complete one of the courses on offer benefit "substantially", and 50% say they are no longer troubled by anxiety or depression.
The judges said they were impressed by Bupa's "considered and innovative" approach to reducing accessibility barriers to essential mental healthcare. The panel believed that providing affordable and convenient access to CBT courses in this way will have a significant impact on members' lives.
Commonwealth Bank – Benefits Finder
According to CommBank, billions of dollars in welfare benefits go unclaimed by vulnerable Australians every year.
The major bank's Benefits Finder tool aims to target this issue, by helping its customers identify and claim any third-party benefits they're eligible for. The tool provides customers with a personalised dashboard which offers information on the benefits they may be eligible for, along with information regarding the eligibility and application requirements.
CommBank estimates that Benefits Finder will help deliver over $150 million to customers every year once fully scaled, and says that the feature is already facilitating an average of 10,000 claims every week from 1.3 million customers who've used the feature so far.
Canstar's judges were "wowed" by the ability of this technology to automatically identify potentially relevant benefits, and reduce eligibility complexity for applicants. The judges were also impressed by CommBank's willingness to extend beyond traditional bank services in order to better serve customers.
Commonwealth Bank – Home Loan Compassionate Care
Canstar's judges recognised CommBank with a second Innovation Excellence Award this year for its Home Loan Compassionate Care service. Research from the major bank shows that that a third of Australians would be unable to afford more than six months worth of home loan repayments in the event of the death or terminal illness diagnosis of a partner, and one in 10 could only afford to cover these expenses for a month or less.
CommBank's Home Loan Compassionate Care initiative aims to help alleviate these issues by covering a year's worth of home loan repayments for homeowners whose spouse or dependent dies or is diagnosed with a terminal illness. CommBank says there is no cost attached to this help, and it's available to both new and existing customers with an eligible owner-occupied home loan. The maximum assistance payable over the 12-month period is $120,000.
The Compassionate Care service impressed the judging panel with its "customer-focused, thoughtful" approach to providing value and support to customers. They commented that the innovation "paves the way for other home loan providers to seek ways to provide value, support and improve the end-to-end customer experience".
CommSec – CommSec Pocket
Aimed at reducing the barriers of entry for Australians who are considering investing, CommSec Pocket allows customers to invest as little as $50 and manage a portfolio of equities, all from their phone.
CommSec Pocket sidesteps what can be a high price barrier to entry in some cases, and makes investing simple and accessible. The judging panel was impressed by the combination of low brokerage fees, refined investment options, and a low investment entry point.
The app offers seven different ETFs to choose from, as well as access to informative resources regarding the investing journey. All investments are CHESS-sponsored (meaning they're registered with the ASX in your name), and all trade data is in real-time, CommSec says. Brokerage costs $2 per trade up to $1,000, or 0.2% of any trade valued at over $1,000.
Canstar's judges described CommSec Pocket as "market leading", with considerable "wow factor". The judges said the innovation could potentially lead to other providers looking at ways they too can help investors of the future.
Hostplus – Self-Managed Invest
If your retirement savings are invested in a self-managed super fund (SMSF), you may be looking for ways to diversify your investments. Canstar's Innovation Excellence Award judges have recognised super fund Hostplus' Self-Managed Invest (SMI) service, which provides a range of different investment options to SMSF trustees.
"Australians who have chosen to go down the self-managed super fund route until now have been limited in how they can access some of the investment options available within the superannuation space," the judges noted.
They described Self-Managed Invest as a "unique opportunity" which offers new solutions for SMSF investors, and were impressed by the range of investment options it made available to SMSF investors.
At the time of writing, SMI costs $240 for members to join and investment fees are charged at 0.02%-0.71%, depending on the investment option.
Queensland Country Bank – SmartBudget
The only regional provider to pick up an Innovation Excellence Award this year, Queensland Country Bank Ltd's SmartBudget Account is designed to help customers manage bills and expenses. The account allows customers to make regular deposits – aligned to their salary payment frequency, for example – based on the estimated cost of their bills over the coming year.
This could allow customers to 'smooth out' the year's bill payments, rather than struggling during pay cycles in which lots of bills are due. Customers can contribute smaller, regular amounts to their SmartBudget account, knowing their bills will be covered. The account comes with a monthly service fee of $5, and the account is set up as a 12-month contract.
Canstar's judges said the innovation stood out as being "special", and were confident it would have a significant positive impact on customers and their lifestyles. They were also particularly impressed by the fact that customers are allowed to overdraw on the account interest-free when paying their bills.
Xero – NAB Payments
Cloud-based accounting provider Xero has received an Innovation Excellence Award for 2020 thanks to its integration with the National Australia Bank's (NAB) payment system. Business customers can now manage multiple bills simultaneously through an integrated Xero and NAB platform, as well as keep track of transactions and accounts payable in real-time. This platform integration also allows for a digital audit trail, as well as more accurate data and insights, which can potentially help accountants and bookkeepers provide better-informed advice to the businesses they're working for.
To use Xero NAB Payments, a business must have a NAB transaction account with internet banking, have a Xero subscription and purchase the Xero-NAB Payments add-on.
The judging panel applauded this innovation for being customer-centric, and addressing common issues for businesses. "Some of the best and most impactful innovations are ones which remove what can seem like an innocuous pain point – this is one of those," the judges said.
In selecting it as an Award winner, the judges noted that by allowing them to process payments through a single platform rather than having to use two systems, Xero's innovation could save businesses time and increase productivity. The fact that payments can be monthly or even weekly means the service could have a "compound effect" of helping a business not just in the short-term, but over the course of a whole year.
For more information on how the recipients of Canstar's Innovation Excellence Awards were decided, you can read the methodology document.