ME Term Deposits
Industry super fund-owned bank, ME is focused on helping all Australians get the most out of their money.
"A bank built just for you." (ME)
Source: ME Bank
ME term deposits
ME (formerly known as ME Bank) is the winner of Canstar's 2017 Award for Bank of the Year – Term Deposits, beating 28 other banks in the process.
It was also the winner of this award in both 2015 and 2016, making this victory its third in a row.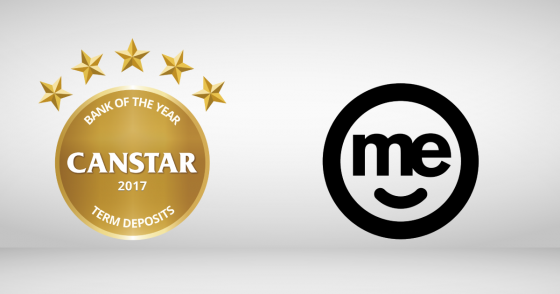 To summarise why ME won, its term deposits offer competitive interest rates, as well as great flexibility when it comes to account features. Let's look a little more closely at ME Bank's term deposits:
Strong interest rates: ME is the current market leader in the following terms when it comes to rates:
5-7 months for $25,000
8-13 months for both $25,000 and $75,000
ME also offers above market average interest rates in the following terms:
1-4 months
18 months – 2 years
3-4 years and 5 years for both amounts ($25,000 and $75,000)
and 5-7 months for $75,000.
The average historical rates for the 6-months up until 24/05/2017 rates were at least 0.23 basis points higher than the market average for all terms and balances assessed.
Terms: ME offers 3-year, 4-year, and 5-year terms, which are not available from some competitors.
Improved account features: ME offers a number of features for their term deposits. Some examples are that they allow maturity instructions via email, as well as a variation period – valuable features not offered by all institutions.
Minimum deposits of $1,000
Different payment options: Interest can be paid at maturity, monthly, quarterly, six monthly, or annually, giving you greater flexibility.
Who can apply for ME Term Deposits?
Anyone can apply for an ME term deposit if they are:
At least 12 years old
An Australian citizen or permanent resident
Opening the account for personal use
Compare ME Bank term deposits
To compare other term deposits on the market, click here.
What else can ME Bank customers receive?
At Canstar, we have previously rated other ME Bank products, such as:
You can compare these products using the Canstar comparison website:
Customers of ME Bank can also benefit from the following:
Term Deposit Calculator: Use the ME Bank Term Deposit Calculator to find out how your deposit could grow over time to
Mobile banking: The ME Bank mobile banking app is available on the iStore for Apple devices and Google Play for Android. You can even log in using Touch ID.
Source: ME Bank
About ME Bank
ME was founded in 1994 as Super Member Home Loans, with the goal of helping Australians access home loans to own their home. It received its banking licence in 2001 and has grown steadily since then. As at June 2015, ME had 338,000 members. ME's head office is in Melbourne and it has offices in every Australian capital city.
How ME Bank supports the community
Mother's Day Classic: ME says it is proud to be a major sponsor of the Mother's Day Classic fun run for breast cancer research. In fact, it has been a major sponsor since 2005.
Source: ME Bank
Ignite ME Hackathon: In 2016, ME's first hackathon event provided an opportunity for 63 innovators in 20 teams to compete to create new and exciting software solutions.
The HESTA Awards: ME is a major sponsor of the HESTA Awards, which recognise and celebrate the achievements of HESTA members who are nurses, primary health care workers, early childhood teachers, aged care workers, and workers in the community services sector.
Entertainment: ME sponsors Village Cinemas Australia including Village, Event, Greater Union, and Birch Carroll & Coyle cinemas around the nation.
Source: ME Bank
How ME Bank protects the environment
ME Bank has long since been committed to doing its part to save the environment:
In 2015, ME reduced its carbon emissions by 20% from 2014 levels. It also reduced its overall paper usage by a whopping 80%, from 106 tonnes in 2014 to just 22 tonnes in 2015. That's seriously impressive!
Its head office in Melbourne, where the majority of ME staff work, received a Green Star 5-star rating in 2013 from the Green Building Council of Australia.
When ME sources new suppliers, it researches which brands have a high level of corporate responsibility, environmental management, supply chain management, human rights, and community impact to establish sustainable partnerships.
Q&A with ME's Nick Emery
Canstar caught up with Nick Emery, Head of Deposits and Transactional Banking at ME, to ask some questions about their recent victory and their view on the current term deposit environment.
Q: ME Bank Congratulations on winning Canstar's 2017 Award for Bank of the Year – Term Deposits for the third year in a row! How have you maintained this quality over the years?
A: As ME's mission is to help Australian's get ahead, we aim to offer consistently competitive term deposit rates.
Q: Why should people choose a term deposit with ME Bank than with another provider? What can you offer them that's different?
A: Consistently competitive term deposit rates across a number of terms.
Q: It's no secret that term deposit rates have fallen steadily over the last few years. Do you see them recovering at any point in the near future?
A: The decline in Australian term deposit rates have mirrored the sharp fall in global interest rates over recent years. However as many of the world's economies show signs of recovery and return to economic growth, globally central banks' attention is now looking towards a reversing of the policies that have driven the fall in global rates.
This will likely see the start of a gradual rise in interest rates globally and in Australia from 2018 onwards.