It?s this financial landscape, more than any other, that motivates investors to review their investments and question their overall strategy. Typically the first thing that comes under review is the investment returns (or losses) and the desperate search for better performing investments.
However searching for a fund that consistently outperforms will be difficult, according to new research by ratings company Canstar. In its latest research Canstar reviewed 81 Global Equity managed investment funds and found that less than 9% of funds achieved top quartile performance in consecutive periods over 1, 3 & 5 years.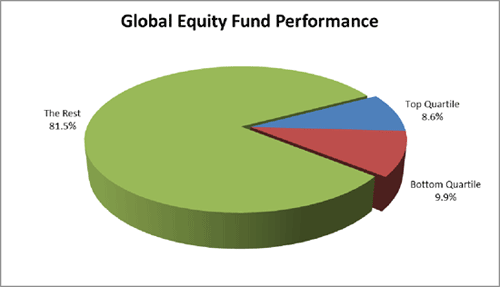 At the other end of the scale just over 9% of funds had performance returns in the bottom quartile over the same periods.
Fund managers always advise clients to concentrate on the long term instead of the short term but our research has shown that few funds can consistently outperform, with just as many funds performing poorly.
In addition, there were examples of funds that achieved top quartile performance in the 1 year returns but whose 5 year returns were ranked in the bottom quartile and vice versa.
When picking a fund based on performance, you are unlikely to end up with a consistent top performer. And this is true even in the good times.
If there?s one thing to be learned about choosing an investment fund by the strength of its returns, it?s that there is absolutely no consistency or predictability about this method whatsoever. The promise of higher returns is just that, a promise, based around past performance.
For this reason, Canstar avoids rating investment funds on performance, concentrating instead on areas investors can make an educated comparison such as fees and the fund features.
Fees are predictable. They are written in black and white in the Product Disclosure Statement (PDS) so you know upfront what you are going to pay. We suggest the most sensible place to start is to find a fund with a fee structure that suits you.
While we can?t predict with 100% certainty the future returns offered by funds investing in global equities, we can tell you that high fees are like termites – they will eat away at your investment and are likely to remain unnoticed until it?s too late.
Canstar has just released its first comparison of Managed Investments trading in global equities. The financial research and ratings group stressed that investors should be more fee savvy in the lead up to what is certain to be another volatile year of trading.
According to Canstar, the most common managed fund fees are:
Contribution Fee: Usually charged when making contributions to your investment. This fee will be paid by your fund back to your financial adviser. Usually this fee is negotiable with your adviser and it varies from zero to 5%. This means that for every $100 paid into your account, the account may be credited with only $95. Also beware of "NIL entry fee" funds (NEF), as these generally will charge higher management fees or MER.
Administration Fee: This fee is charged by the fund for looking after or administering your investment e.g. issuing statements etc.
Management Expense Ratio (MER)/Investment Fee: MER is the fee is paid to the Investment Manager for managing your investment. This fee can vary substantially depending on the assets the fund invests in and the whether or not the investments are actively managed. The fee is usually charged as a percentage of your account balance and can range from 0 to over 3.00%.
Performance Fee: This is the fee charged for being able to exceed the benchmark performance. The benchmark can be found in the PDS. If the fund outperforms the benchmark performance they will be entitled to a performance fee.
Buy Sell Spreads: These are transaction costs charged to recover the costs involved with buying and selling underlying assets in the fund. These costs include brokerage, clearing costs, settlement costs and stamp duty. However, rather than charging a separate fee, it is incorporated into the price of the unit. This is why there is a separate "buy" and "sell" unit price. These can range from 0 to up to 0.75%.
How to save when investing in managed funds
Canstar suggests the following ways to save when you invest.
Buying through a financial adviser means you can negotiate any fees payable to the adviser. These include the upfront contribution fees and ongoing trail commissions. If you are a good negotiator, it?s possible to eliminate these fees altogether or at the very least drive them right down.
There are discount brokers in the market who provide a 100% rebate on your upfront contribution fees. These brokers can do this by limiting their payments to the ongoing commissions from your fund. In addition, some brokers will rebate 50% of your ongoing commission. For more information, check out discount brokers such as InvestSMART, 2020 DIRECTINVEST, CommSec and others.
Entry Fee Vs Nil Entry Fee Option
Some funds will offer both an Entry Fee (EF) and a Nil Entry Fee Option (NEF). While the NEF option is appealing, typically it will have a higher MER which you will pay on an ongoing basis. It may also have an exit fee in place of the up-front contribution fee which is payable on a sliding scale if you decide to leave the fund. If you are going purchase a fund directly, then look for the Entry Fee option and purchase via a discount broker. This way you will not pay the up-front contribution fee and you benefit from a lower ongoing MER.
You can choose and buy many products directly from the fund. There is no prerequisite for a financial adviser or broker to be involved. However before you sign the form, talk to the fund about waiving fees. Some funds will waive some up front or ongoing fees. However there are some funds who do not waive any fees so check carefully before you buy.
With a typical contribution fee of around 4% it pays to do your research and shop around.
Global Equities Star Ratings
Canstar's rating of managed investments is different to other ratings because it compares investment products according to investor profiles not the industry classification of the fund. Each profile defines an investor according to life stage, from the seasoned investor looking for diversification or risk mitigation, to those just starting out on their wealth accumulation journey or others looking to supplement their income.
Each of these profiles has different investment needs and expectations of their managed investment, and Canstar's ratings reflect these needs.
Investment performance is of course an important contributor to the size of your retirement nest egg. But how often have we heard the disclaimer "past performance is no guarantee of future performance"?
There simply are no rock solid guarantees that a fund manager will be able to continue with the strong performance that it has delivered from one year to the next, let alone the many years that follow. That?s why we have not rated investments based on investment performance.
Canstar assessed the price and features of over 80 Global Equity managed investment funds to determine which funds best suit the needs of the three common investor profiles used. These are the Wealth Builder who is starting out or saving for a future need, the Seasoned Investor looking to directly invest part of their portfolio, and those wanting a regular investment income stream to supplement their overall income.
Canstar has only rated funds which can be purchased directly and which are offered by a discount broker.