Opinion: Canstar's General Manager of Wealth, Josh Callaghan
With so much information about stock prices and what to buy, it can be easy to overlook some of the fundamentals of investing. Using Afterpay as a case study, I thought I'd take us right back to basics to try to understand what the price of a stocks represents.
What is Afterpay?
Buy now, pay later has boomed in Australia thanks to an innovative offering from Afterpay. Having already partnered with an impressive list of retailers, users of Afterpay are able to find a favourite pair of shoes (for example), pay using their Afterpay account and then repay that purchase over four instalments rather than all up front. Assuming users pay on time, users only pay for what they purchase and Afterpay makes its money from the retailer on every item purchased using their service. Data from their 2018 results presentation show that Afterpay have solidified the model.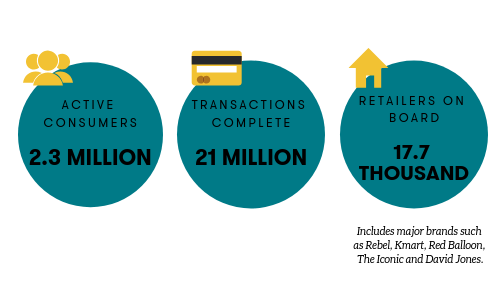 Afterpay has also been popular on the market, with investors driving the share price up as high as $23. This is after originally floating in May of 2016, under the name Afterpay Holding Limited, at just $1 per share. At the time of writing, the current price hovering around $12-$13 dollars, it represents an annual compound growth rate of over 100% which is impressive by anyone's standard.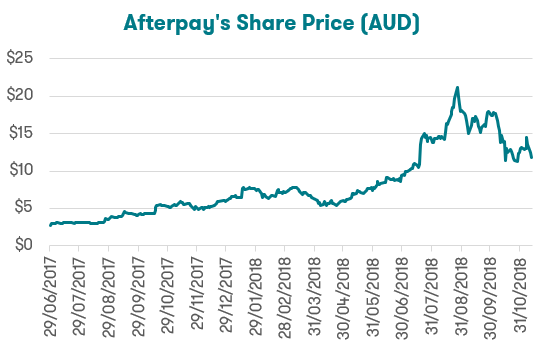 Back to the task at hand…
Now before you go out and buy yourself a piece of the action, the purpose of this piece is to talk about valuations and why they're important to understand.
Afterpay has proven itself to be a relevant solution for both consumers and retailers with strong growth potential in new markets such as the US. On the face of it, you might be tempted to "buy in on the dip" (meaning, buy after the price has gone down as it may be good value) but it's worth understanding what the current price reflects.
Why earnings are important?
Afterpay's business model is hinged on scaling up the use of its service in order to get a little piece of every transaction on the platform. They're not in the business of building or buying large assets such as plant and machinery. So, to my mind success equates to converting sales revenue into net profit which is what investors regard as earnings.
Before we go further, it could be useful to have a quick refresher on financial ratios from this article.
EPS (Earnings per share)
If a company took its net profit and gave it all back to shareholders based on the number of shares they own then this would effectively be the EPS. Obviously, we don't want companies to payout all of their earnings as we hope they have other ways to invest their money and keep growing. So, EPS shouldn't be confused with DPS (dividends per share) which is what is actually paid out to investors.
Afterpay is currently running at a net loss. Here are the stats:
| | FY17 | FY18 | FY19 (forecast) |
| --- | --- | --- | --- |
| Profit (AU$) | -9.6m | -9m | 20m |
| EPS (c) | | -2.8 | 7.6 |
PE (Price to Earnings Ratio)
The next building block of analysis is the PE ratio which represents the sum of money investors are willing to pay for each dollar of the company's earnings. For example, if the current price was $15 a share and the EPS was $1 per share then the PE would be 15. The long-term ASX average is around the 15 mark. However, a higher PE typically indicates that investors are expecting the company to continue to grow in the future. Therefore, for a growth stock such as Afterpay, we'd generally be looking for something over 20.
Based on Afterpay's 2019 EPS and at their current price, their PE ratio would be 171.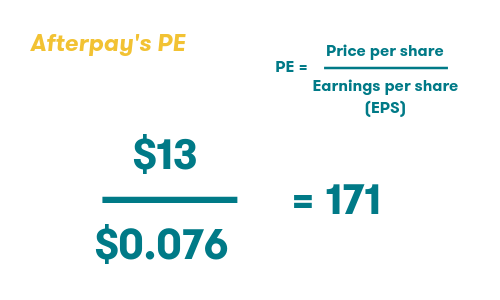 This is essentially saying, investors who buy in at this price are willing to pay $171 for every $1 of Afterpay's earnings. This is an astronomical valuation by anyone's standards and might rule it out for value investors.
In fact, the company has forecasted turning their losses into $149 million profit by 2021 with an EPS of 37.5 cents. If the price remained flat at $13 for the next three years, Afterpay would still have a PE of 35 – quite high by equity standards.
So, should you buy Afterpay?
I can't say whether you should buy or sell Afterpay, it's up to you to make that judgement call. The point I've tried to make here is that crunching the basic numbers can give you other insights into the company and the price which may help to better assess it as an investment opportunity. I've used the PE ratio above but that's just a start, and if you're not put off by such a high PE then you should keep going on your analysis.
When markets turn, it's the growth stocks that often turn the hardest as investors quickly adjust their growth expectations. When the growth expectations of a company are so high, it may only take a relatively minor change to significantly impact the price. This can be seen in the price tumble of Afterpay shares from a high of $23 down to around $13 in the past few months.
Do your homework to find out what the price of an investment means and most importantly, go your own way.
Want to keep on top of market movements and the latest investment news? Follow Canstar Investor Hub on Facebook and Twitter, or you can sign up to our newsletter below.
Cover Image Source: Rawpixel.com (Shutterstock)
---

About Josh Callaghan
Canstar's General Manager for Wealth, Josh Callaghan, is the former General Manager of Wealth at Canstar and co-founder of Fintech Queensland. In his role at Canstar, Josh was responsible for the strategic direction, operations and commercial outcomes of the Wealth division, which includes Superannuation and Investments. He has over 19 years of experience in product management, strategy, technology and marketing in the financial services industry.