A study nook and a bedroom makeover are two options that could improve your home without breaking the bank.
There are a limitless number of locations that we could invest our time and money to improve the spaces that surround us. Most people immediately think of the bathroom and kitchen, and without doubt these are two spaces that can really change the way you live in a house and add value to your property.
But these are two areas that the financial investment is often at its greatest. So, here are four simple renovations that can benefit your lifestyle and add value but can be done on a range of different budgets.
1. Front facade
The front facade is something that people talk about renovating when they are going to sell their house, as first impressions count. Well, first impressions that you come home to every night or the first impression that greets your guests when they visit is absolutely worth investing money into as well. Yes, it may also increase the value of your home but it can also change the experience you have coming home every day from one of "ohhhh there is so much to do" to one of, "ahhhh I love coming home".
Update your front porch light.
Add some greenery.
Update or re-stain your landing.
2. Outdoor spaces
The benefit of focusing on outdoor spaces is twofold. If it is done well it can add substantial value to your property by providing additional living and lifestyle spaces and it can also enhance the way you live in your home.
Start simple with things like giving everything a clean up, then move onto how you can improve what you already have. Does your deck need refinishing or can you create a shade structure over a space you already have?
Here are a few of my super quick and favourite things to do:
Replant some of your old pot plants.
Paint your outdoor table and old dated pot plants.
Use a paving or concrete stain on old paved areas to give them fresh life.
Introduce soft furnishings into the outdoor space to bring in the comfort and style.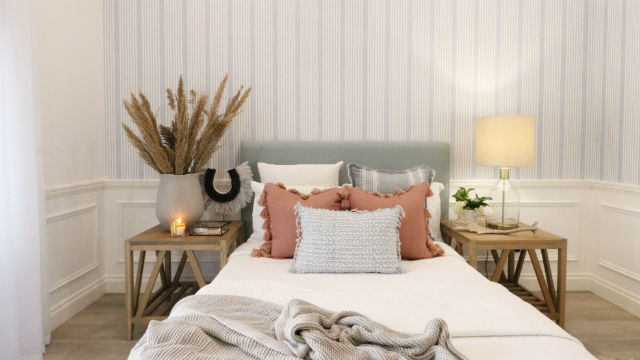 3. Your bedroom
The space that surrounds you can affect how you feel, how you think and how you interact when you are there. So, I don't know about you but when I climb into bed at night or I retreat to my space I want to feel good.
Start simple and consider the following hacks:
Look at your bed linen first and then your curtains.
Can you make over your bedhead?
Do your lamps shades need an upgrade or replacing all together?
Want to bring in some warmth? Consider layering rugs under your bed. If you can't afford a large rug, then you may opt to get three smaller ones and layer those up.
4. Study Nook
So often people think that a study in a home needs a bedroom to be sacrificed. We no longer need an office that is laden with paperwork and filing cabinets. We are moving to a paperless or low paper way of life so it is the perfect opportunity to look around your home for an unused corner, a barely used cupboard or even an unused piece of wall that can be converted into a study space.
Before you set about renovating or designing your study, you need to consider functionality. Think about what your needs are for a particular space. This is even more so important when we are talking about study nooks because, as they are generally a small space, they need to pack punch and function into each square inch.
Start by making a list of what you will need – for example how much bench space do you need, what about power points and will you need additional equipment or storage? Then ask yourself if you want this to be a temporary or permanent space as this will heavily inform the design.
My tips for study spaces are:
Use lots of vertical space – think up, up, up and how you can utilise this area.
Think multi-functional. Can the seat also be used for storage for example? Or can you bring colour into the space with fabric that covers a pin board?
---
About Naomi Findlay
Main image source: Rawpixel.com (Shutterstock)
<