Placing an offer on your dream home can be an exciting process, especially if you're a first home buyer. Having a greater understanding of the buying process and what steps you can take to make an offer could help boost your confidence and bargaining power
.
Once you have determined the amount you would like to offer for a home, then it's time to put in your bid. But first, here are some steps you may want to consider when making your offer:
1. Think about consulting a lawyer
Before you make an offer, you may wish to first consult with a conveyancing lawyer who can outline your rights and obligations. An offer placed on a property can become a legally binding contract if it's accepted, so engaging a lawyer early in the process can help mitigate any miscommunication surrounding the agreement.
Features Editor of urban development database urban.com.au, Olivia Round, told Canstar a conveyancing lawyer may also help you negotiate a deal that works for you. For example, your lawyer may suggest including a clause which highlights that you will not proceed with the sale should the property fail any inspections undertaken by a master builder, surveyor or other inspector. This could include issues surrounding soil contamination, asbestos, structural issues, termites and more. They could also seek to ensure any fixtures or furnishings you expect to remain with the house are included in the contract, such as the dishwasher and light fittings.
2. Work out your conditions of sale
When you make an offer on a home, you can usually choose whether it is conditional or unconditional. Generally, this will depend on your circumstances and the property you are purchasing, as well as whether you make your offer privately or at auction. Ms Round said sometimes unconditional offers can be a more desirable option for vendors as they can result in a quicker, more seamless sale, however conditional sales can give the buyer more flexibility and security.
A conditional sale is exactly as the name suggests – a sale with conditions attached. These could include the buyer's finance being subject to approval, or building and pest inspections still to be conducted. Including these sorts of clauses within a conditional contract of sale can provide more security to the buyer, particularly if certain checks have not yet been carried out or if certain maintenance needs to be completed before settlement. There could also be less risk involved for the buyer should they wish to withdraw their offer, as a clause can be written to provide 7, 14 or 21 days to finalise their decision about the purchase, according to conveyancing firm FC Lawyers. Some potential cons of a conditional sale for the buyer include the fact that it may not be as appealing to a vendor should another similar but unconditional offer be made at the same time, which would likely be a faster transaction, Ms Round said. Particular conditions or demands deemed more costly or challenging by the vendor could also lead them to accept a different offer.
An unconditional sale means that the buyer is willing to accept the property in its current state. In this scenario, ideally the buyer should have already secured approval for a home loan, as they may need to have a deposit ready for immediate finalisation of the sale. Ms Round said it is generally a good idea to consult with a conveyancing lawyer and a registered builder or building inspector before opting for an unconditional sale, as there may be unforeseen issues with the property that could cause you problems down the track. Keep in mind that an unconditional sale provides less flexibility to the buyer, who is unable to back out of the contract. This could mean, for example, that if the buyer's home loan application is not approved after their unconditional offer has been accepted, they may forfeit their deposit if they can't secure the required finance.
3. Make the offer depending on the sale type
The best way to make your offer will depend on the sale type of the property you're hoping to buy. Let's take a look at some of the most common sale types and how to make an offer for each.
Sale by negotiation/private treaty
Sale of a property by negotiation or private treaty is where the vendor sets the price and prospective buyers make an offer in writing. If a counter-offer is provided by the vendor, the two parties may engage in a bartering process in an attempt to reach a sale price and agreement they're both happy with.
Ms Round said this can take longer than other types of sales, depending on the vendor's circumstances, as there may be no set sale date or deadline like those given in a tender sale, giving the vendor more time to wait for an offer they are comfortable accepting.
How to offer: Consider making the offer in writing (via email or submitting a letter in person) to the real estate agent, who will present it to the vendor for consideration. With this type of sale, you may need to reassess and update your offer several times during the negotiation process until an agreement is reached. An offer for this type of sale can be conditional or unconditional.
Tender
A tender is often called a 'silent auction' and involves prospective buyers submitting written expressions of interest (or offers) to the real estate agent at a value they are willing to pay for the property. The property will be marketed as a sale by tender through various channels and will often outline a deadline for offers to be made. Prospective buyers can then attend inspections to gauge the value of the property and if interested can make a written offer by the specified date.
Unlike a regular auction, all offers made to the vendor during a tender process are kept secret, so buyers will be unaware of how many other interested parties there are, or how much they are offering.
There may not be a suggested sale price for a tender sale, although in some cases you may be able to work out the property's capital value, which is the recommended house and land value as calculated by a property valuer. This sale method can be a good way for the vendor to assess how much the market is prepared to pay for their home, and they can choose to accept one of the offers they receive, provide counter-offers or decline all of them. Note that if the valuation has been carried out over a year ago, it may be worth engaging in a re-evaluation as the property market is constantly shifting and house prices can often fluctuate over time.
How to offer: Think about making an offer in writing on a tender document (an official sale and agreement document you can get directly from the agent) and present this to the agent directly (either through email or by providing a sealed envelope in person), by the vendor's specified due date. For a tender sale you can make a conditional or unconditional offer, and your offer will be kept confidential.
Auction
The auction process involves prospective buyers bidding in an open, competitive environment, with the highest bidder often winning the property on the day (if the seller agrees or their set reserve price is met). In some instances, interested buyers may place an early offer before auction day in an effort to secure the property before it goes to auction.
How to offer: Check with the agent as to whether you can make a pre-auction offer and then decide if this is the best option for you. Some agents may only accept a pre-auction offer if it is particularly strong (e.g. it is on or above the asking price), so consider if this will suit your budget. You can provide a pre-auction offer to the agent in a letter with your conditions of sale.
If you choose to wait for auction day, there are a few strategies you may like to consider to help get your bid (or offer) over the line, such as bidding in whole dollar amounts, entering the bidding early, and picking a position of strength in the room (such as out in front and with a view of other bidders and the auctioneer). Keep in mind that offers made at auction are usually unconditional, which could leave you in a risky position if there are issues with finance from your bank, or if there are problems with the property itself that need fixing.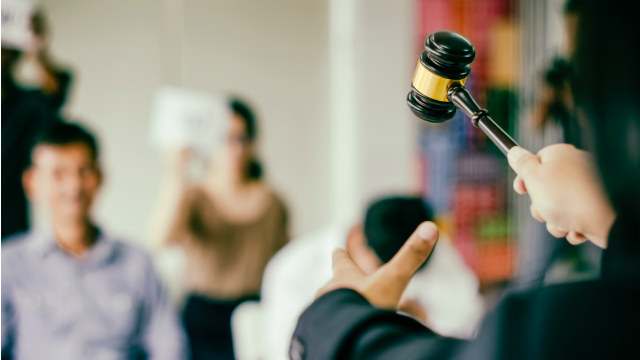 Ballots
Ms Round said if there is high demand for an off-the-plan apartment, the developer may create a waitlist ballot for it. Interested buyers can enter the ballot, and if their name is chosen at random, then they will be given the opportunity to purchase an apartment at a fixed price.
How to offer: Check with the developers of any apartments you're considering as to how their ballot system works before proceeding. For this type of sale, some developers may ask potential buyers to register their details for the ballot online during an advertised registration period. Once entered, the potential buyer will be given a unique ballot number. The ballot will then be drawn and if successful a buyer will then be contacted to proceed with signing a contract of sale. This contract should be checked carefully by the buyer and they may like to consult with their lawyer before signing on the dotted line. If you are not successful in the ballot, your entry may be put on a backup bench in case those who won the ballot drop out.
Top tips when making an offer
Below are Ms Round's top tips to help you work towards getting the best deal when making an offer on a home.
Consider loan pre-approval
Have a contingency clause written up
You can ask your conveyancing lawyer to prepare a contingency clause – legal wording that generally accompanies your offer and is personalised to your requirements – with the intention of it being included in the sale contract. For example, such a clause might allow you 14 days to view the property again before the contract becomes binding, or place a condition around the sale of your current property.
Consider your conditions of sale
Being willing to make compromises can often be helpful if you're negotiating your offer conditions with a seller. For example, if you're asking the vendor to make extensive repairs, but also want the property well below its asking price, you might want to consider your priorities, especially should the vendor have a counter-offer. Consider the cost of your conditions versus the price you're offering as this could make your offer less appealing. In saying that, it is likely not worth leaving out major repairs and making an offer at the higher end of your budget if you are unlikely able to afford to make them yourself.
Include a personal letter
You may like to include a personal letter to the vendor, sharing some background information about yourself and why you have chosen their property. Perhaps you love the house for its Victorian ceiling roses that have been so meticulously restored, or maybe you're a young family with kids who are going to attend the school nearby. There can be a lot of emotional attachment for both parties when negotiating the sale of a house, so it can potentially be helpful if you can reassure the vendor that the property will be going to someone who will appreciate it and who is serious about the purchase.
---
If you're currently considering a home loan, the comparison table below displays some of the variable rate home loans on our database with links to lenders' websites that are available for first home buyers. This table is sorted by Star Rating (highest to lowest), followed by comparison rate (lowest-highest). Products shown are principal and interest home loans available for a loan amount of $350K in NSW with an LVR of 80% of the property value and that offer an offset account. Before committing to a particular home loan product, check upfront with your lender and read the applicable loan documentation to confirm whether the terms of the loan meet your needs and repayment capacity. Use Canstar's home loan selector to view a wider range of home loan products.