In this present whirlwind of economic news, how is the average Australian faring?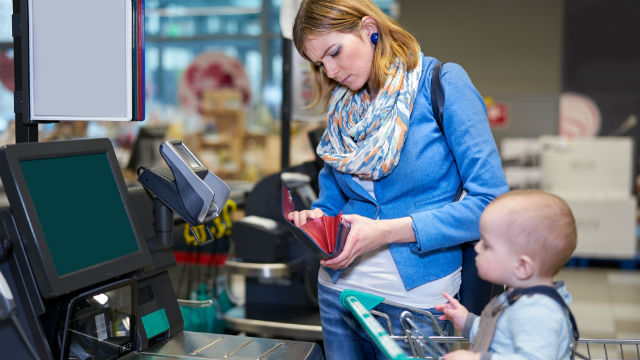 Financial news headlines shout that inflation is low, wage growth has been virtually stagnant and many savings accounts are bringing in considerably less than they were a few years ago. On the flip side, some people are feeling relief from historically low interest rates on home loans and a boost from tax cuts, following decisions taken by the Reserve Bank and Federal Parliament in the last couple of months. The nation is holding its fiscal breath, waiting to see if the cash rate will be cut again when the Reserve Bank board meets on Tuesday.
But what does it all mean for real-world hip pockets?
Are we as "financially miserable" as we have been in the past?
According to the Reserve Bank of Australia (RBA) Governor Philip Lowe, who helps to balance the entire nation's economic wellbeing, it's possible that we are actually better off than in previous generations.
In a recent speech, Mr Lowe cited the Misery Index – the sum of the unemployment rate and the inflation rate (as shown in the graph below). The theory goes that the higher the grey line is on the graph, the less financially comfortable the nation feels. It shows that compared to when the nation was "pretty miserable" in the 1970s and 1980s, we are not doing "too bad" now.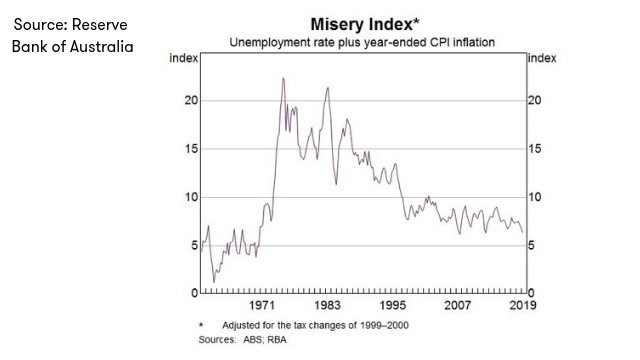 "The Misery Index is now as low as it has been since the late 1960s," Mr Lowe told his audience.
"Today, we are living in a world of low and stable inflation and low unemployment. It is useful to remind ourselves of this sometimes."
But Dr Lowe's speech wasn't all sunshine. While he went on to say that we needed to remember that "the underlying foundations of the Australian economy remain strong", he also said that "it remained to be seen" if recent economic stimulus measures would work by starting to lift inflation and grow the economy. He even hinted at the RBA doing more by "easing monetary policy further", which could mean more cuts to the official cash rate. Either way, we could be in for a long wait before the economy gets to a stage at which the RBA is totally comfortable.
"It is reasonable to expect an extended period of low interest rates. On current projections, it will be some time before inflation is comfortably back within the target range," he said.
But if you're feeling like the Misery Index has been printed upside down, you may not be alone.
We've taken a look at the economy to explain some of the possible effects of market conditions on what it's like living in Australia right now. The answer? It seems there's good news and there's not so good news when it comes to the current financial times. Here are some of the things going on right now that could be contributing to the current state of play in household finances.
What's impacting money coming into a household?
There are more jobs, but…
When it comes to finding work, things are looking okay for the most part.
Australia's unemployment rate remained fairly stable at 5.2% in June, according to the Australian Bureau of Statistics (ABS). In the 12 months to June, almost another 329,000 people scored a job, which is the best new jobs performance over the past 20 years.
Our participation rate – the number of people who can work who do have a job – is at record levels and rising, too.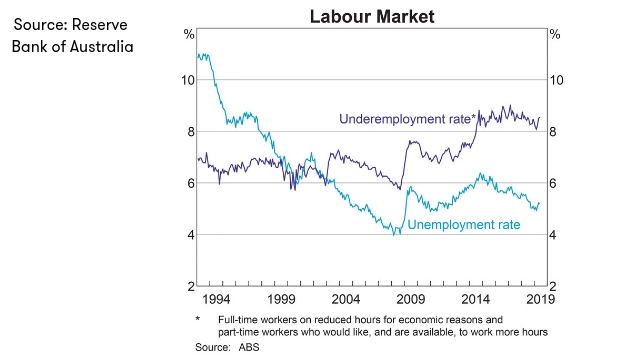 However, the number of unemployed people increased by almost 5,000 people over the same timeframe, the stats show. And the jobs that were created were mainly part-time roles, even though more than 8% of employees – more than 1 million Australians – are 'underemployed', meaning they want to work more hours than they're being given or are working in a lower capacity than their qualifications permit.
Wages are not going up fast enough…
While there is evidence that we are spending less and our disposable income is going up, our pay packets haven't increased much since 2014, ABS stats show.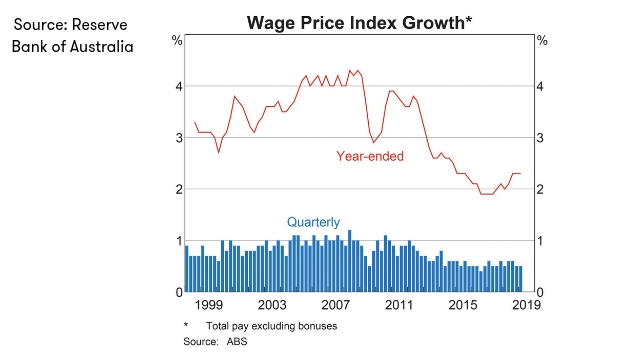 The graph above shows that yearly wage growth (the red line) – how much the average Australian pay minus bonuses has risen each year – has flatlined in the past two years, and that growth has generally been trending down since 2010.
To compound this income issue, the graph below shows that the average earnings per hour (orange line) has also been on a downward path recently, after a rise in 2017. The graph also shows that it's been getting more expensive to hire people in recent times, while productivity – the output of that work – is dropping.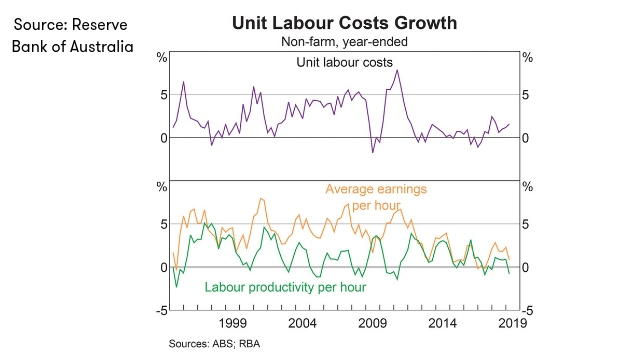 And we might not have as much savings to rely on as we used to.
With wages fairly flat at the moment, it seems we have cut back on how much we are spending, but we've also been putting aside less money into savings.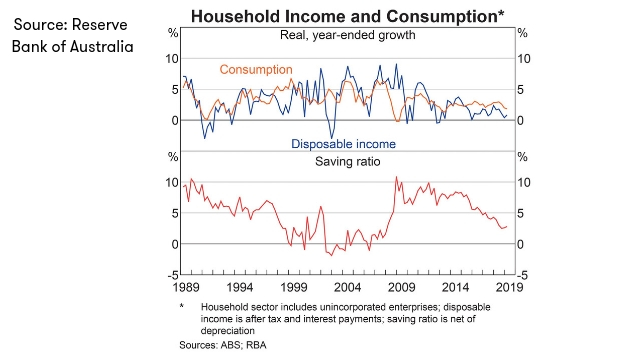 The graph above shows that while the growth in our average disposable income – the amount of money left over after taxes, interest repayments on debts and other related expenses – (in blue) went up slightly in the last year, this came after a few years of falls.
Growth in what we have left to spend is still far below levels enjoyed in the pre-2007 Global Financial Crisis days. Since then, what we have been putting aside for a rainy day – our savings ratio (red line at the bottom of the graph) – has been generally falling faster than our spending rate – or consumption (orange line, top graph), which has been fairly constant since about 2014.
This means that as a nation, we have been saving less as a proportion of our disposable income since 2014. So, if something goes wrong, many of us don't have much of a savings cushion to rely on.
One silver lining is that we have recently began to save again. ME Bank's 15th bi-annual Household Financial Comfort Report (released in February this year) shows that in the last six months of last year, "the number of households saving each month increased three points to 51% … its equal highest level since the survey began, with the estimated average amount savers are putting away increasing 7% to $862 per month".
Although, even if you are a saver, it's not all smooth sailing.
The Reserve Bank of Australia (RBA) has lowered the official cash rate twice so far this year, which has triggered interest rate changes by many financial institutions. While most Australians with a home loan were celebrating the fact that there were now banks charging interest below 3%, those relying on income from savings may not be as happy.
Savings account interest rates have been tracking down recently, and average term deposit rates are at a low of just 0.95% for 12-month terms, according to Canstar data. Set the clock back to August 2008 and the average return was a mouthwatering 7.62%. Today's minimal returns are hitting some people's hip pockets particularly hard – such as self-funded retirees and part-pensioners, as well as younger people trying to save up for a deposit on a house.
But a few bonuses are expected to brighten things up
Some of the concern around savings rates has been eased for at least one group. Last month, pensioners welcomed the Federal Government's announcement that it would lower deeming rates in September, with payments backdated to July 2019.
The deeming rate is used to help work out how much of the aged pension and other government assistance a person can receive if they have investment assets, such as shares or term deposit accounts.
There was a little Federal Government gift, too, for people filling out a tax return this year. A recent change to tax law means that according to the Australian Taxation Office, some taxpayers could receive a bonus of up to $1,080 in the tax return this year, depending on how much they earn.
What's impacting how we spend our money?
Costs are rising (even though our income isn't)
Inflation figures from the ABS's Consumer Price Index (CPI) were released this week, showing that the cost of goods and services Australian households buy rose around 1.6% year-on-year, after staying flat in the March quarter.
Petrol, health services, international travel and accommodation and tobacco saw the biggest price rises.
Health insurance premium hikes in April this year pushed overall health spending higher, according to the ABS.
The numbers showed motorists have been hit by a jump of more than 10% in the price of fuel at the petrol bowser. ABS Chief Economist Bruce Hockman said this had a "significant impact" on the CPI and underpinned the inflation increase this quarter.
However, the RBA would like to see inflation go higher than that – somewhere between 2% and 3% is its ideal economic pacesetter. The RBA says if prices go up steadily by that amount each year, businesses can count on a steady rise in income. They can then afford to pay their workers more money. Workers will then be able to afford to buy more. Businesses will then make more money. And so the economy ticks along at what the RBA predicts is a steady, even pace.
However, workers wages are not currently rising fast enough to compensate for a higher level of inflation, which has prompted (among other factors) the RBA to cut the official cash rate. It's also the reason why the RBA governor has suggested – repeatedly – that the Federal Government help out, too. They have begun to do so (see the section about bonuses, above). Time will tell if those actions are enough to deliver a pay rise to Australian workers and a subsequent sales boost for businesses.
Housing costs are a drain on the wallet for many
It may come as no surprise that when it comes to keeping housing costs low, the sweet spot is to own your own home outright. The trouble is, only 30% of the nation is living both rent-free and mortgage-free.
According to the ABS's Housing Occupancy and Costs research released in July, the average weekly housing cost for a homeowner who lives mortgage-free is $53. The average cost for renters is $366, while mortgage-holders pay $484.
However, the study also shows that the number of people who own their home outright or with a mortgage is steadily falling, while the number of people who are renting is rising. It's also more expensive to rent, when incomes are taken into consideration for the various household types. Owners with a mortgage spend around 16% of their income on housing costs, while renters spend 20%.
According to property analysts at CoreLogic, renters are paying an average of $465 a week in capital cities and $378 a week in regional areas. However, if you rent in Sydney, Australia's priciest city, the median rent there jumps to $582 – although the good news is that the city's rent prices have been falling, dropping by more than 3% over the previous 12 months to March 2019.
Low income earners and those on government payments, such as Newstart, are doing it particularly tough when it comes to trying to afford a rental property. The recently released Anglicare Rental Affordability Snapshot 2019 showed that, in their survey of the country's available rental homes for March, there were just two properties that a single person receiving Newstart allowance could afford to rent.
Minimum-wage earning couples who had two children (aged under 10) fared a little better, but could still only afford to rent 24% of the advertised properties. A minimum-wage earning single-parent living with two children (aged under 10) could only afford 3.8% of the rental properties.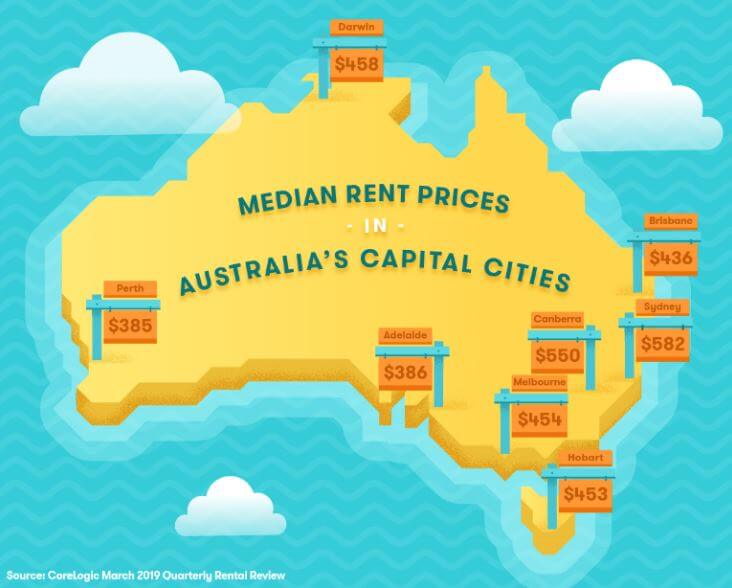 Interest rate cuts mean credit could become cheaper, but debt is rising
We already mentioned how the RBA lowered the cash rate twice so far this year. These cuts have slowly flowed through to the interest rate market on home loans and some credit cards.
Canstar's database shows that variable rate home loans have generally become cheaper in response to the RBA cuts, with rates now available below 3%. Some fixed rate loans have also come down off the back of the lower prices banks are paying for long-term funding at the moment. That could be great news if you're thinking of buying a home, or able to negotiate with your lender or compare your options elsewhere to try and find a better deal. Indeed, average home loan interest rates in Australia are the lowest they've been since the 1960s, according to the RBA.
However, despite this low-rate-environment, CoreLogic research analyst Cameron Kusher analysed ABS data on household wealth and found the ratio of household debt to disposable income is rising. That means the average Aussie household is, in one sense, becoming poorer.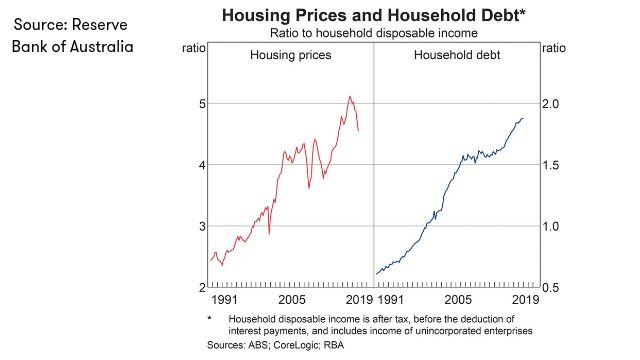 This is because property prices have risen a lot faster than our wages over the long term, so the amount of money we need to fork out on a house has gone up, impacting our capacity to save up for a deposit. That means that on average, we're borrowing more now than ever before.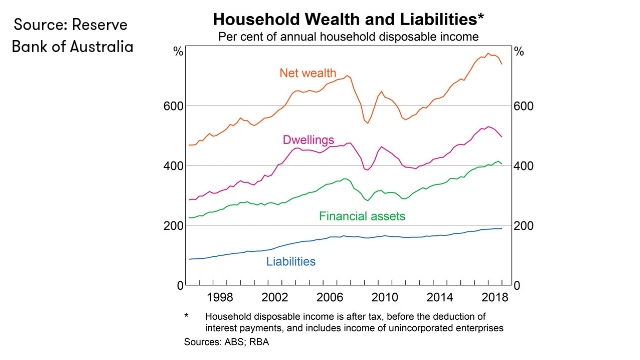 As the above graph shows, what we owe (our liabilities, in blue) has been steadily climbing, but our net wealth – how much we are worth when everything is added together minus our liabilities – has taken a bit of a dive in the past few years, as the value of our dwellings and financial assets have started to track downward.
However – there's some good news, for home owners at least. This snapshot does not reflect this week's uplift in real estate prices, for the first time in two years. The CoreLogic July 2019 home value index, released on 1 August, show that five of the eight capitals recorded a slight rise in value during July. If the growth continues, it could lead to our biggest asset – our homes – rising in value, thereby potentially increasing our net wealth. However, it also means that prices could become more expensive for buyers (although interest rates on new home loans are now at record lows, with some under 3%, according to Canstar's database).
Mr Kusher said if homeowners can secure a lower interest rate on their home loans, they could use this to pay off more of their debt than they otherwise could. However, in many cases people have not been doing that and so overall household wealth has dropped, he said.
And there's so much more to buy
Another one of the big issues impacting people's budgets today is the sheer amount of things there are to spend your money on, according to Canstar's finance expert Steve Mickenbecker.
"It's a generational problem," he said.
"Nobody had mobile phones, tablets, let-alone smartphones when I was growing up – we were at least a decade away from the Nokia flip phones.
"That meant we didn't spend money on mobile phone plans, there was no Netflix, no Spotify."
He said once you add up all those bills, it can sometimes be hundreds of dollars a month before you've even had your morning coffee, gone out to a restaurant for dinner or indulged in Sunday brunch.
So, what's going on with household finances?
To sum up, the average Australian household's finances are being buffeted by a range of wider economic influences that are largely out of their control. While we may not be as financially miserable as a nation as we have been in the past and the chance of getting a new job is looking pretty good, our wage growth has been pretty sluggish over the past few years and many of us probably don't have as much in savings to fall back on as we once did.
With all this going on, the costs of household goods (as reflected by the CPI) have only risen marginally, but housing costs are becoming a bigger burden, particularly for those people on the lower end of the earnings scale. This all means that, on average, we are getting poorer – although there are some healthy signs that, for home owners anyway, their biggest asset could be lifting in value. And even though households on average are getting into more debt, home loan interest rates are historically low, which could help us to pay some of that debt back sooner.
So if you are feeling less than enthusiastic about the world of finance right now, take solace in the fact that – given the whirlwind of economic news sweeping the nation – you are probably not alone.