The answer is: it will probably depend on what type of credit card you have.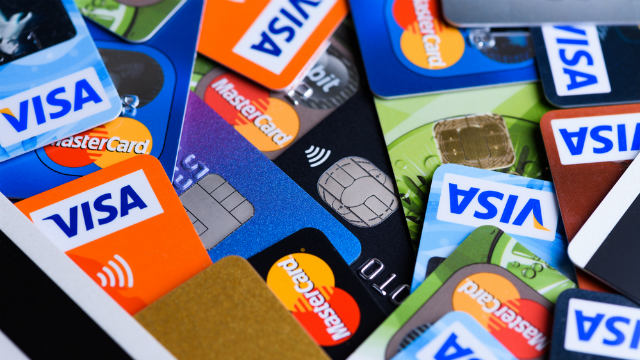 Interest rates on a range of bank products – including home loans, savings accounts and term deposits – have been dropping overall since the Reserve Bank cut the official cash rate in June and again in July.
Home loan interest rates, for instance, have fallen to their lowest point in 26 years according to Canstar's database, with some currently available for less than 3%.
Research from Canstar shows that while some credit card interest rates have been tracking down, this has not been the case across the board – rewards cardholders have generally not been as lucky as those consumers who hold non-reward credit cards.
The research shows that interest rates charged on rewards cards – those with cash, Frequent Flyer or other rewards programs tied to your spending – is currently averaging a purchase rate of 19.76%. Non-rewards cards are averaging about six percentage points cheaper, at 13.75%.
Examples of providers on our database who have reduced credit card interest rates since the first RBA rate cut in June include Heritage Bank, HSBC, Nexus Mutual, First Option Bank, Bank First and Auswide Bank. They reduced purchase rates (the rate charged when a card is used to buy something) by between 0.25 and 0.50 percentage points on at least one credit card product each.
Looking further back, non-rewards credit cards have mostly followed the downward trend of the cash rate's movement since the RBA last began a cycle of cash rate cuts in November 2011. However, rewards card rates have remained relatively flat.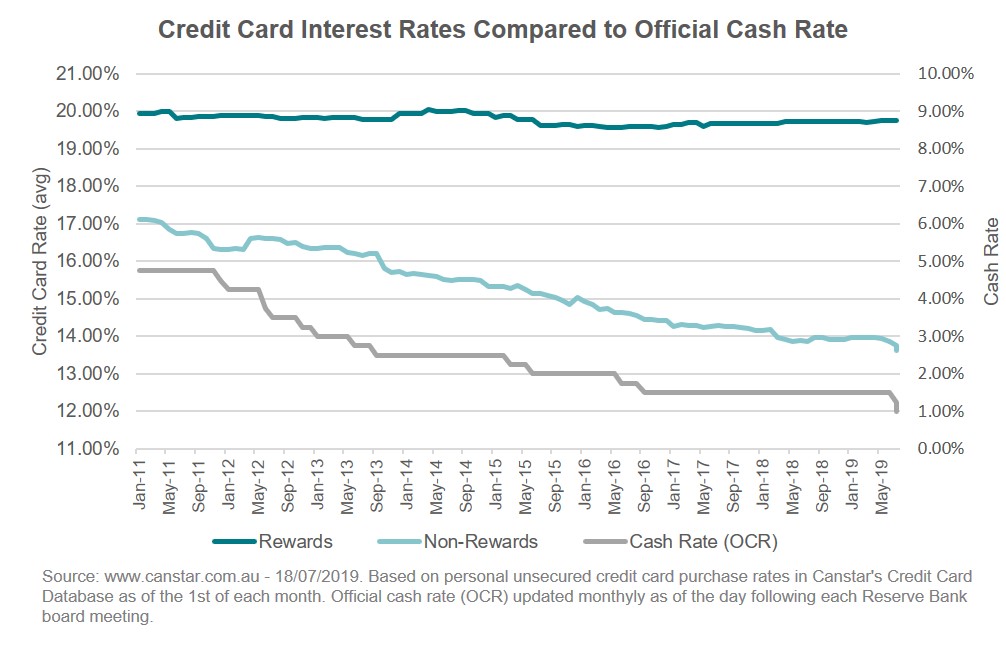 As shown in the graph above, the cash rate – the grey line – has been steadily falling since January 2011. The cash rate the percentage scale is shown on the right-hand side of the graph. The interest rates that apply to purchases on credit cards without rewards programs – shown in light green – generally falls in tandem with the cash rate trend. The credit card rate percentage scale is shown on the left-hand side of the graph.
However, the interest rate that applies to purchases on credit cards that offer rewards programs – shown in dark green – is high above the cash rate and has not followed the same downward trend.
This graph shows that regardless of movements in the official cash rate, as set by the RBA, interest rates charged on credit cards with rewards programs often don't change. This is different to what happens with other types of credit, such as home loans, where interest rates on products generally trend with cash rate movements.
Do you have a suitable credit card for your needs?
Canstar's finance expert Steve Mickenbecker said the problem was too many people had the wrong type of credit card.
He said the banks' usual strategies for attracting customers to their rewards card programs were not about marketing a low interest rate, but rather using the enticements of rewards and sign-up bonuses.
High-interest-rate rewards cards could be a good option for people who paid off their balance in full, every billing cycle, and so did not have to shoulder the burden of a higher interest rate on repayments, he suggested.
"Frankly, rewards cards shouldn't be used if you are leaving debt on your credit card because rewards are never enough to compensate for paying too much interest," Mr Mickenbecker said.
"Why are the banks keeping the interest rates so high? Because enough people are making the mistake of not repaying their card in full every month," he added.
"Don't be seduced by flights and other offers – it could hurt you financially."
He said customers who often have debt on their cards should really be looking for a card with a purchase rate below 10%, not for a rewards card.
Mr Mickenbecker said purchase rates on credit cards should go up and down along with the cash rate.
However, he said consumers should generally expect to pay more for credit cards than other types of loans because credit cards cost the bank more to provide.
There were also higher risks to banks of fraud and write-offs with credit cards than other types of lending, he said.
ANZ chief executive Shayne Elliott recently defended his bank's higher credit card interest rates and said the cost of providing that business was different.
"Cards are a really different proposition – they're a short-term, unsecured line of credit," Mr Elliott told 3AW.
"We've got much higher loss rates on those, much higher fraud rates."
Mr Mickenbecker said if you choose a rewards card, the key takeaway was to treat rewards as if you were getting something for not doing anything differently.
"Don't spend more, but do your regular spending and put it on the right card," he said.