Thinking about becoming an Airbnb host to make some extra money these holidays? Here's a look at how much you could potentially earn, what you need to know before you get started and tips from a superhost.
With Christmas only one month away you might be thinking of ways to make some extra cash to cover all the expenses that come with the festive season. Renting out your house, or a room in your house, using Airbnb may be one of the options that comes to mind – and you wouldn't be alone. The Airbnb Christmas Crunch report found that 24% of those surveyed intended to list their homes on Airbnb to help make some extra cash over the holiday season.
Airbnb Country Manager for Australia, Susan Wheeldon, said that the holidays are the busiest time of the year for Airbnb bookings so it could be a good way to offset the festive bill. "Our hosts tell us that listing their biggest asset – their home or a room within their property – for even just a few weeks over Christmas and New Year, can help cover bills and household expenses, and allow them to take a holiday themselves," said Ms Wheeldon.
The research found that, of those who would consider listing a room or their home on Airbnb over Christmas, 40% would put their Airbnb earnings towards paying off bills and clearing debt. Other popular options for using the extra money were a "rainy day" fund, putting it towards a holiday or using it to help pay for improvements to their property.
How much can I make using Airbnb?
If you are wondering how much you could earn by renting out your house this summer, the table below shows estimates for each capital city.
City
Entire place
(per month)
Private room
(per month)
Adelaide, SA
$3,290
$1,343
Brisbane, Qld
$2,584
$1,207
Canberra, ACT
$3,632
$1,531
Darwin, NT
$3,100
$1,335
Hobart, Tas
$4,491
$1,824
Melbourne, Vic
$2,838
$1,224
Perth, WA
$2,774
$1,068
Sydney, NSW
$6,338
$2,314
Source: Airbnb website as at November 21, 2019. Entire place assumes four guests. Private room assumes two guests.
What you should know before becoming an Airbnb host
If you are planning to rent out your house or a room on Airbnb this summer there are a few things you should keep in mind, including:
Check with your local council first. The rules around short-term rentals may vary from council to council so make sure you find out if any restrictions apply before renting out a room or your house.
If you own a unit or townhouse that is part of an owners corporation/body corporate or falls under strata title, find out where you stand when it comes to short-term rentals and what rules you may need to follow. For example, in Victoria you may be penalised if your guests have unruly parties.
Think about insurance. Airbnb offers a "Host Guarantee" and "Host Protection Insurance" but according to the website these provide "basic coverage for listed damages and liabilities" and "don't take the place of homeowners insurance, renters insurance, or adequate liability coverage". It's best to talk to your insurer to make sure you are covered and if any limitations apply if you are renting out your house on platforms such as Airbnb.
Consider the potential tax implications. The Australian Taxation Office (ATO) states that you will need to declare the income in your tax return and you may also be able to claim deductions for associated expenses "apportioned for the time the room/property is rented (or occupied for payment), and to reflect only the part of the property that is rented". Capital gains tax may also apply when you sell the property. "Even if the house or unit is your main residence, renting out any part of it usually means losing part of your CGT main residence exemption," explains the ATO.
Tips from a superhost
Airbnb superhost Veronica rents out three properties in Melbourne using the platform – the ground floor of her townhouse and two apartments – and told Canstar it has turned into a steady extra source of income. "With having my townhouse open to Airbnb guests all year round, I can earn up to $25,000 a year, using this money to help pay off my mortgage, cover bills and also save for my own holidays," she revealed.
Veronica has been an Airbnb host since 2013 when she first decided to list the ground floor of her townhouse after a trip to New York with her kids. "We stayed in an Airbnb apartment which was a completely new experience for me at the time, and it opened my eyes to opportunities of being a host and sharing my world with visitors to Melbourne," she recalled.
"I was suffering from empty nest emotions when my kids moved out of home. As my kids left home, they suggested that I put my place up on Airbnb. They're adults now and rarely need the space, so there was definitely room to spare in my townhouse. I turned the ground floor into a guest suite, which has since become really popular for business travellers."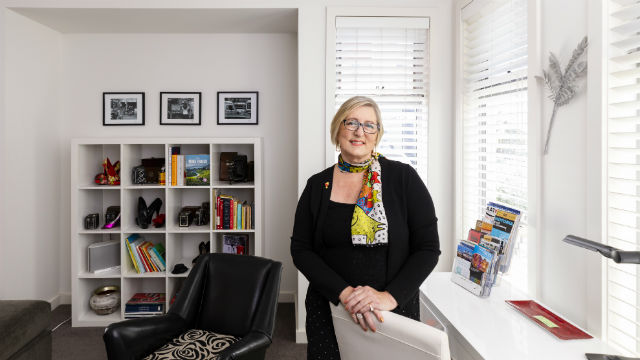 Veronica achieved "superhost" status in 2016. "I was one of the first hosts to make the cut having consistently received good reviews from guests. Being a good host is something I take great pride in as I truly want to make every guests stay memorable," she explained.
For anyone aiming to become a superhost Veronica offered these tips:
Cleanliness goes a long way. Make sure your place is clean and simple and devoid of clutter. It doesn't go unnoticed and guests appreciate it – it's in fact the most commented-on attribute of my listing.
You can also reach Superhost status just by applying some simple tips to attract more guests to your home. Make your listing more attractive with eye-catching colours in your décor which will help grab attention while scrolling. And, if you can, arranging professional photographs of your property go a long way.
Veronica recommends anyone interested in becoming an Airbnb host to try it out by first being an in-home host, offering a private room to guests before listing their entire property.
Keeping the property safe and secure may be a concern if you are thinking about becoming a host. "Some easy precautions you can take to help protect your home includes securely storing valuables and setting up a security deposit via Airbnb," suggested Veronica, adding that she has "been pretty lucky". "Since hosting, I've had almost 700 visitors and have barely had any issues during this time," she told Canstar.
Main image source: AlesiaKan (Shutterstock)
---
Canstar's Editor-at-Large, Effie Zahos, has more than two decades of experience helping Aussies make the most of their money. Prior to joining Canstar, Effie was the editor of Money Magazine, having helped establish it in 1999. She is an author and one of Australia's leading personal finance commentators, appearing regularly on TV and radio.
---
Thanks for visiting Canstar, Australia's biggest financial comparison site*
<!