Sometimes the silly season can seem more of a dread than a pleasure, especially if you have to brace to hit the shops last minute. But if you're more of an online shopper, there are a few handy tools that could save you serious time and money this Christmas.
Lying in bed with a cup of tea and some chocolate while browsing the web for the perfect gift sounds a lot less stressful than racing through a packed shopping centre. Do yourself a favour and save yourself from added stress during the busiest retail season of the year – think about getting online!
It's understandable if the thought of online shopping leaves you feeling a little cautious – you might be worried about missing out on exclusive in-store sales or having a present arrive 10 days too late (everyone's biggest fear). Here's a little advice: just chill! We've rounded up some of the handiest tools that could get you through this festive season with more cash left in your wallet and less stress on your mind.
#1 Sweeten your festive season with Honey Chrome
Bargain shoppers will want to consider getting this chrome extension downloaded ASAP in time for Christmas. You no longer need to trawl the web yourself for coupon codes, discounts and sales – Honey does it automatically.
Simply click on the Honey button in Google Chrome when shopping at supported online stores and see coupons pop up to find the best price for an item. You can shop with some of your favourite brands including Sephora, Expedia, Hotels.com and Amazon (launching in Australia soon).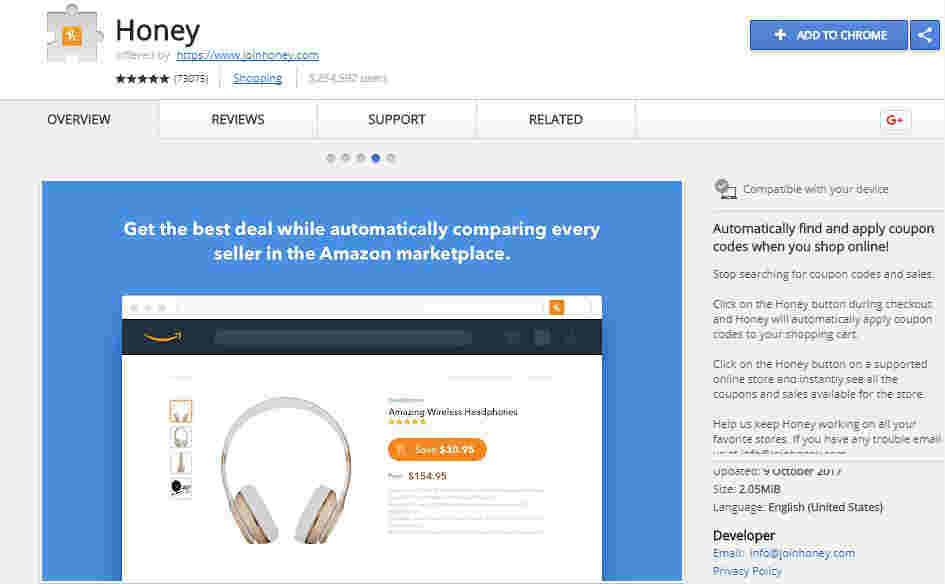 #2 Snag a deal with Price Hipster
Here is another money saving must-have. If you love a good price comparison, you'll likely love Price Hipster. It's basically a massive search engine where retail shoppers enter in specifications like store name and price range and then see hundreds of results pop up showing the current price of products compared to what they were previously selling for.
If you're seriously addicted to finding a great bargain, you can even sign up for email price alerts and daily deals during the lead up to Christmas.
Fitbit Alta Activity Tracker $98 (down from $179) at Officeworks. Great idea for Christmas! https://t.co/KR0hflu5gv pic.twitter.com/1Z5j7biCHc

— Price Hipster (@PriceHipster) November 28, 2016
#3 Save on shipping costs with Shipster
Love to shop online but hate to pay for shipping? Australia Post has solved that problem for you this Christmas, offering free shipping for online shoppers who sign up to its new membership program Shipster.
Free shipping will be available for some of your favourite brands including Myer, M.A.C, Target and Cotton On. You can also expect free food delivery with some Deliveroo orders. But be warned, it's not entirely "free".
A $9.95 sign-up fee will be required to use Shipster and from 2 January onwards you can expect to pay $6.95 every month to use the service. Plus, there are spending limits required to be eligible for free shipping: at retail stores you will need an order total of at least $25 and shipping costs under $20, and Deliveroo orders need to meet the minimum basket spend (typically $25) because if the minimum spend is not met a $4 surcharge will apply.
At this stage, only metropolitan shoppers in Sydney, Melbourne, Adelaide and Brisbane will have access to Shipster's postage deal.
Source: Jo Munro, YouTube
#4 Practice adulting with our budget planner
Before you get too excited about splurging your money on Christmas gifts, it's probably a good idea to create a budget (and stick to it). There's no point spending all your savings on presents or racking up ridiculous amounts of credit card debt if you can't afford it.
Luckily, Canstar has a Budget Planner Calculator that takes into account everything from income to living expenses to transport costs. This way you'll be able to see a blueprint of your yearly cash flow and know exactly how much you have to spare on presents, holidays and festive food.
Try Canstar's Budget Planner Calculator
#5 Apps for inspo
Having the money to buy presents is all well and good, but one of the main problems is often trying to brainstorm cool present ideas for people who seem virtually impossible to buy for. What should we get Dad other than socks, and what is the perfect gift for your partner? There are some apps that could give you serious inspo for the perfect gift this Christmas.
If you are after something a little personalised then Etsy might be a good option for you, with boundless handmade, vintage and unique products available.
Filled with one-of-a-kind wonders. Now that's our kind of Christmas stocking. Shop stocking stuffers https://t.co/GSdD9fx8Ma pic.twitter.com/P9YI5PPsPZ

— Etsy (@Etsy) December 5, 2016
Then, of course, there's Pinterest. Not only can you basically design your life with everything from clothes to candlesticks,  it's also a great place to gather inspiration for awesome present ideas. Plus with so many crafty and handmade ideas, you are bound to impress your Christmas guests this season.
"It's beginning to look a lot like #Christmas…" Or smell like it. Winter simmer #recipe: http://t.co/4sjeYGwS0x. pic.twitter.com/f2QX6y29OT

— Pinterest (@Pinterest) November 10, 2014
Now that you have some ideas about how to find the perfect gift, it might be a good idea to check out our tips for how to earn extra money and stay out of debt this Christmas.
If you are looking for a low rate credit card this holiday season, we have provided a snapshot below of those available on our database with links direct to the providers website. Please note that these have been sorted by purchase rate (lowest first) based on an average spend amount of $2,000 per month.
Image Source: Prykhodov